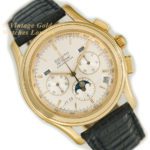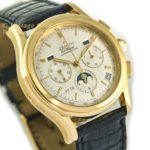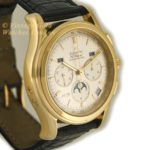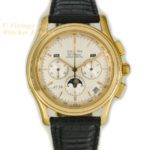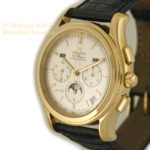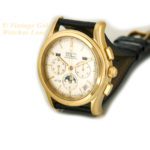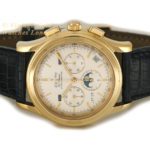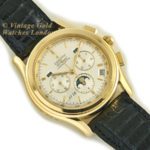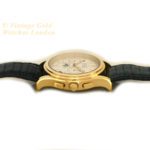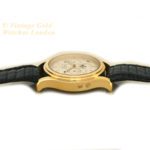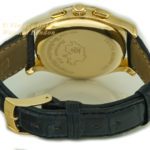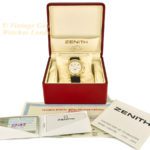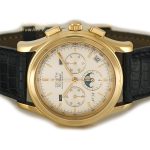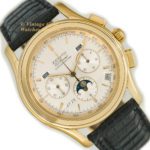 Zenith El Primero Triple Calendar Moonphase Chronograph 18ct 1992 – Limited Edition
£9,950
100% Genuine & All Original
All Functions Working Perfectly
Fully Inspected, Serviced and Guaranteed
Oversize 40mm, 18ct Yellow Gold Zenith Swiss Made Case
Immaculate Original Unrestored Silver-White Dial and 'Lance' Hands
Limited Edition Model 30.0220 410, 1st Year of Production, 1 of Only 250 Ever Made
Very High Grade Cal 410, 31 Jewel Chronometer Grade Movement, in Sparkling Condition
Original Guarantee Card, Guarantee Certificate and Chronometer Certificate, as Shown
Original Black Zenith Alligator Strap with Original Zenith 18ct Gold Buckle
A Truly Important Watch in Absolutely Wonderful Condition
Original Zenith Presentation Box Included, as Shown
VGWL 12 Months' Written Warranty Included*
VGWL Lifetime Authenticity Guarantee
Free Worldwide FedEx Delivery
Free UK Special Delivery
DO YOU HAVE A WATCH LIKE THIS TO SELL?
ABOUT THIS WATCH
Zenith
Zenith is one of the oldest watch companies, est. 1865 and one of only a handful which still produces all its own mechanical movements today. The company has an almost unparalleled record of technical achievements. Notably, in 1929, Zenith won world renown at Kew Observatory (England), when a Zenith wristwatch won first prize for accuracy of better than 0.6 seconds per day.
During the late 1940s and throughout the 1950s, Zenith held the lead in producing many of the most commercially successful and most advanced chronograph wristwatches. The technical expertise and craftsmanship which went into these was immense. Just a brief look inside the case-back of any chronograph is enough to demonstrate how complicated these watches are – making these very expensive watches to design and produce.
Zenith has also been recognised with more than 1500 awards and has over 50 individual movement designs to its name, making it the Swiss brand with the most awards for precision.
Why This Watch Is Important
Put simply, in 1969 Zenith produced the world's first automatic chronograph, the El Primero. This movement was a tour de force and so advanced that 20 years later in 1988, when Rolex required a more advanced movement to install in its Daytona Chronograph, it chose to fit the Zenith El Primero movement. It then continued to do this right up and until the year 2000 when Rolex finally began to make its own chronograph movements for the Daytona for the first time.
Many see this as one of the best chronograph movements ever produced, as it can accurately measure time to 1/10th of a second and even today very few chronographs are capable of achieving this.
In 1991, Zenith introduced its first Triple Calendar, Moonphase, Chronograph by adding these functions to its self-winding El Primero Chronograph movement. This fabulous timepiece was first retailed in 1992 and is from a limited edition production run of only 250 pieces ever made. This is historic and one of the rarest and most desirable chronographs ever produced. This is also a true 'time capsule' piece, by which we mean it has seen little to no real use and has always been kept in pristine condition.
This limited edition model, number 78 of only 250 ever made, was released to coincide with celebration of the 700th Anniversary of Swiss Confederation in 1991.
The Stats
Seven Functions:- 1) Chronograph accurate to 0.10 sec, 2) Day, 3) Date, 4) Month, 5) Quickset, 6) Moonphase, 7) Self-Winding movement.
Chronometer grade timekeeping.
Case Number 78 – This is the 78th production example of only 250 pieces ever produced.
Model Ref 30.0220 410 Calibre 410, Movement Serial Number 87283, Produced 1991 – 1992. This example first sold in 1992.
The Movement
As mentioned above, the El Primero movement was a ground breaking achievement for Zenith. First launched in early 1969, it was not only the world's first self winding chronograph but it also accurately measured time to 1/10th of a second, and included a quickset date function.
It may perhaps be helpful to fully appreciate the watch movement, if we outline a few terms. Firstly, simple hand-wound watches are known as a 'time only' watches, because they simply tell the time and have no 'complications'.  A time only watch with a date function is said to have one 'complication'. If this movement indicates the day, date and month, then it is said to have three complications.  Moonphase and chronograph functions are obviously a further two complications, as are a self-winding function and a quickset date function.  So this watch, as you will see, has seven complications making it highly impressive. Particularly as it is based on such a accomplished chronograph movement.
As mentioned elsewhere on our website, it is very important when considering a triple calendar chronograph to find one in tip-top condition which has been well cared for and properly serviced. This is just such an example with each of its functions working perfectly.
The calendar function is simply set as follows. First rotate the hands to the lower part of the dial close to the six. This is important and ensures the movement itself is not trying to, or is about to try to, advance the date. The day of the week is then set by rotating the hands until the correct day is showing. The pusher at nine o'clock is used to set the month. The date is then set by pulling the crown out to its most fully extended position and rotating it. The moonphase should then be advanced by using the pusher at eight o'clock. Finally, the time should then be set in the normal way before then ensuring the watch is then fully wound.
The chronograph function works in the usual way and is started and stopped using the top right hand button. It is then reset using the bottom right hand button.
Please note – it is important not to leave the chronograph timer function running in normal use as this will cause unnecessary wear on the chronograph parts of the movement.
The El Primero  remains the only mechanical movement ever able to measure time intervals to within a tenth of a second. In fact this 31 Jewel movement was so advanced and such a technical tour de force, that when in 1988 Rolex decided to replace its ageing hand-wound Valjoux Cal.72 movement in its Rolex Daytona chronograph with an automatic movement, it chose to buy and fit the Zenith El Primero movement. Rolex then continued to use this movement until the year 2000 when it finally began to produce its own chronograph movements.
As expected, the movement of this watch is in first class condition and has been fully overhauled and serviced by our vintage chronograph specialist master watchmaker. This involves complete disassembly of the movement to each of its component parts. It was then cleaned and closely examined under high magnification, then re-assembled using only the correct Zenith replacement parts where necessary, and specified oils and adjustments as required, before final testing, and calibration.
Following careful timing and calibration, this watch is currently running within +3 seconds per day averaged over 6 positions. This is truly outstanding for any watch of this age and this movement also has a 50-hour power reserve when fully wound.  We are therefore more than pleased to offer 12 months' warranty on this watch movement*.
The movement is correctly signed 'Zenith Swiss Made', '31 Jewels' and ' Chronometer' with the Calibre No 410 and the movement serial number 87283.
*Please note – our 12 months' warranty is only applicable if the full list price is paid.
The Dial
The silver-white dial contrasts wonderfully with the yellow gold case and original gilt 'Index' hands and 'baton' hour indices. It is beautifully symmetrical, well balanced and proportioned. It may initially look quite complicated, but this is because it conveys a lot of information. In actual fact, it successfully conveys all this information very simply, once you become familiar with the layout.
The dial carries the classic triple date design, to which many watch houses adhere. The window to the left hand side by 10, indicates the day of the week and the window to the right hand side by 2, indicates the month of the year. The watch also carries the Moonphase in the top half of the lower subsidiary dial.
The subsidiary dial at 3 counts elapsed minutes, up to 30, while the chronograph function is running. The subsidiary dial at 6 counts elapsed hours, up to 12, while the chronograph function is running.  The subsidiary dial at 9 counts seconds irrespective of if the chronograph is running.
The dial carries a outer tachymeter scale and a black seconds scale divided into fifths of a second. The tachymeter scale measures speed based on time travelled over a fixed distance, i.e. as a rangefinder – typically in a military application; especially naval gunnery and anti-aircraft artillery – or to measure how far away a storm is, by using the difference in time between the arrival of a flash of light and its associated sound.
This is the original dial which remains unrestored and untouched. It is in tip-top condition with no marks or damage. The lens is of quartz crystal.
As mentioned above, only 250 of this model were produced and this is number 78 of 250, as indicated by the number 78 to the left of the lower subsidiary dial.
The Watch Case
The substantial 18ct yellow gold watch case measures 40mm in diameter, excluding the original Zenith signed winding crown. The case is in almost perfect condition with no evidence of anything other than careful use and very gentle hand-polishing. It is completely scratch free and the lugs are sharp, with almost new edges. The chronograph pushers are also in immaculate condition, indicating the watch has seen very little use.
The case-back is of full thickness and shows no signs of wear visible to the naked eye. It is correctly signed 'Zenith' and 'Swiss Made' with the model number 30.0220 410 and an 18K hallmark. The outside of the case-back also carries a map of Switzerland and the inscription '700 ans Confédération Helvétique' (700 years of the Swiss Confederation).
As ever our standard advice applies: Vintage watches should be kept clean and dry at all times.
Operation
Although this watch has many functions it is very easy to set and operate.
As ever with all watches with Triple Calendar functions it is essential to only ever attempt to alter the settings while the hands are in the lower half of the dial, away from automatic date change at midnight. Otherwise damage can be caused to the automatic date change mechanism. The day and moonphase are changed using the  bottom  and upper left hand pushers respectively.  It is best to use a toothpick to operate the pushers. The date and month are set by pulling the crown out to its second position. In this position the date can be advanced very quickly by rotating the crown clockwise. The month advanced by advancing the date by 31 days.
The top right hand button is used to start and stop the chronograph.  The bottom button is used to reset the chronograph. During the operation of the chronograph, the right-hand register measures elapsed minutes up to 30 minutes while the bottom register measures elapsed hours, up to 12. The left-hand register counts constant running seconds, independent of the chronograph function. Please note, as ever it is important not to leave the chronograph function operating while the watch is in normal use as this causes unnecessary wear on the chronograph section of the movement.
The Strap & Buckle
The original Zenith Black Alligator strap is fitted with the original Zenith 18ct gold buckle.
The Box and Papers
All the original papers are included with this watch as shown, dating it to 1992.
Detailed particulars will be included with our purchase receipt and 12 months' warranty*. A separate insurance valuation for the replacement value of this watch will also be provided at the time of sale along with our unique 'Lifetime Authenticity Guarantee' which states: "If this watch proves to be anything less than totally authentic, or not as described, Vintage Gold Watches of London will offer you a full refund at any time".
As with all our watches, this watch will be sold under our 14 days no quibble sale or return policy.
The watch comes with its original presentation box, as shown.
In Conclusion
This is truly one of the most magnificent and important watches from one of the absolute leaders in its class. We think the value of this watch is excellent given the market for important rare vintage gold watches in recent years.
A word on our prices – We always try our hardest to acquire the very highest quality watches we can find, before restoring these to the highest possible standards. We then offer these at the fairest prices we can, taking into account our pre and post sales care and service. This approach means we will never be the cheapest, but nor will we be the most expensive. Indeed there are some well-known stores in West London which are highly successful charging between two to three times the price you see here. We therefore consider our prices to be fair, given the quality of watches we have to offer.
We are happy to accept PayPal as this is the quickest method of payment. However, if you would like to pay by UK cheque or by UK bank transfer we will be pleased to assist you with this and pass on a 3% saving to you. Similarly, if you wish to pay by International SWIFT or Bank Wire Transfer we will provide you with our BIC / Swift number and our IBAN number.
If you have any questions please call us on 0207 727 7095. If calling from overseas +44 207 727 7095 and we will be happy to assist.
Please note, we also welcome part exchanges. If you have a watch or small collection for sale, please contact us as we will be happy to discuss.
We will also be happy to Service your watch, Repair your watch or Restore your watch, all at 'sensible' prices. Please see here.
Please take a look at our other fine vintage gold watches.
Thank you.