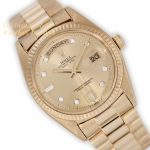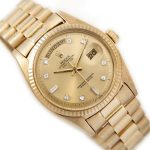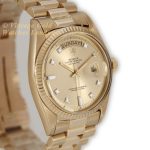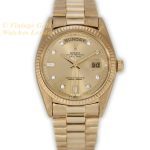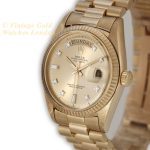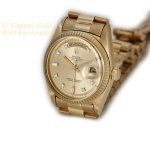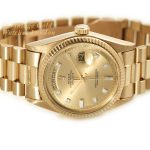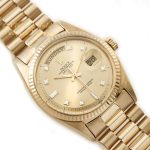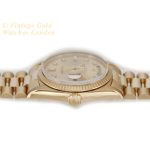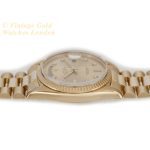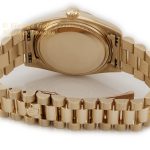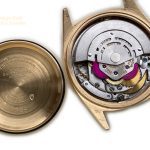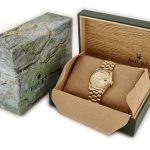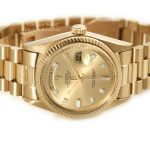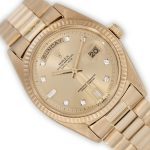 Rolex Oyster Perpetual Day-Date 18ct 1972 Original Rolex Factory Diamond Dial
£13,500
100% Genuine & All Original
Fully Inspected, Serviced and Guaranteed
A Beautifully Well Cared For And Lightly Used Example
Rolex Model Ref. 1803, Cal.1556, 26 Jewels, Automatic Movement
Officially Certified Day-Date with a Highly Accurate Chronometer Movement
Superb Rolex Factory Diamond Dot & Baguette Gold Dial with Original 'Stick' Hands
Large 36mm Diameter 18ct Gold Case, Excluding the Rolex Screw-Down Crown
Immaculate Lightly Polished Case with Excellent Definition and Fluted Bezel
Original Rolex 18ct yellow Gold President Bracelet Full Size with 23 Links
All in Absolutely Top Grade & Simply Stunning Condition
Rolex Oyster Inner & Outer Presentation Boxes Included
VGWL 12 Months Written Warranty Included*
VGWL Lifetime Authenticity Guarantee
Free Worldwide FedEx Delivery
Free UK Special Delivery
DO YOU HAVE A WATCH LIKE THIS TO SELL?
ABOUT THIS WATCH
Rolex
Founded in 1905 in England by Hans Wilsdorf and Alfred Davis as Wilsdorf & Davis, the partnership became known as the Rolex Watch Company in 1915, moving to its new Geneva headquarters in 1919. The success of the wristwatch can be largely attributed to many of Rolex's innovations which made the company one of the most respected and well-known of all luxury brands. These have included its famous "Oyster" case — the world's first water-resistant and dustproof watch case, invented in 1926 — and its "Perpetual" — the world's first reliable, self-winding movement for the wristwatch, launched in 1933. These would form the foundation for Rolex's Datejust and Day-Date, respectively introduced in 1945 and 1956. Also and equally importantly, Rolex is known for its sports watches, such as the Explorer, Submariner and GMT-Master launched in the mid-1950s.
During the 1930s and '40s, Rolex also became quite masterful at courting tremendous publicity and excitement through literally being 'on hand' during numerous record-breaking events. These were, for example, swimming the English Channel (1927), breaking the world automobile speed record (300mph, 1935), breaking the sound barrier (1947) and climbing Everest for the first time in 1953. No matter how well orchestrated these events came to be, we have to admire Rolex for becoming masters of self-promotion and capitalising on every opportunity with simultaneous worldwide marketing campaigns.
Of course, a Rolex watch has become so ubiquitous, it is now almost its own kind of currency. A Rolex is the watch you want on your wrist when you're in a Third World country, a revolution breaks out, there's only one seat on the plane and there's a guy standing in the way with a machine gun! You give him the Rolex, and he'll give you the seat!
Description
The Rolex Day-Date has been Rolex's range-topping, gentleman's dress watch for over 60 years! First released in 1956, it soon became one of the most desirable "luxury" watches to own at the time.
The Rolex 'Day-Date' is also referred to as the President, or President's watch, after a gift of the 150,000th Officially Certified Rolex Chronometer was accepted by General Dwight D. Eisenhower, and of course in 1952 Eisenhower won the presidential race, becoming the 34th president of the United States. A famous image shows Eisenhower wearing his Rolex while waving on his way to his inauguration in 1953. This was a master-stroke of marketing by Rolex which would later claim in successive advertising campaigns that the Rolex Day-Date was 'the watch worn by Presidents everywhere'. Which later, in fact, became true.
Incidentally, Winston Churchill also wore a Rolex after he accepted his gift of the 100,000th Officially Certified Rolex Chronometer a few years earlier in 1947.
When the Day-Date was unveiled by Rolex in 1956, it immediately broke two records. It was the first watch to display the date, as well as the day in its entirety, and of course, it was therefore the first waterproof watch to display the date, as well as the day, in its entirety.
The example here is Rolex model reference 1803, with the Cal.1556, 26 Jewel movement. It has an original Rolex factory diamond dial which is in immaculate, unrestored condition and the full length 23 link 18ct Rolex President Bracelet is original to this watch.
The Dial
The Rolex factory diamond-set dial, in gold sunburst, is original, untouched and in superb condition. The Day-Date dial is one of the most iconic of all Rolex dial designs, and one which has remained almost unchanged since its introduction in 1956, through to the present day. This is the classic 1970s Day-Date dial with its original 'stick' hands. This is often known as the Rolex diamond 'dot' dial, which comprises of square set diamonds from one through to eleven, except at six and nine where diamond 'baguettes' are used. The gold dial contrasts wonderfully against the yellow gold case and diamonds. This dial has a cyclops date window at 3 and the day of week, which is in English, is in place of 12′
The dial is signed 'Rolex Oyster Perpetual', 'Day-Date' with 'Superlative Chronometer Officially Certified' below and 'OT Swiss TO' at the very bottom of the dial.
Usually, we restore the dials of the watches we sell, however, we decided in this case due to its exceptional condition, to retain its originality and charm for the many collectors who prefer this. It also helps to contrast with most of the other watch dials you see on our website, which have been restored.
Please note, studio lights, professional-grade digital cameras, and macro lenses can be very unkind to an unrestored vintage watch dial. Also the dial here measures less than 1.25 inches across, so the image you're seeing may be between 5 – 25 times larger than the watch itself. Therefore please keep in mind you are seeing many tiny flaws which cannot be seen, or will be very hard to see with the naked eye, even under close examination. Suffice to say, on the wrist, in natural light, this dial looks much better and carries a great deal more charm than the photographs portray.
The Watch Movement
The original, high grade "Officially Certified Superlative Chronometer", 26 Jewel, Calibre 1556 Day-Date movement is highly regarded for being very accurate, reliable and robust.
As can be seen in the photographs, it is in sparkling condition and it is working perfectly following a thorough overhaul and service by our vintage Rolex specialist watchmaker. This means the movement has been completely disassembled to each of its component parts, cleaned and inspected under high magnification and then rebuilt using only original Rolex parts where required, before testing and careful calibration. The watch has just been re-tested (as it will be prior to delivery) and is running to within +14 seconds per day, which is outstanding for any vintage watch. The movement also has a 48 hour power reserve when fully wound.
These movements are strong, accurate and very reliable making this watch perfect for regular everyday use, as well as evening wear. This movement is in top condition and with regular servicing every 3 – 4 years we would fully expect this watch to run very happily for many more decades to come! We are therefore pleased to offer a 12-month warranty on this watch movement*, along with servicing in the future. The movement is signed 'MONTRES ROLEX SA GENEVA' and 'TWENTY SIX JEWELS', 'ADJUSTED to FIVE POSITIONS', and carries the movement reference number DD559045 and the Calibre Number 1556.
*Please note – our 12 months' warranty is only applicable if the full list price is paid.
The Watch Case
The 18ct yellow gold case measures 36mm, excluding the Rolex Oyster screw-down crown. This outstanding watch weighs an incredible 138grams, making this a heavy and robust watch overall. The case has been cleaned, inspected and very gently hand polished to bring it back to the condition you see here. Even though this almost 50 years old, no definition has been lost at all and all lines and edges, including the bezel, remain well defined. The case, lugs and case-back are in superb condition with no scratches, dings or similar marks visible to the naked eye.
This watch has seen very little use, evidenced not only by the dial but also the watch case and bracelet. Generally, an 18ct watch case which has seen regular use will soon pick up one or two tell-tale marks in the form of slight nicks and scratches. Normally these are never a problem as they can be removed by gentle polishing by hand or professionally by a watch case restorer. Here, however, the watch shows almost no signs of polishing even to the trained eye. This is proof to us that this watch has hardly been used. As can be seen, the bezel is free from any marks, which is unusual as the bezel is the most prone part of the watch case to damage and scratches.
The screw-down case-back is of full-thickness and has never been inscribed. The inside of the case-back carries the case reference number 1803 with 18ct Swiss Geneva hallmarks and is signed: 'Montres Rolex SA Geneva Switzerland'. Very importantly, the case also carries its clearly defined serial number 3580339 between the lugs at '6'. This confirms the date of manufacture of the watch, which is 1972. The Rolex model reference number 1803 is also shown between the lugs at '12'.
Please note, although the waterproof seals have been replaced and the watch was originally specified as waterproof when new, this has not been tested and it is not guaranteed. As always, our standard advice applies: vintage watches should be kept clean and dry at all times.
The Bracelet
The 18ct yellow gold bracelet is original to this watch and is of full size, complete with its original 23 links. The bracelet has been very lightly used with no stretch and is free from any marks or damage visible to the naked eye.
The Box and Papers
Although there are no original papers with the watch, the numbers and markings are all correct, dating this watch to 1972.
Our detailed Watch Particulars document will be included with a receipt, along with our 12 months' warranty*. A separate insurance valuation for the replacement value of this watch will also be provided, along with our unique 'Lifetime Authenticity Guarantee, which states: "If this watch proves to be anything less than totally authentic, or not as described, Vintage Gold Watches of London will offer you a full refund at any time".
The watch comes complete with a Rolex inner and outer presentation box, as shown in the photographs.
If you would like to pay by bank transfer we will be pleased to assist you with this and pass on a 3% saving to you. Paying by bank transfer for a 3% saving will not affect your 12 months warranty. Similarly, if you wish to pay by International SWIFT or Bank Wire Transfer we will provide you with our BIC / Swift number and our IBAN number.
Please check the import duties and any taxes your government may apply, these are different for each country and unfortunately out of our control.
We understand there may be some 'loopholes' that may help you avoid these charges, however attempting to use these could impact our ongoing ability to serve our growing international customer base.
For those that happen to visit the UK on occasion we are of course more than happy to store your watch until we can meet you in our offices in Kensington, London, and your watch directly to you there.
As with all our watches, this watch will be sold under our 14 days no quibble sale or return policy.
In Conclusion
To summarise, this is the iconic top of the range dress watch from horology's most famous name. It is an amazing vintage dress watch and will provide an excellent financial investment as well as be something to wear, treasure and enjoy! It will make the perfect evening wear dress watch as well as a practical, accurate and reliable timepiece to use every day, should you so wish.
Although this is one of our more expensive watches, its quality will be remembered for long after its purchase price will be forgotten.
Vintage gold Rolex 'Day-Date' watches are highly collectable and the rarity of this watch means the value will always remain strong, making this an excellent investment and family heirloom piece. Even though vintage Rolex prices have risen markedly in recent years, we still feel first-class examples such as this remain undervalued. Each year as the world market for vintage watches grows and availability becomes more limited, prices are inevitably destined to climb ever higher.
A word on our prices – We always try our hardest to acquire the very highest quality watches we can find, before restoring these to the highest possible standards. We then offer them for sale at the fairest prices we can, taking into account our pre and post-sales care and service. This approach inevitably means we will never be the cheapest, but nor will we be the most expensive. Indeed there are a number of well-known stores in West London which are very successful charging between two to three times the price you see here. We therefore feel our prices to be fair, given the quality of watches we have to offer.
Please note, we also welcome part exchanges. If you have a watch or a small collection for sale, please contact us as we will be happy to discuss this.
We will also be happy to Service your watch, Repair your watch or Restore your watch, all at 'sensible' prices. Please see here.
If you have any questions please call us on 020 7727 7095 or if calling from overseas on +44 207 727 7095.
Please take a look at our other fine vintage gold watches.
Thank you.