Vintage Gold Watches: Library
We are often asked to recommend a book or two, for example covering vintage Rolex or one of the brands we follow. Alternatively, a general or more specialist book relating one of the many facets of the wonderful world of vintage watches.  Books, of course, can be equally fascinating as vintage watches and naturally over the past 20 years or so we have built quite a collection.  Over a hundred titles in fact, which includes almost all of the main books about Rolex, Jaeger-LeCoultre, Omega, Longines, IWC and Zenith. As true lovers of the art of watchmaking we also have all the titles written by George Daniels and a number of books about early Breguet watches, prior to its bankruptcy in 1987 and relaunch of the brand in 2000.
All the books below are large format hardback books containing many beautiful photographs of the best examples of the popular watches which you see here along with of course more esoteric watches with many more zeros to their value. They therefore make wonderful coffee table or gift books as well as for formal reference. Indeed the collection comprises our reference library. So unless clearly stated, we ask you to assume all the books have been lightly used by ourselves. However we are regularly adding to or replenishing our collection and so the condition is often, like our watches, as good as new. Some of these books are very hard to get hold of, particularly as some are out of print. And some  will seem frighteningly expensive, particularly some of the Rolex books, but this is because they are low volume, specialist books of very high quality. But please be assured, none are deliberately priced above recommended list prices. Indeed this section is here to share our experience of collecting these books and not for making a profit.
We recommend you read the reviews and if you have any questions about a book, by all means, contact us at info@vintagegoldwatches.com.  Then if you would like to buy one these books we recommend you try the experts at Amazon or Waterstones, etc first, as they may well be cheaper and they will almost certainly be quicker as selling books is not our main business. However if you cannot find them elsewhere and you would like to buy a book from us then please send us an email and we will respond within 24hrs to confirm we a copy is available and we will let you have the total price including postage. Note one or two of these books are very heavy and so the total price will rise accordingly.
General books
Wristwatches: a Connoisseur's Guide, Edwards, Frank.   2,000      £19.99
A great first book and easy reference of all the main manufacturers and their key watches.
This text is a practical and informative source of reference to the best in wristwatches. It tells the story of the development of the timepiece from sundial to solar-power, providing hints on starting a collection and what to look for in a good watch. The main directory lists over 50 prestigious watch brands, from the Swiss watchmakers who make and finish watches by hand, to the high-tech companies whose multi-functional timepieces are marvels of scientific ingenuity. Each entry gives the history of the manufacturer and discusses the flagship watch and product range, with advice on the hallmarks of a good watch.
Automatic Watches from Switzerland: Watches That Wind Themselves.      1994      £75.00
The definitive guide to the invention and development of the automatically winding watch. 
An exciting area of collecting for clock and watch enthusiasts is literally opened up with this book. On the outside the automatic wristwatch is like its counterpart, but once the case is opened a different world appears. Here 200 watches are shown, each with three photos to show the dial and the complete and partly disassembled movement. The book introduces all the Swiss manufacturers and provides a historical overview of the development of automatic watches from 1926 to 1978. Information on the functioning mechanism and construction of each design is offered along with the data needed to locate the watches chronologically.
The Watch Book by Gisbert L. Brunner   2014   £40.00
A bold title perhaps but this watch book nearly carries it off! Principal manufacturers of today and their history with lots of photographs of the watches of yesterday and today.
Few objects combine function, elegance, and status as well as a wristwatch. One's choice of chronograph reveals a great deal because it shows the value we place on the most precious resource of all-time. A blend of precise mechanics, craftsmanship, fine materials, and innovation distinguishes the truly superlative examples. In The Watch Book, readers can feast their eyes and minds on a magnificently-illustrated and well-documented chronicle of the world's best timepieces. First, we're treated to a brief discussion on the meaning of time and its measurement by ticking sets of gears and hands. Next we delve into more than 18 premium manufacturers, including Patek Philippe, Rolex, and Cartier. These biographies of the most important names in top-end timekeeping trace the progressive development from their earliest days right up to the latest innovations and current models. We explore just what makes these houses outstanding, learning about the remarkable breakthroughs that established them as the creme de la creme of the European watch industry.
Rolex books
The Best of Time Rolex Wristwatches: An Unauthorized History (Schiffer Book for Collectors) 3rd by Dowling, James, Hess, Jeffrey, 2007   £120.00
It's a chunk of change but this the best first book, or the one and only book of vintage Rolex.
The name of Rolex is recognised around the world. It has become an icon of beauty, quality, accuracy, style, and taste. While there are other fine manufacturers of timepieces, none has reached this pinnacle of public respect and acclaim. The watches produced by Rolex over the last 90 years are celebrated in this lavishly illustrated new volume. Mssrs. Dowling and Hess, acknowledged Rolex authorities, have captured their beauty in full colour photography. They accompany the most thorough and extensive history ever written of the company. Information for collectors and current market values of the watches makes this a truly useful volume and one that will be cherished by watch lovers around the world., 392 photos, 9″ x 12",

100 Years of Rolex. 1908 – 2008 Guido Mondani   2008   £299.00
It's an even bigger chunk of change but if you Really Love your Vintage Rolex and your investment to date is closing on say £10,000, then this book is probably an essential enhancement to your overall appreciation and experience of the manufacturer.  
Guido Mondani Editore, Genova, Italy, 2008. Hardcover. Book Condition: New. Dust Jacket Condition: New. 338 pages, lavishly illustrated, 2008. Published to celebrate 100 years of the Rolex wristwatch brand, this book describes and illustrates many of the fine watches produced, together with period advertisements, etc. A 'must have' for Rolex enthusiasts. With dust jacket, separate price list (card covers) and card slipcase. [Dual Italian & English language] This is a heavy book (4.0 kg)
Orologi da Polso wristwatches Rolex, Osvaldo Patrizzi Guidi Mondani Editore, 1992 £250.00 Out of print. Hard to find.
Oversized Hardcover. Book Condition: Near Fine. 10″ x 12 1/4″, 208 pp., dark grey cloth with gold titling to front and spine, in illustrated dustjacket. First Edition. The personal copy of actor Charlie Sheen, acquired in an auction of his belongings (Leland's), though no ownership is indicated in the book. Near Fine condition (minor bumping to corners, otherwise Fine) in a VG++/Near Fine dust jacket which has some bumping at the edges, light surface rubbing, and, on the back panel, a few light scratches and one impression. Long considered the best book on Rolex watches ever published. This First Edition has a brief history of Rolex, Hans Wilsdorf, The Foundation, Andre J. Heiniger and the watches themselves. It has pages of Rolex advertising from 1939 to 1980. The last part of the book is entitled "Selection of Rolex Wristwatches Described by Osvaldo Patrizzi" with two large colour photographs and a short description of a watch on each page. The book contains invaluable information on the reference number, the movement, the case, and the year of production of each Rolex watch. It comes with a separate price guide for all watches that appear in the book. In ENGLISH and ITALIAN.
The Rolex Report: An Unauthorized Reference Book For The Rolex Enthusiast
John E. Brozek  Large format paperback  Out of Print and hard to find  £150.00
The Rolex Report is the result of over 10 years of personal research, cram-packed with 288 pages of facts and figures with over 400 high-resolution illustrations. The book gives a chronological history of The Rolex Watch Company, as well as a look at each of the Rolex models including variations and evolutions over the years. In addition to identifying hundreds of Rolex watches and parts, it includes a unique resource for spotting counterfeit Rolex watches, with incredibly detailed side-by-side macro photos. Whether you're a serious collector, or just considering a Rolex in the future this is a must have resource.
The Rolex Story, Franz-Christoph Heel. 2014 £50.00
The "brand with the crown" is recognised worldwide as an invaluable sports implement and luxury product. This book traces the manufacturer's development from the 1920s, when it began its steady rise to unprecedented international appeal, to the present. Explore the ingenious innovations in technology and marketing behind the prestigious company's swift success. Browse the images and devour the historical and technical details of some of Rolex's most reliable models: the Submariner, on which divers depend to get them safely back to the surface; the Cosmograph and Yachtmaster that auto-racers and boat captains trust for their precision and durability. Get the latest reports and performance tests results on Rolex items: rugged or elegant; classic or contemporary. From the beginning, the sponsorship of statesmen, movie stars, and athletes has driven its success, but Rolex has since expanded to include more than just the rich and famous.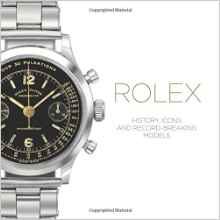 Rolex: History, Icons and Record-Breaking Models By: Osvaldo Patrizzi, Mara Cappelletti  2015   £35.00
A nice hardback coffee table book mostly photographs with some light reading. 
The history of Rolex is inextricably linked to its founder Hans Wilsdorf, who took the first steps in the world of Swiss watchmaking as he dreamed about a timepiece that could be worn around the wrist. This experimental research led Rolex to achieve its highest goals in both technological innovations and in the use of the finest materials alone. Its models have been photographed on the wrists of political leaders, sports champions, and film and fashion celebrities, transforming each Rolex into a fully-fledged status symbol, a synonym of elegance and precision. Including essays with a historical and technical slant, in-depth descriptions of the most representative pieces and a brief glossary, the pages in this book sparkle with golden hands, diamond-studded dials and patent-leather watchbands, illustrated in period photographs and macro-detail. The volume ends with a chapter dedicated to the most amazing auctions that saw the sale of the Geneva-based company's vintage watches.
Jaeger-LeCoultre books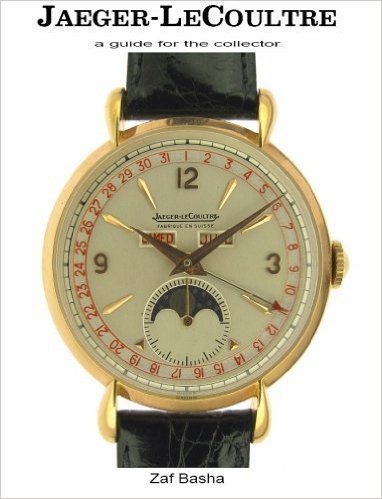 Jaeger-LeCoultre: a Guide for the Collector by Zaf Basha. Out of print and now becoming difficult to obtain. £230.00 – new copy.
One of the very few guides to vintage Jaeger-LeCoultre and thankfully a very good one.
This comprehensive guide is an invaluable resource for both watch collectors and dealers alike. Written by a long time Jaeger-LeCoultre enthusiast Zaf Basha, the breadth of technical information in this authoritative volume is the only work of its kind. It covers over 140 vintage wristwatch models in exhaustive detail including their movement calibres, case references, production figures and repair notes, all with stunning colour photographs.
This is a fantastic read for Jaeger-LeCoultre collectors. A must-read book from a collector; to a collector. It has almost 200 pages of detailed information on over 140 vintage Jaeger-LeCoultre watches. Details include such information as, movement calibres, case references, production figures and repair notes. This is an invaluable resource for your Jaeger-LeCoultre watch repairs. With Basha's helpful tips, Collectors can also use this book as a guide in identifying genuine Jaeger LeCoultre watches. Jaeger-LeCoultre: A Guide for the Collector is beautifully illustrated, with pictures of old collector's items and detail, emphasized, on the inner workings of the watch.
Omega books
Omega Watches by John Goldberger 2005   Out of print. Hard to find  £200.00
The Omega book, which unfortunately is too expensive unless you are really serious about your vintage Omegas.
John Goldberger has been collecting and studying vintage watches for over 25 years, which means he's spent many happy hours at jewellers' shops, flea markets, conventions and auctions around the world. His comprehensive and detailed illustrated book on the Omega family of Swiss timepieces is an indispensable asset to others who share his obsession, and to those who would love to–to armchair collectors. "Omega Watches" covers the history of more than 240 vintage models, with emphasis on their outer aspects–including the shape and outline of each case and its dial and movements, which are governing features for the collector, as well as clues to exceptional internal design. Goldberg has created a beautiful visual guide to Omega timepieces from the classic pocket watch to the modern chronograph. Starting with the first models of the past century, "Omega Watches" displays the beauty, complexity and the collectibility of classic watches such as the Speedmaster, first produced in 1957, and the Seamaster, both of which are still produced today. All examples depicted are from private collections.
Omega Sportswatches by John Goldberger   2007  Out of print. Hard to find  £200.00
The Omega Sportswatches book, which unfortunately is too expensive unless you are really serious about vintage Omega Sportswatches.
Omega was entrusted with timekeeping at the Los Angeles Olympic Games in 1932 and has since been the official timekeeper at 22 Olympics. That association has led to more than half a century of pioneering developments in timers and watches, from the first water-resistant photoelectric cell to the first photo-finish camera (an innovation that resolved the problem of group finishes in track events), and "contact pads" inside the pool at swimming competitions. They have continued to innovate, most recently with real-time results online, available as soon as a swimmer hits the pool wall at the end of a lap. Yet it is the most tangible, touchable, wearable results of all this that brings Omega watches from the workplaces of athletes (including Michelle Wie and Michael Phelps) into the homes of design aficionados. John Goldberger, the editor of "Omega Watches" and "Longines Watches" here presents more than 50 years of rare and beautiful sports designs from the Omega line.
Longines books
Longines Watches by John Goldberger. Out of print and getting hard to find £100.00
The story of one of the most renowned Swiss watchmakers.
The oldest continuously used watch brand, the Longines winged hourglass symbol was perhaps chosen with reference to the famous Latin saying,  but which was then to turn out to serve as a premonition of the path chosen: a path that was to lead Longines to grow and rise to fame and glory across the world. Perhaps it was just by chance, or perhaps a sign of destiny, but that winged hourglass, designed to represent time flying by, the "tempus fugit", was to become a protagonist not only in the history of 19th and 20th century watchmaking, but also that of the great geographical explorations, of the great wars, and above all – as if to reiterate the meaning of that pair of wings – of the great accomplishments made in aviation… Giampiero Negretti
A monography by the same author of Omega Watches and Omega Sportswatches – John Goldberger – telling the story of one of the most renowned Swiss watchmakers, Longines. A photographic collection of the Swiss producer's watches, chosen among the most precious and refined. 145 watches photographed full-page, accompanied by the detailed reproductions of cases, dials, movements and the relative calibres. A book which is one of a kind, a complete collection dedicated to collectors, insiders or simple enthusiasts.
IWC books
IWC Schaffhausen by Fritz, Coelho.  2010    Out of print and hard to find     £150.00
A luxury volume with superb photographs and lively written texts on the IWC brand and the watches.
Passion, tradition, perfection and the highest levels of technical sophistication – all this is represented by the name of IWC Schaffhausen. Its head office and principal production site in Schaffhausen are the result of one of the most interesting stories about the foundation of a company in the watchmaking industry. Now you may read it in a sumptuously produced book with over 500 illustrations. A luxurious volume with outstanding photographs and a lively text, containing a wealth of background information and fascinating incidental facets, which will appeal not only to collectors and specialists but to all watch enthusiasts. And let yourself be carried away into an enthralling world of time written by bestselling author Paulo Coelho exclusively for IWC and illustrated by the gifted drawing artist Enki Bilal.
Zenith books
Zenith: Swiss Watch Manufacture Since 1865, Manfred Rossler 2009     £99.00
The Zenith book and if this manufacturer has your eye then this will be a treat for them!
This volume retraces the history of the famous Swiss watch house Zenith, documenting events and production over the course of the past 140 years. Setting out from the first pocket watches, which after the 30s gradually gave way to more modern wrist contraptions–accessories initially seen in a very negative light–the book documents the invention of both the revolutionary "17 ligne" movement and one of the sector's best-known calibres, the legendary El Primero. With more than 700 illustrations with detailed captions, "Zenith" also includes the increasingly specialized models of later years, including waterproof casings, chronometers, chronographs with special dials and timepieces for the military, sport and medical sectors. Not to mention anecdotes, memorabilia and rare period advertisements.
A long history that began in Le Locle, in the mountains of the Swiss canton of Jura, the cradle of great Swiss watchmaking. As early as 1770 there were craftsmen specialised in movements and watch cases, gilders, experts in the creation of dials, enamellists who produced watch hands. In 1865 a company was set up in this little town on the renowned Les Billodes premises, a petite enterprise that was destined to become famous worldwide. Initially named for its founder Georges Favre-Jacot, after the first thirty years it became Zenith…. This book retraces the history of the Swiss watch maison, documenting events and practically the entire production of more than 140 years. Setting out from the first pocket-watches, which after the 30's gradually gave way to the more modern "wrist contraptions" – accessories initially seen in a very negative light – the book documents the invention of both the revolutionary 17 ligne movement and one of the sector's best-known calibres: the legendary El Primero. With more than 700 illustrations with detailed captions, Zenith also includes the increasingly specialised models: waterproof casings, chronometers, chronographs with special dials and timepieces for the military, sport and medical sectors. Not to mention anecdotes, memorabilia and rare period advertisements.
Chronographs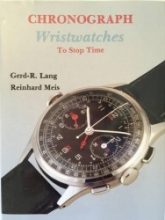 CHRONOGRAPH – WRISTWATCHES TO STOP TIME by LANF GERD R & MEIS REINHARD  1993  £100.00
 The Definitive Chronograph book!
The technology and case of the chronograph are here treated historically. Profusely illustrated – a comprehensive reference. Schiffer Publishing. Quarto, cloth complete with DJ, 248 pages.
Wrist chronographs are mechanical wristwatches that, in addition to their normal clockwork, have a mechanism that allows them to time short-term events. They are one of the most popular collecting areas in the broad spectrum of wristwatches because they are not yet too expensive and are available in large numbers. Until this book they had not been studied systematically. Here Land and Meis offer this outstanding identification book. The text deals with the dial of the chronograph and all the indications that can possibly be read from it. There is also a technical section that shows the historical development of the chronograph mechanism. With collectors in mind the authors have arranged the illustrations by the indications on the dials. Pictures of the movements are always included with those of the chronographs. This book is a particularly useful identification book for collectors, dealers, and auction houses.