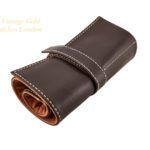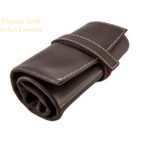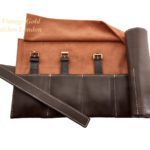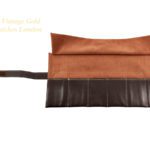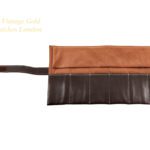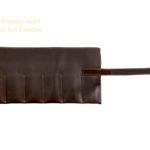 Soft Leather Watch Roll – Brown
£85
Artisan – Hand Made
Brown With Contrasting White Stitching
High-Quality Soft Nappa Leather Watch Roll
Comfortably Holds and Protects up to Six Watches
Very Safe & Secure and Functional with an Outer Velcro Strap
Soft Protective Lining with a Soft Protective Flap to Keep Your Watches Safe
Safe & Secure Storage & Travel, with Very High-Quality Leather
Pockets will Comfortably Hold Watches up to 48mm Diameter
Size 420mm x 180mm with 65mm x 75mm Pockets
A New High Quality Item and Beautifully Finished
Brown with White Contrasting Stitching
Free Worldwide FedEx Delivery
Free UK Special Delivery
Watches Not Included Unless Bought Separately
DO YOU HAVE A WATCH LIKE THIS TO SELL?
ABOUT THIS WATCH
We find these soft leather felt lined watch rolls are the perfect solution for both safe storage and travel.
Even while containing six watches a watch roll will generally fit in the inside breast pocket of most coats and jackets.
These beautiful high quality soft Nappa leather watch rolls are available in black with black stitching or brown with contrasting white stitching.
They will safely store a small collection of precious watches together in one place and safely protected from one another. If you have more than six watches why not buy two or three in the same or different colours, as these watch rolls make the perfect safe storage solution!
These are also perfect for travelling as a roll takes up very little space even when storing six watches.
Please check the import duties and any taxes your government may apply, these are different for each country and unfortunately out of our control.
We understand there may be some 'loopholes' that may help you avoid these charges, however attempting to use these could impact our ongoing ability to serve our growing international customer base.
For those that happen to visit the UK on occasion we are of course more than happy to store your watch until we can meet you in our offices in Kensington, London, and your watch directly to you there.