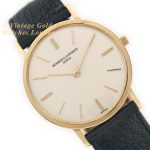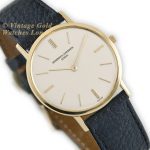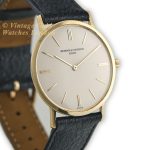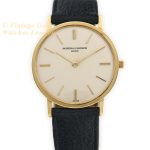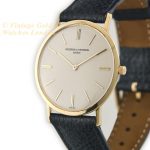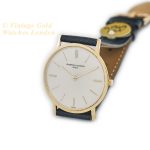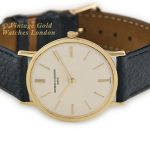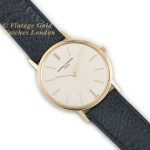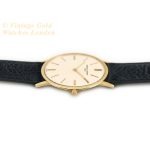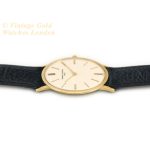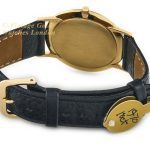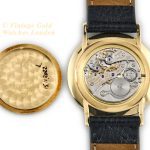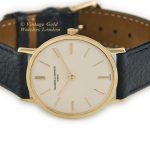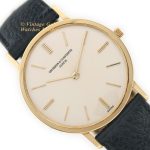 Vacheron & Constantin Model Ref. 6115 18ct 1970
£5,950
100% Genuine & All Original
Fully Restored, Serviced & Guaranteed
A Beautifully Well Cared For and Fully Restored Example
Superb, Original Restored Ivory-Cream Dial in Tip-Top Condition
All in Absolutely Tip-Top & Beautifully Restored, Stunning Condition
Ultra-High Grade V&C Calibre 1003, 17 Jewel Fully Restored Movement
Ultra-Fine Vacheron & Constantin 18ct Gold Watch, 34mm Diameter & 4mm Thin
High Quality Black Leather Strap with Plain Gold-Plated Buckle
High Quality Hardwood Presentation Box Included
VGWL 12 Months' Written Warranty Included*
VGWL Lifetime Authenticity Guarantee
Free Worldwide FedEx Delivery
Free UK Special Delivery
DO YOU HAVE A WATCH LIKE THIS TO SELL?
ABOUT THIS WATCH
Vacheron & Constantin
One of the recognised 'Holy Trinity' of Swiss watchmaking along with Patek Philippe and Audemars Piguet, Vacheron & Constantin is also the world's oldest 'Watch Manufacture' and as such, it has remained in continuous operation since 1755. More than this, Vacheron & Constantin is the founding father of a spirit of technical excellence taken so far, it is considered an art. This is known as 'Haute Horlogerie' in which Vacheron & Constantin has been the leader for over 260 years. This tradition defines the Manufacture, evident in the finest quality execution, reflected in a finish which goes far beyond the demands of the 'Poinçon de Genève'.
Created in 1886 the 'Seal of the State of Geneva' is the highest accolade, reserved for only the very finest quality watchmaking. Vacheron & Constantin was the first watchmaker to be allowed to use this hallmark of excellence on its movements. This, along with its extraordinarily high standards of quality and manufacture, lead many watchmakers, horologists and watch industry experts to believe Vacheron & Constantin reigns supreme among the finest quality watch manufacturers of the world.
To the collector, Vacheron & Constantin offers a level of exclusivity which even the more famous Patek Philippe can not. During the 1940s and through to the 1960s, Vacheron & Constantin only ever produced a maximum of 24 examples of each reference in any one configuration. This means that while it produced a variety of dial and case combinations, colours and designs, each one was strictly limited in number. For the collector, the fact that these watches are seriously undervalued doesn't go unnoticed either.
Description
For much of the history of mechanical watchmaking, slimness in watch design was considered not only aesthetically preferable, but also a clear sign of superior talent. Later in the 1950s and through to the 1970s, many watchmakers saw an increase in interest in 'ultra-slim' and 'ultra-thin' wristwatches. However, due to the many technical challenges in producing such watches, only a very few notable manufacturers achieved significant success in this area. These were Jaeger-LeCoultre, Patek Philippe, Audemars Piguet and Vacheron & Constantin.
In 1952, Vacheron & Constantin released the world's slimmest wristwatch movement, the Calibre 1001, which was just 2.94mm thin. Then in 1955, the company did it again, taking this further by releasing the Calibre 1003, which at just 1.64mm thin was by far the thinnest wristwatch movement ever produced. Vacheron & Constantin promoted this watch as the "Flattest Watch In The World".
The Calibre 1003 was considered so great an achievement by experts, including Vacheron & Constantin itself, that in 2015, to celebrate the 60th anniversary of its release, the company re-released the same model as the Historiques Ultra-Fine 1955, at a price of close to £30,000. This model and movement is still produced to this day and remarkably enough, despite the longevity of the Calibre 1003, its record for thinness still stands today: at 1.64mm as the world's thinnest traditionally constructed watch movement. Many experts consider this to be the finest hand wound movement ever made.
The watch we see here is the Vacheron & Constantin model number 6115, this is an understated and yet utterly beautiful piece of history and undoubtedly one of the ultimate bargains on the market today.
The Dial
This wonderful ivory-cream dial has been fully restored to the highest standard and looks incredible. The dial carries applied gilt 'baton' hour indices which are matched with 'index' hands – so simple – yet so pleasing.
The dial is correctly signed 'Vacheron & Constantin' and 'Geneve' at the very top of the dial just below 12 with 'Swiss' at the very bottom, below 6.
This is the original dial which has been restored to the highest standards by our dial restorers, considered to be the best in the UK.
The Movement
The Calibre 1003 was originally conceived by Jaeger-LeCoultre as the Calibre 803, upon request from Audemars Piguet, Vacheron & Constantin. No one else, not even Jaeger-LeCoultre, has ever used this movement. Vacheron & Constantin named this its Calibre 1003 and Audemars Piguet its Calibre 2003. First introduced by Vacheron & Constantin in 1955 and still produced to this day, this remains the world's thinnest traditionally constructed watch movement ever produced to date at 1.64mm high and 20.80mm in diameter. The 1003 is chronometer quality and requires no shock-proofing, due to its lightness. It really is one of a handful of horological accomplishments of all time. Most people do not realise that a true 'ultra-thin' such as this, is more difficult to produce and therefore more expensive and exclusive than most other highly complicated watches. Indeed an ultra-thin movement is considered by watchmakers as a 'complication'. Vacheron models containing the cal.1003 today sell for over £20,000, so going vintage offers a real bargain.
The incredible calibre 1003 that you see here, inside the case, measures just 4mm. This is remarkably thin yet runs perfectly.
This example is in amazing condition having just completed a full overhaul and service by our vintage Vacheron & Constantin specialist watchmaker. It is running perfectly and has been calibrated in 5 positions to run within +14 seconds per day which is truly outstanding for any mechanical watch and has been checked and confirmed on our electronic watch timegrapher. The movement also has a power reserve of 30 hours when fully wound.
With care and regular servicing, we would fully expect this watch to continue to run very happily for many more decades to come. We are therefore totally confident in offering this watch with our 12 months' written warranty*.
The movement is signed 'Vacheron & Constantin', 'Geneve Swiss' and '17 Jewels' with the Calibre number 1003 and the movement serial number 585808. The movement serial number dates this watch to 1970.
In addition, this movement carries the most highly regarded 'Geneva Seal'. This is a distinctive hallmark depicting the Geneva coat of arms, granted by an official body at the Ecole d'Horlogerie de Genève and was only ever placed on movements which were able to achieve the most exacting standards and whose quality and finish conform to most precise and demanding specifications.
*Please note – our 12 months' warranty is only applicable if the list price is paid.
The Watch Case
Vacheron & Constantin has been, from its very early beginnings, the torchbearer of Haute Horlogerie. This is reflected not only in its movements, but also in its watch cases. The Vacheron & Constantin model ref 6115 here measures 34mm in diameter, excluding the correct Vacheron & Constantin signed crown, and an amazing just 4mm in depth including the lens. This is remarkably thin when one considers this includes the case-back, case, movement, dial and lens. It is one of the most commercially successful, high-quality ultra-fine watches ever produced. The three-piece case design is remarkable for its rigidity and its compactness.
Few realise it today, but for the vast majority of the time the concept of a wristwatch has existed, 32mm was considered the perfect size for a gentleman's dress watch and once the current fad for outsized watches has passed, we feel sure these smaller high-end vintage watches will become widely appreciated once again.
The case, the case-back and bezel are all in superb condition with no marks or scratches visible to the naked eye. The watch has been beautifully well cared for and after a close inspection has simply required a careful clean and a gentle polish to bring it back to its current, almost as new condition.
Inside, the case-back all is as expected, and properly signed, 'Vacheron & Constantin' and 'Swiss' with the classic Maltese Cross twice, along with Swiss Geneva 18ct hallmarks "18K 0.750″. It also carries the Vacheron & Constantin model number 6115 and the case serial number 413514. Importantly, the heavy case-back is of full thickness and has never been engraved.
As ever, our standard advice applies: vintage watches should be kept clean and dry at all times.
The Strap & Buckle
A new high quality black leather strap has been fitted, along with a plain gold plated buckle, which we feel suits this watch very well. However, if a different colour or style of strap is preferred, please let us know and we will do our best to oblige free of charge. We carry tan, conker, dark brown and black in stock in plain padded leather, crocodile skin or lizard skin. We can also obtain most types and colours from our partners at 'Watch Obsession' within 48hrs. Please take a look at their huge range of 18mm straps if you wish here.
Box and Papers
Although there are no original papers with this watch, the reference numbers, markings, signatures and hallmarks are all correct, dating this watch to 1970.
Detailed particulars will be included with our purchase receipt for your interest and security. A separate insurance valuation for the replacement value of this watch will also be provided at the time of sale along with our unique 'Lifetime Authenticity Guarantee' which states: "If this watch proves to be anything less than 100% genuine, authentic and original, a full refund will be given at any time".
The watch also comes complete with a high quality hardwood presentation box.
Payment and Delivery
If you would like to pay by bank transfer, we will be pleased to assist you with this and pass on a 3% saving to you. Paying by bank transfer for a 3% saving will not affect your 12 months warranty. Similarly, if you wish to pay by International SWIFT or Bank Wire Transfer we will provide you with our BIC / Swift number and our IBAN number.
Please check the import duties and any taxes your government may apply, these are different for each country and, unfortunately, out of our control.
We understand there may be some 'loopholes' that may help you avoid these charges; however, attempting to use these could impact our ongoing ability to serve our growing international customer base.
For those who happen to visit London on occasion, we are, of course, more than happy to store your watch until we can meet you in our offices in Kensington, London, and hand your watch directly to you there.
As with all our watches, this watch will be sold under our 14 days no-quibble sale or return policy.
In Conclusion
One of the horological accomplishments of all time, this wonderful, iconic and collectable gentleman's dress watch is from one of horology's oldest and most respected names. This beautiful watch will not only make an excellent dress watch, but also provide an excellent investment as well as be something to use, wear, treasure and enjoy!
A word on our prices – We always try our hardest to acquire the very highest quality watches we can find, before restoring them to the highest possible standards. We then offer these at the fairest prices we can, taking into account our pre and post-sales care and service. This approach means we will never be the cheapest, but nor will we be the most expensive. Indeed there are some well-known stores in West London which are highly successful charging between two to three times the price you see here. We, therefore, consider our prices to be fair, given the quality of watches we have to offer.
Please note, we also welcome part exchanges. If you have a watch or a small collection for sale, please contact us as we will be happy to discuss this.
We will also be happy to Service your watch, Repair your watch or Restore your watch, all at 'sensible' prices. Please see here.
If you have any questions please call us on 020 7727 7095 or if calling from overseas on +44 207 727 7095.
Please take a look at our other fine vintage gold watches.
Thank you.