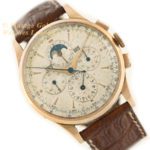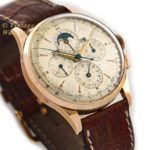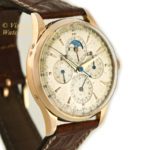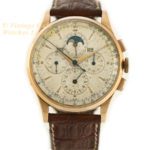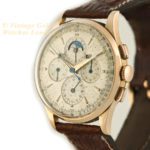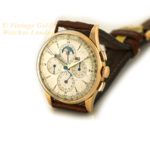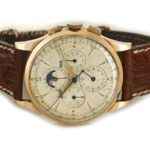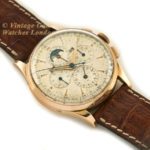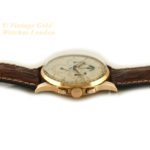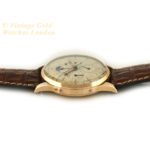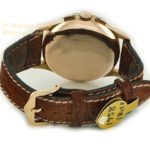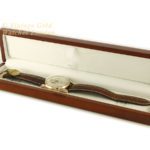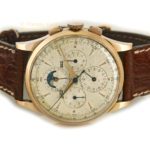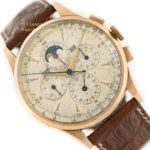 Universal Geneve Tri-Compax 18ct Pink Gold 37.5mm 1958
£8,500
100% Genuine & All Original
Fully Inspected, Serviced & Guaranteed
A Very Lightly Used and Carefully Owned Example
Very Clean, Original Off-White Four Register Dial
Very Rare, Immaculate, 18ct Pink Gold, Triple Date Moonphase
Large 18ct Pink Gold, 37mm Diameter Case, Excluding the Original Crown
Spectacular Universal Geneve Chronograph Movement, Serviced and Running Perfectly
New, High Quality Brown Alligator Strap with Plated Buckle
High Quality Mahogany Presentation Box Included
VGWL 12 Months' Written Warranty Included*
VGWL Lifetime Authenticity Guarantee
Free Worldwide FedEx Delivery
Free UK Special Delivery
DO YOU HAVE A WATCH LIKE THIS TO SELL?
ABOUT THIS WATCH
Universal Genève
It is often a surprise to people outside the watch community that Universal Genève was once one of the biggest players in the Swiss watch industry. Since its early beginnings in 1894, Universal was always highly respected for being one of a few true Swiss watch 'Manufacturers', meaning 'in-house', producing complete watches with in-house movements. The company continued throughout the 20th century to deliver numerous important 'firsts' in watchmaking. Along with Audemars Piguet, Girard Perregaux, Patek Philippe and Rolex, the company also became world renowned for its innovation, craftsmanship and quality. This is impressive in itself, but when one considers the company produced mainly advanced chronograph movements and other 'complications', this makes Universal almost unique.
Some Universal firsts include:-  It was the first company to produce a wrist-worn chronograph in 1917, when the notion of a timepiece worn on a wrist was still a novelty among gentlemen of a certain standing. In 1925 the company submitted some of the first patents for the self-winding watch, called the Auto Rem. In 1934: The creation of the double push-button Compur chronograph wristwatch, which was the first movement equipped with two column wheels and in 1944, the company presented the Tri-Compax. an hour-counter chronograph, with triple-date calendar and moon-phase display, which went on to become one of watchmaking's greatest 20th-century achievements.
During the 1950s, Universal also became famous for its 'Polerouter', which was one of the first great designs created by the Swiss-born watch genius, Gerald Genta, at the tender age of 23. Genta later went on to huge success, working with most of the big names in the Swiss watch industry, including Omega, Rolex, Audemars Piguet and Patek Philippe.
The Polerouter family of watches was launched in 1954 to coincide with the first commercial flights from Europe to the US over the North Pole. SAS's (Scandinavian Airlines Systems) direct flights to New York and Los Angeles were big news and marked huge advance for the aviation industry.
Description
Here we have a wonderful, original dial Universal Geneve Tri-Compax in 18ct pink gold. These are fascinating watches from many aspects, these being the incredible Triple date Moonphase function, the unique unrestored dial and the incredible chronograph movement.
We have simply given this watch a polish, due to its beautifully aged look which we believe is something quite special.
The Dial
This dial is beautifully symmetrical, well balanced and proportioned. The dial itself, in off-white, contrasts wonderfully with the pink gold case and original gilt 'dauphine' hands and facetted 'arrowhead' hour indices. It is signed with the correct period Universal Geneve signature and 'Tri-Compax'. This watch also carries the Moonphase at the very top of the dial.
The dial may initially look quite complicated, but this is because it conveys a lot of information. In actual fact, it successfully conveys a lot of information very simply, once you become familiar with the layout.
The dial carries the classic triple date design, to which most of the top watch houses adhere. We are great admirers of this dial design as it is symmetrical, neat and attractive, yet it manages to convey so much!
This wonderful watch carries 4 dials and two windows, the top dial simply indicates the date of the month from 1 – 31 and also includes the phase of the moon. The dial you see at 3, indicates the elapsed time while the chronograph function is running – in minutes up to thirty minutes. The dial at 6 simply indicates the elapsed hours up to twelve hours and the dial at 9 indicates the constant running seconds, irrespective of the operation of the chronograph.
The window to the left hand side by 10, indicates the day of the week and the window to the right hand side by 2, indicates the month of the year.
The dial carries a blue outer tachymeter scale and a black seconds scale divided into fifths of a second. The tachymeter scale measures speed based on time travelled over a fixed distance, i.e. as a rangefinder – typically in a military application; especially naval gunnery and anti-aircraft artillery – or to measure how far away a storm is, by using the difference in time between the arrival of a flash of light and its associated sound.
The lens is clear having been replaced with a new original part.
This is the original dial which remains unrestored and untouched. Considering its age and also that it remains unrestored, it is in remarkably good condition. The overall effect is quite wonderful, with a very nice and even patina.
Please note – studio lights can be quite unkind to an unrestored dial and this dial looks far better under natural day light.
The Movement
The watch carries its original Universal Geneve Calibre 481, 17 Jewel automatic movement which is in tip-top condition following a thorough overhaul and service by our vintage Universal Geneve specialist watchmaker. This means the movement has been completely disassembled, cleaned, inspected and rebuilt using only original parts where required, before careful calibration and testing. Upon return to stock, the watch is now running to within +8 seconds per day, which is outstanding for any vintage watch of this age! When fully wound, this movement also has a 40-hour power reserve. It has been very well maintained and cared for and is in sparkling condition.
The movement is signed 'Universal Geneve' and 'Automatic' with the Calibre No. 481, '17 Jewels' and 'Swiss'. The movement serial number 974862 dates this watch to 1958.
These movements are strong, accurate and very reliable, making it completely practical and appropriate for regular everyday use. Our watchmaker has indicated this particular movement is in top condition and with regular servicing, every 3 years we fully expect this watch to run very happily for many more decades to come! We are therefore very pleased to offer a 12-month warranty on this watch movement* and servicing in the future, as required.
*Please note – our 12 months' warranty is only applicable if the full list price is paid.
The Case
The totally original, heavy 18ct pink gold case measures 37.5mm in diameter, excluding the crown, making this is an extremely large case for the period. The case is of a heavy three-piece design with a press-fit case-back and carries attractive facetted lugs. The overall impression is of a classic late 1950s design. It is solid, elegant and of obvious very high quality.
Setting the date and moonphase of this watch is easily accomplished by using the push buttons on the right hand side of the case.
Pink gold, as opposed to yellow gold cased watches, are considerably rarer and therefore command a premium, so it is nice to find an example in such good condition. This watch has obviously seen some use over the past 60 years and so the case is not immaculate, but it is in very good original condition, just showing some light nicks and scratches commensurate with age. Please take a good look at the photographs to make your own assessment, but we would describe the watch case as being in a good, honest, original, unrestored condition – just how many collectors prefer to see these watches. However, if after purchasing the watch you would like us to fully restore the case to bring it back to its original condition, we will be happy to do this at our cost price.
This watch case has been carefully inspected for fatigue marks and there are none. It is very rigid and the case-back and bezel are a nice tight fit. It is of full thickness and has never been inscribed.
Inside the case-back all is correct and as expected with Swiss Geneva 18ct hallmarks and the case-makers stamp. The case carries the external serial numbers 145523 and 12296.
As ever, our standard advice applies: Vintage watches should be kept clean and dry at all times.
The Strap and Buckle
The watch is fitted with a new, high quality brown alligator strap with a plated buckle. We feel this matches the pink gold case nicely and lifts the watch. However, if a different colour or style of strap is preferred, please let us know and we will do our best to oblige free of charge. We carry Tan, Conker, Dark Brown and Black in stock and in plain padded leather, or crocodile skin or lizard skin. For a wider selection, please take a look at the wonderful choice of 18mm straps offered by our suppliers, Watch Obsession. We will be pleased to order and fit the strap of your choice, within 24 – 48 hours.
The Box and Papers
Although there are no original papers with this watch, the numbers and markings on the watch are all correct, dating the watch to circa 1958.
A detailed written receipt with 12 months' warranty* and a separate insurance valuation for the replacement value will be provided at the time of sale, along with our unique 'Lifetime Authenticity Guarantee' which states: "If at any time, this watch proves to be anything less than totally authentic, or not as described, Vintage Gold Watches of London will offer you a full refund at any time".
A high quality hardwood presentation box is included in the sale, as shown.
In Conclusion
A unique example of a fascinating timepiece which will undoubtedly make an excellent financial investment, as well as be something wonderful to wear, treasure and enjoy! It could make a practical watch for regular or occasional use, as you wish and if it continues to be well cared for and regularly serviced, it will provide dependable service for many decades to come.
This watch carries a great deal more style, individuality and panache than a new watch and to buy the same quality today would be difficult, at 4 or 5 times the price.
Whichever way you may wish to view this watch, as each year goes by and the world market grows ever larger, the limited supply and high demand for the finest vintage gold watches means prices will inevitably climb ever higher!
A word on our prices – We always try our hardest to acquire the very highest quality watches we can find, before then restoring them to the highest possible standards. We then offer these at the fairest prices we can, taking into account our pre and post-sales care and service. This approach means we will never be the cheapest, but nor will we be the most expensive. Indeed there are some well-known stores in West London which are highly successful charging between two to three times the price you see here. We therefore consider our prices to be good value and very fair, given the quality of watches we have to offer.
We are happy to accept payment via PayPal as this is the quickest method of payment. However, if you would like to pay by UK cheque or by bank transfer, we will be pleased to assist you with this and pass on a 3% saving to you.
If you have any questions please call: 0207 727 7095 or if calling from overseas: +44 207 727 7095.
Please note, we also welcome part exchanges.
Please take a look at our other vintage gold watches.
Thank you.