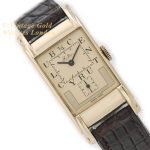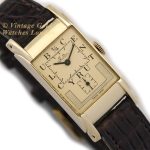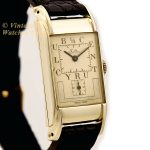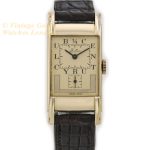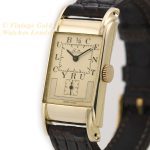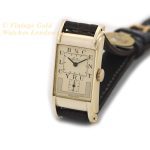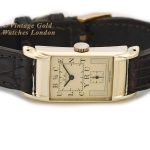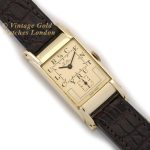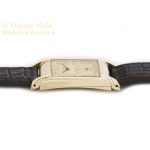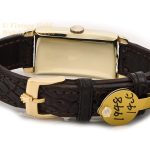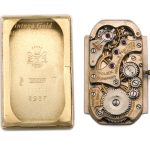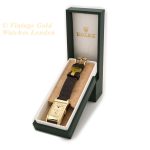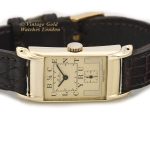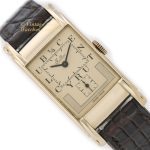 Rolex Prince 'Eaton Century' Model Ref.3937 14ct c1948
£6,500
100% Genuine & All Original
Fully Restored, Serviced & Guaranteed
Rolex Prince 'Eaton Century', Rolex Model 3937
High Grade Rolex 15 Jewel Hand-Wound Movement
Swiss Hallmarked, 14ct Solid Yellow Gold Rolex Case in Tip-Top Condition
Beautifully Restored Cream Dial with 'Index' Hands and '¼ Century Club' Indices
Size 22mm Wide, Excluding the Crown, 35mm Long, 40mm Diagonal, Excluding the Lugs
High Quality Brown Alligator Strap with Rolex Gold-Plated Buckle
All Absolutely Top Grade and Simply Wonderful Condition
Rolex Presentation Box Included, as Shown
VGWL Lifetime Authenticity Guarantee
VGWL 12 Months' Written Warranty*
Free Worldwide FedEx Delivery
Free UK Special Delivery
DO YOU HAVE A WATCH LIKE THIS TO SELL?
ABOUT THIS WATCH
Rolex
Founded in 1905 in England by Hans Wilsdorf and Alfred Davis as Wilsdorf & Davis, the partnership became known as the Rolex Watch Company in 1915, moving to its new Geneva headquarters in 1919. The success of the wristwatch can be largely attributed to many of Rolex's innovations which made the company one of the most respected and well-known of all luxury brands. These have included its famous "Oyster" case — the world's first water-resistant and dustproof watch case, invented in 1926 — and its "Perpetual" — the world's first reliable, self-winding movement for the wristwatch, launched in 1933. These would form the foundation for Rolex's Datejust and Day-Date, respectively introduced in 1945 and 1956. Also and equally importantly, Rolex is known for its sports watches, such as the Explorer, Submariner and GMT-Master launched in the mid-1950s.
During the 1930s and '40s, Rolex also became quite masterful at courting tremendous publicity and excitement through literally being 'on hand' during numerous record-breaking events. These were, for example, swimming the English Channel (1927), breaking the world automobile speed record (300mph, 1935), breaking the sound barrier (1947) and climbing Everest for the first time in 1953. No matter how well orchestrated these events came to be, we have to admire Rolex for becoming masters of self-promotion and capitalising on every opportunity with simultaneous worldwide marketing campaigns.
Of course, Rolex is now so ubiquitous it is almost its own kind of its currency. A Rolex is the watch you want on your wrist when you're in a Third World country when a revolution breaks out, there's only one seat on the plane – and there's a guy standing there with a machine gun! You give him a Rolex and he'll give you the seat!
Description
The rarity and collectability of the Eaton ¼ Century, derives from the fact that almost uniquely among Rolex timepieces, these watches display no external "Rolex" branding.  Only upon removing the case-back, can one confirm that inside the case is correctly signed by Rolex and this is essentially a Rolex Oyster Perpetual, fitted with a Rolex Calibre 1530 movement.
Many assume this unique gentleman's automatic wristwatch was produced by Rolex for the alumni of the famous Eton College. However, these watches were in fact custom made by Rolex exclusively for T. Eaton Co. Ltd., which was once Canada's largest department store retailer. Founded in 1869 in Toronto by Timothy Eaton, Eatons grew to become a retail and social institution in Canada, with stores across the country, buying offices across the globe and with a catalogue that was found in the homes of most Canadians. A changing economic and retail environment in the late 20th century and mismanagement culminated in the chain's bankruptcy in 1999.
'¼ Century Club' watches were custom made by Rolex, exclusively for Eaton's as an award to employees who had worked for the company for 25 years. They were all made in 14ct gold with beautiful bombé lugs, and usually engraved on the case-back with the employee's name and the years of service. However, this example remains clear and without an inscription.
During the 1950s and '60s Rolex occasionally allowed its largest authorised dealers to co-sign its dials, but it hardly ever produced a model so radically different as this. Such is the uniqueness and scarcity of the model, a comparison could almost be made with the Rolex Comex Submariner, although the Comex was a much more technically advanced commercial divers watch.
The Dial
This Rolex custom made dial has the letters '¼ CENTURY CLUB' inscribed, instead of the normal numerals or hour markers, and in place of the name Rolex is 'Eaton'. This beautifully restored dial displays the intricate "Eaton" script logo along with "Swiss Made" below the 6. The hour indices spell out "¼ CENTURY CLUB" clockwise around the dial.
This watch is also extremely rare due to being a Rolex Prince. The Rolex Prince with the two dials is often referred to as a 'doctors watch' or 'duo-dial' as the large seconds dial enables the wearer to time heart beats, etc more accurately. The Rolex Prince was first produced in 1929 and carries a special movement, initially made by Aegler and Wilsdorf , when in 1927 a patent was filed for a "shaped watch movement with a seconds dial". In this new watch, the winding barrel and the balance wheel are situated at opposite ends of the movement allowing for a larger balance wheel and thus more accuracy. A larger winding barrel also meant that the watch could run for longer on a single wind.
This is the original dial which has been restored by our dial restorers who are considered to be the best in the UK.
The Movement
The Rolex 15 Jewel movement is original to this watch and is in wonderful condition considering its age.
The movement is signed 'Rolex Hairspring', '15 Jewels',  'Timed 6 Positions, 'Observatory Quality' and 'Swiss Made', it also carries the movement serial number 70908, which dates this watch c1948 . It has been fully overhauled and serviced by our watchmaker who reports it to be in excellent condition.
The movement is working perfectly following a thorough overhaul and service by our vintage Rolex specialist watchmaker and after calibration and timing, is running strongly and accurately at +15 seconds per day. This is truly excellent for any watch of this age and has been confirmed on our electronic Timegrapher. This watch movement is now ready for many more years of faithful service and is perfectly suited for daily use and is offered with 12 months' warranty on the movement*.
Please note – our 12 months' warranty is only applicable if the list price is paid.
The Watch Case
The 14ct yellow gold case is very impressive with its slightly curved lugs and is in spectacular condition. It measures 22mm across, excluding the correct Rolex unsigned crown, and 30mm from top to bottom. This may seem a little small, but it is in fact quite a large watch for the period, especially when one considers it is 40mm across the diagonal, excluding the lugs. The two-piece case is not hinged, but is opened using the bottom lip and swings open, revealing the dial. The movement can then be removed without any tools by holding the upper case and gently lifting the case back away from the main case – not recommended for the inexperienced or faint at heart.
When acquiring such a rectangular or square watch, it is important to ensure the case shows no wear, no fatigue cracks and no pinholes, particularly around the hinge and corner areas. This type of case is prone to wear and damage in these areas, which is another reason these watches are rare, as cases become beyond repair and restoration. Fortunately, this example has been extremely well cared for and very lightly used, so other than our usual careful examination and cleaning, the case has required little work apart from some very light hand-polishing. There are no scratches or dings and no damage/wear visible to the naked eye.
The case carries all the correct signatures – 'Geneve Suisse Rolex' with the model reference number 3937 and the serial number 682804.
As always, our standard advice applies: Vintage watches should be kept clean and dry at all times.
The Strap & Buckle
The watch is fitted with a new brown Alligator strap and gold-plated Rolex buckle. However, if a different colour or style of strap is preferred, please let us know and we will do our best to oblige free of charge. We carry tan, conker, dark brown and black in stock in plain padded leather, crocodile skin or lizard skin. We can also obtain most types and colours from our partners at 'Watch Obsession' within 48hrs. Please take a look at their huge range of straps if you wish here.
Box and Papers
Although there is no original paperwork with this watch, the reference numbers, markings, signatures and hallmarks are all correct, dating the watch to c1948.
Detailed particulars will be included with our purchase receipt for your interest and security. A separate insurance valuation for the replacement value of this watch will be provided at the time of sale along with our unique 'Lifetime Authenticity Guarantee' which states: "If this watch proves to be anything less than 100% genuine, authentic and original, a full refund will be given at any time".
The Rolex presentation box shown in the photographs is included with this watch.
In Conclusion
This is a truly rare and collectable example of a c1948 vintage Rolex hand-wound watch which is ready to wear and completely practical for everyday use. If treated with care, it will make an excellent investment or heirloom piece and even though vintage gold Rolex prices have risen markedly recently, we still feel good examples such as this are still undervalued. As each year goes by and the world market for vintage gold Rolex watches continues to expand, prices will continue to climb ever higher.
To summarise, this is a highly collectable vintage watch from horology's most famous name, which is ready to wear, use, treasure and enjoy, providing excellent reliability and a sound financial investment, as long-lasting as the watch itself!
A word on our prices – We always try our hardest to acquire the very highest quality watches we can find, before then restoring them to the highest possible standards. We then offer these at the fairest prices we can, taking into account our pre and post sales care and service. This approach means we will never be the cheapest, but nor will we be the most expensive. Indeed there are some well known stores in West London which are highly successful charging between two to three times the price you see here. We therefore consider our prices to be fair, given the quality of watches we have to offer.
We are happy to accept PayPal as this is the quickest method of payment. However, if you would like to pay by UK cheque or by UK bank transfer we will be pleased to assist you with this and pass on a 3% saving to you. Paying by bank transfer for a 3% saving will not affect your 12 months warranty. Similarly, if you wish to pay by International SWIFT or Bank Wire Transfer we will provide you with our BIC / Swift number and our IBAN number.
Please check the import duties and any taxes your government may apply, these are different for each country and unfortunately out of our control.
We understand there may be some 'loopholes' that may help you avoid these charges, however attempting to use these could impact our ongoing ability to serve our growing international customer base.
For those that happen to visit the UK on occasion we are of course more than happy to store your watch until we can meet you in our offices in Kensington, London, and your watch directly to you there.
If you have any questions please call on Landline 0207 727 7095 or Mobile 07515 949250 or if calling from overseas on Landline +44 207 727 7095 or Mobile +44 7515 949250
Please note, we welcome part exchanges. If you have a watch or small collection for sale, please contact us as we will be happy to discuss.
We will also be happy to Service your watch, Repair your watch or Restore your watch, all at 'sensible' prices. Please see here.
Please take a look at our other fine vintage gold watches.
Thank you.