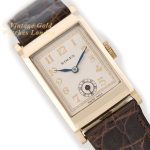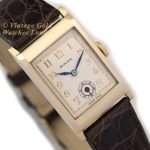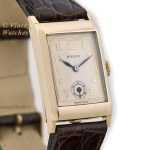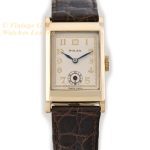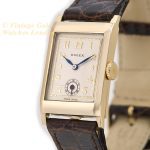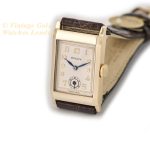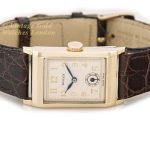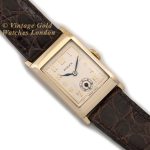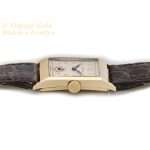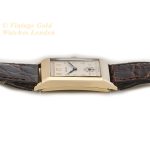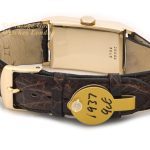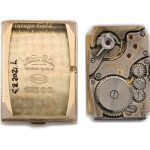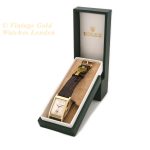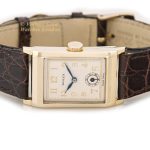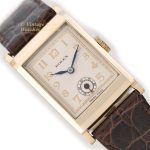 Rolex Model Ref. 2732 9ct 1937
£3,250
100% Genuine & All Original
Fully Restored, Serviced and Guaranteed
A Beautifully Well Cared For & Lightly Used Example
All Absolutely Top Grade and Simply Wonderful Condition
Superb 9ct UK Hallmarked Yellow Gold Rolex Press-Fit Case
Size 22mm Wide, 30mm Long, 46mm Diagonal, Excluding the Lugs
Beautiful 'Art Deco' Off-White Dial with Original Blued Steel Hands and Breguet Numerals
High Grade 10½, 15 Jewel Hand-Wound, Swiss Made Rolex Movement
High Quality Brown Alligator Strap with Plain Gold-Plated Buckle
VGWL 12 Months' Written Warranty Included*
Rolex Presentation Box Included, as Shown
VGWL Lifetime Authenticity Guarantee
Free Worldwide FedEx Delivery
Free UK Special Delivery
DO YOU HAVE A WATCH LIKE THIS TO SELL?
ABOUT THIS WATCH
Rolex
The late 1920s and early '30s saw Rolex at its most creative and dynamic. Having launched the world's first truly waterproof and commercially successful (Oyster) watch in 1926, this relatively young company, est. 1906, went on to launch its first automatic waterproof wristwatch, the Oyster Perpetual Chronometer in 1934. These groundbreaking achievements are the foundations on which the company we know today was built. However, even at this early stage of development, this highly ambitious company offered a wide range of models to the market, many of which we seldom see today, due to relatively low production numbers.
The wristwatch we see here is just such an example, which if we take a moment to consider, bears little relationship with the pocket watch from which it descended only fifteen or twenty years earlier and which continued to remain popular right up and until the Second World War.
Though not officially referred to by Rolex as the 'Tank', there is little doubt this model was produced in response to the success of the Cartier Tank model, released in 1919. This was so called, because the outline of the watch case somewhat resembles the aerial view of the WW1 military tank. Prior to this, all watches were round, reflecting the shape of the movement. However, during the 1920s and '30s, rectangular case design watches became hugely fashionable, which is why now perhaps, we loosely associate these designs with our Grandfather's watch.
Finding good examples of any pre-WW2 Rolex has become increasingly hard over the past 10 years, however finding an example of this design is very difficult. Most are in the hands of collectors and seldom come to the market.
Description
Here we have a beautiful Rolex Model Reference 2732 in fully restored condition. Not only is this watch in incredible condition, it also carries the very high grade 10½, 15 Jewel hand-wound movement which is running perfectly. This watch is perfectly proportioned with the wonderful Breguet numerals and subsidiary seconds dial.
The Dial
Many rectangular watches of this period carried dials with 'art-deco' influences and this can be seen, in the design of the numerals. The wonderful yellow gold Breguet standard Arabic numerals look perfectly in place against the slightly off-white dial and are swept by blued steel 'lance' hands. Square and rectangular watch dials present certain challenges to dial designers, but here the approach is very simple.
This dial carries an outer yellow gold rail track for the seconds and a perfectly proportioned subsidiary seconds dial that replaces '6', which also contains Breguet style standard Arabic numerals.
This dial is simply signed with the famous Rolex coronet with 'Rolex' underneath at 12 and 'Swiss Made' at the very bottom.
This is the original dial which has been restored by our dial restorers who are considered to be the best in the UK.
The Movement
The movement fitted to this watch is the original 10½, 15 Jewel movement used in Rolex's highest quality watches of this period. The movement is in very clean condition having just completed a full overhaul and service by our vintage Rolex specialist watchmaker. This means it has been completely dismantled to each of its component parts before cleaning and inspection under high magnification, replacement where necessary with only genuine Rolex parts, then careful reassembly, adjustments and oiling to Rolex specification, before final calibration and testing.
The movement is now running accurately and within expectations of 30 seconds per day. The timing expected of a Rolex movement of this period is within 1 minute per day, and this is our guarantee. The power reserve when fully wound on this movement is 30 hours. We are therefore confident in offering this watch with a 12-month written warranty*.
The movement is signed 'Rolex', 'Swiss Made' and '15 Rubies'.
*Please note – our 12 months' warranty is only applicable if the full list price is paid.
The Watch Case
The case measures 22mm across, excluding the correct Rolex unsigned crown, and 30mm from top to bottom. This may seem a little small, but it is, in fact, a very large watch for the period, especially when one considers it is 46mm across the diagonal and 42mm including the wonderful straight lugs. The two-piece case is not hinged, but is opened using the bottom lip and swings open, revealing the dial. The movement can then be removed without any tools by holding the upper case and gently lifting the case back away from the main case – not recommended for the inexperienced or faint at heart.
When acquiring such a rectangular or square watch, especially in gold, it is important to ensure the case shows no wear, no fatigue cracks and no pinholes, particularly around the hinge and corner areas. This type of case is prone to wear and damage in these areas, which is another reason these watches are rare, as cases become beyond repair and restoration. Fortunately, this example has been very well cared for and lightly used, so apart from our usual careful examination and cleaning, the case has required little work apart from some very light hand-polishing. There are no scratches or dings, and no damage/wear visible to the naked eye.
Inside the case-back is correctly signed: 'Rolex' and 'Geneva Suisse', along with "20 World Records", indicating the number of 'prizes' Rolex had won at worlds watch fairs. The case, in common with the majority of Rolex gold cases of this period, was hallmarked in Glasgow, UK and the hallmark dates this watch to 1937. The case is also marked 'R.W.C. Ltd'. Externally, the case-back carries the Rolex reference number 2732 and the case serial number 32880. As can be seen, these numbers are clear and distinct, which is a very strong indication this watch has been very lightly used.
As always, our standard advice applies: Vintage watches should be kept clean and dry at all times.
The Strap & Buckle
The watch is fitted with a brown Alligator strap and plain gold-plated buckle. However, if a different colour or style of strap is preferred, please let us know and we will do our best to oblige free of charge. We carry tan, conker, dark brown and black in stock in plain padded leather, crocodile skin or lizard skin. We can also obtain most types and colours from our partners at 'Watch Obsession' within 48hrs. Please take a look at their huge range of straps if you wish here.
Box and Papers
Although there is no original paperwork with this watch, the reference numbers, markings, signatures and hallmarks are all correct, dating the watch to 1937.
Detailed particulars will be included with our purchase receipt for your interest and security. A separate insurance valuation for the replacement value of this watch will be provided at the time of sale along with our unique 'Lifetime Authenticity Guarantee' which states: "If this watch proves to be anything less than 100% genuine, authentic and original, a full refund will be given at any time".
The Rolex presentation box shown in the photographs is included with this watch.
In Conclusion
This is a truly wonderful and collectable example of a 1937 vintage Rolex hand-wound dress watch which is ready to wear and completely practical for everyday use. If treated with care, it will make an excellent investment or heirloom piece and even though vintage gold Rolex prices have risen markedly recently, we still feel good examples such as this are still undervalued. As each year goes by and the world market for vintage gold Rolex watches continues to expand, prices will continue to climb ever higher.
To summarise, this is a highly collectable vintage watch from horology's most famous name, which is ready to wear, use, treasure and enjoy, providing excellent reliability and a sound financial investment, as long-lasting as the watch itself!
A word on our prices – We always try our hardest to acquire the very highest quality watches we can find, before then restoring them to the highest possible standards. We then offer these at the fairest prices we can, taking into account our pre and post sales care and service. This approach means we will never be the cheapest, but nor will we be the most expensive. Indeed there are some well known stores in West London which are highly successful charging between two to three times the price you see here. We therefore consider our prices to be fair, given the quality of watches we have to offer.
We are happy to accept PayPal as this is the quickest method of payment. However, if you would like to pay by UK cheque or by UK bank transfer we will be pleased to assist you with this and pass on a 3% saving to you. Paying by bank transfer for a 3% saving will not affect your 12 months warranty. Similarly, if you wish to pay by International SWIFT or Bank Wire Transfer we will provide you with our BIC / Swift number and our IBAN number.
Please check the import duties and any taxes your government may apply. These are different for each country and unfortunately out of our control. We understand there may be some 'loopholes' that may help you avoid these charges, however attempting to use these could impact our ongoing ability to serve our growing international customer base.
For those that happen to visit the UK on occasion we are of course more than happy to store your watch until we can meet you in our offices in Kensington, London and deliver your watch directly to you there.
If you have any questions please call on Landline 0207 727 7095 or Mobile 07515 949250 or if calling from overseas on Landline +44 207 727 7095 or Mobile +44 7515 949250.
Please note, we welcome part exchanges. If you have a watch or small collection for sale, please contact us as we will be happy to discuss.
We will also be happy to Service your watch, Repair your watch or Restore your watch, all at 'sensible' prices. Please see here.
Please take a look at our other fine vintage gold watches.
Thank you.