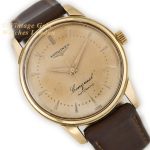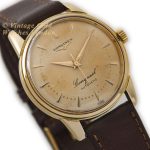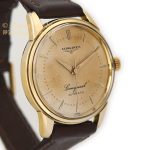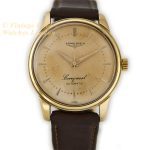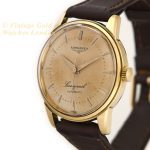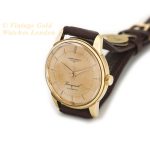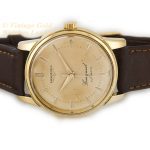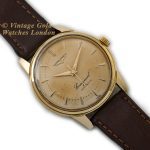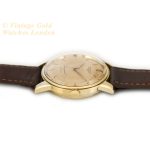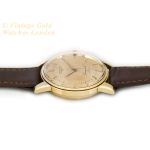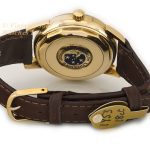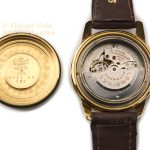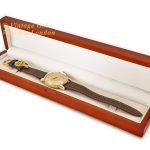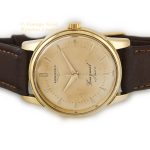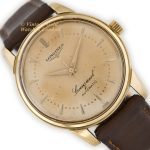 Longines Conquest Cal.19AS 18ct 1955
£2,950
100% Genuine & All Original
Fully Restored, Serviced & Guaranteed
A Lightly Used Example In Good Original Condition
Heavy Waterproof 18ct Yellow Gold Case in Excellent Original Overall Condition
Original Unrestored & Untouched Ivory-Cream Dial with Original 'Dauphine' Hands
Very High Grade Cal.19AS, 19 Jewel Automatic Movement in Sparkling Condition.
Beautiful Screw-Back Case, 35mm Excl. the Correct Original Unsigned Longines Crown
Genuine Brown Leather Strap & Plain Gold-Plated Buckle
All in Absolutely Top Grade & Simply Stunning Condition
High Quality Hardwood Presentation Box Included
VGWL Lifetime Authenticity Guarantee
VGWL 12 Months Warranty Included*
Free Worldwide FedEx Delivery
Free UK Special Delivery
DO YOU HAVE A WATCH LIKE THIS TO SELL?
ABOUT THIS WATCH
Longines
Longines is one of the oldest Swiss watch manufacturers with an unparalleled history of invention, innovation, patents and awards. The company is also responsible for some of the most beautiful watches ever made, but has been treated as something of a Cinderella among the watch collecting fraternity until relatively recently. Longines is now rightfully returning towards the elevated status it once held in the pre and post-war years when it ranked among the very best among of Swiss watch manufacturers. It is really only within the past three years that Longines vintage watches have risen again to the admiration and popularity they deserve, with values rising of by around 15 – 20% per year. And on certain models, such as the now legendary Longines Calibre.13ZN chronograph, prices have sky-rocketed!
Description
Longines has long been associated with sports and outdoor activities – Olympic, equestrian, skiing and more recently, tennis. However, this really only scratches the surface. This Longines Conquest, first released in 1954, comes with considerably more heritage than you probably expect. As early as 1899, (The company had existed almost 70 years by that time) Longines supplied timekeepers for the Arctic expedition led by Prince Luigi Amedeo of Savoy. Later, in 1947, Longines began providing ships with chronometers and other timing devices for the 'Expeditions Polaires Francaises', founded and led by scientist and polar explorer Paul-Emile Victor, who launched several research expeditions to the Arctic (Greenland) and the Antarctic (Terre Adelie). More significantly for our purposes, these expeditions were also supplied with specially designed Longines wristwatches. This was a full six years before the Rolex supported the 'conquest' of Everest, by Sir Edmund Hillary in 1953, which many of you will know, led to the launch of the 'Explorer', also released for the first time in 1954.
Perhaps by coincidence, or perhaps prompted by the huge celebrations surrounding the Hillary expedition success,  Longines released its Conquest model, coinciding with the launch of Rolex's Explorer Oyster Perpetual model. As Longines carried a considerably higher status than Rolex, the Longines Conquest was considerably more expensive in 1954, than the Rolex Explorer.
The example you see here is a completely original and unrestored Longines Conquest in 18ct yellow gold. The movement serial number shows it was manufactured in 1955.
It is certainly a tribute to the original Conquest model range that Longines has recently released a number of Conquest Heritage models which celebrate the success of the original Conquest range. Not only this, but Longines has taken a further step towards making the Conquest Heritage a real tribute by using the same 35mm case size.
The Dial
As we have seen, the Longines Conquest has much in common with the Rolex Explorer, but this example also has similarities with the Omega Constellation of the same period which has a remarkably similar case-back. However, the beautifully accomplished dial execution you see here has an individuality the Longines Conquest claims all its own. The original, unrestored and untouched ivory-cream dial is in incredible condition, with beautiful 'spearhead' style hour indices. The symmetry and contrast between the watch case, dial and original 'dauphine' hands works wonderfully.
As this dial is in original, unrestored condition, this has been left untouched by our restoration team due to its superb condition. Usually, we restore the dials of the watches we sell, however we decided in this case to leave it alone, due to its unusually good condition and to retain its originality and charm for those who prefer this. It also helps to contrast with almost all of the other watch dials you see on our website, which have been restored. The hands, likewise, have also been left in their original untouched condition.
Please note, studio lights, professional-grade digital cameras, and macro lenses can be very unkind to an unrestored vintage watch dial. Also the dial here measures less than 1.25 inches across, so the image you're seeing may be between 5 – 25 times larger than the watch itself. Therefore please keep in mind you are seeing many tiny flaws which cannot be seen, or will be very hard to see with the naked eye, even under close examination. Suffice to say, on the wrist, in natural light, this dial looks much better and carries a great deal more charm than the photographs portray.
The Movement
Regarded by many as the finest automatic movement ever produced by Longines, the Calibre 19AS, 19 Jewel automatic movement is an absolute gem. A Swiss lever escapement with Incabloc shock protection and large, screw-weighted balance wheel which provides for greater accuracy and finer adjustment. All else being equal, the larger the balance wheel, the more accurate the watch.
If ever one wished to highlight a fine quality automatic watch movement, this would make a first-class example. In fact, the initial impression upon viewing this movement is that it is much more modern than its release date of 1952. The quality of finishing and build is exceptional and better finished than anything offered by Rolex of the same period. For example, each jewel is held in its own threaded gold sleeve, which is then in turn screwed into the plates. This is a much more sophisticated method than those which simply fitted their jewels into drilled holes in the bridges, as was the practice with some Rolex and Omega movements of the same period.
As can be seen, the movement is in tip-top condition having just completed an overhaul and service by our watchmaker. This means it has been completely disassembled, cleaned, inspected under high magnification then rebuilt using only original Longines parts where required. After testing and final calibration, this watch was running to within +10 seconds per day, which is outstanding for any vintage watch of this age. The movement also has a power reserve of 39hrs.
The movement is correctly signed 'Longines Automatic', '19 Jewels' and 'Swiss' with the Calibre number 19AS and the movement serial number 9,761,615 which dates the watch to 1955.
These movements are robust, reliable and accurate making this watch perfectly suited for regular everyday use. This particular movement is in top condition and with regular servicing, every 3-4 years we would fully expect this watch to provide faithful service for many more decades to come! We are therefore more than pleased and confident to offer a 12-month warranty on this watch movement*
The Watch Case
The 18ct yellow gold watch case feels very heavy and robust. It is of a three piece design with a screw-back, meaning this was specified as a waterproof* design and measures a large 35mm in diameter, excluding the correct unsigned crown. The case has been cleaned, carefully inspected, and lightly hand-polished to bring it to the immaculate condition you see here.
This particular case-back carries the beautiful Conquest enamel legend showing a starry night at sea, as can seen is in perfect condition. This has some obvious similarities with the case back legend on the Omega Constellation, but here Longines has taken this a stage further with the addition of dark blue enamel finishing.
The case-back is of full thickness and has never been inscribed. This case is completely blemish free and from every viewpoint, there are no scratches dings or other marks visible to the naked eye on this case. Also, the watch case is crisp with clearly defined lugs. This and the condition of the enamel legend indicate this watch has been very carefully and lightly used.
Inside the case-back is correctly signed: Longines, Swiss Made, with the Longines winged hourglass brand. The case also carries Swiss Geneva hallmarks and the Longines model number 9001 20 and the case reference 151.
*Please note – even if specified as waterproof when new, this has not been tested and is not guaranteed. As ever, our standard advice applies: vintage watches should be kept clean and dry at all times.
The Strap & Buckle
A high quality brown leather strap and a plain gold-plated buckle has been fitted which we feel matches the watch perfectly. However, if a different colour or style of strap is preferred, please do let us know and we will do our best to oblige, free of charge. We carry tan, conker, dark brown and black in stock in plain padded leather, crocodile skin or lizard skin, however we can also obtain most types and colours from our partners at 'Watch Obsession' within 48hrs. Please take a look at their huge range of straps if you wish here.
Box and Papers
Although there are no original papers with this watch, the reference numbers, markings, signatures and hallmarks are all correct, dating this watch to 1955.
Detailed particulars will be included with our purchase receipt for your interest and security. A separate insurance valuation for the replacement value of this watch will be provided at the time of sale along with our unique 'Lifetime Authenticity Guarantee' which states: "If this watch proves to be anything less than 100% genuine, authentic and original, a full refund will be given at any time".
The high quality hardwood presentation box shown in the photographs is included.
Payment and Delivery
If you would like to pay by bank transfer, we will be pleased to assist you with this and pass on a 3% saving to you. Paying by bank transfer for a 3% saving will not affect your 12 months warranty. Similarly, if you wish to pay by International SWIFT or Bank Wire Transfer we will provide you with our BIC / Swift number and our IBAN number.
Please check the import duties and any taxes your government may apply, these are different for each country and, unfortunately, out of our control.
We understand there may be some 'loopholes' that may help you avoid these charges; however, attempting to use these could impact our ongoing ability to serve our growing international customer base.
For those who happen to visit London on occasion, we are, of course, more than happy to store your watch until we can meet you in our offices in Kensington, London, and hand your watch directly to you there.
As with all our watches, this watch will be sold under our 14 days no-quibble sale or return policy.
This is a truly first class example of a vintage Longines which is ready to wear and completely practical for everyday use. If treated with care, it will make an excellent investment or heirloom piece. Even though vintage gold Longines prices have risen markedly recently, we still feel good examples such as this are still undervalued and as each year goes by and the world market for vintage gold Longines watches continues to expand, prices will continue to climb ever higher.
A word on our prices – We always try our hardest to acquire the very highest quality watches we can find, before restoring them to the highest possible standards. We then offer these at the fairest prices we can, taking into account our pre and post-sales care and service. This approach means we will never be the cheapest, but nor will we be the most expensive. Indeed there are some well-known stores in West London which are highly successful charging between two to three times the price you see here. We, therefore, consider our prices to be fair, given the quality of watches we have to offer.
Please note, we also welcome part exchanges. If you have a watch or a small collection for sale, please contact us as we will be happy to discuss this.
We will also be happy to Service your watch, Repair your watch or Restore your watch, all at 'sensible' prices. Please see here.
If you have any questions please call us on 020 7727 7095 or if calling from overseas on +44 207 727 7095.
Please take a look at our other fine vintage gold watches.
Thank you.