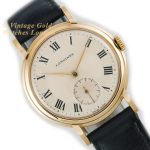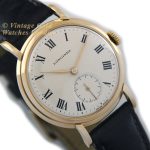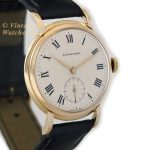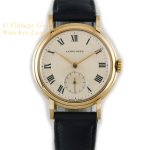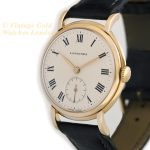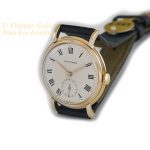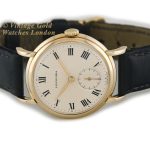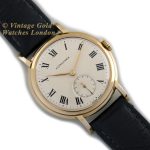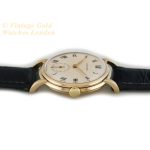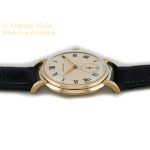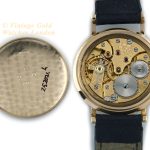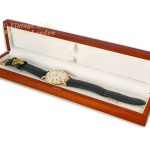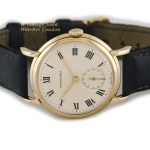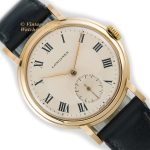 Longines Classic Cal.12.68Z 9ct 1950
£2,750
100% Genuine & All Original
Fully Restored, Serviced and Guaranteed
A Carefully Owned & Lightly Used Example
Large Size 36mm, Excluding the Longines Crown
Very High Quality Shackman 9ct Watch Case
High Grade Cal.12.68Z, 17 Jewel, Hand-Wound Movement
Superbly Restored Dial with Original 'Leaf' Hands & Roman Numerals
High Quality Black Leather Strap & Longines Gold-Plated Buckle
All in Absolutely Top Grade & Simply Stunning Condition
VGWL 12 Months' Written Warranty Included*
VGWL Lifetime Authenticity Guarantee
Hardwood Presentation Box Included
Free Worldwide FedEx Delivery
Free UK Special Delivery
DO YOU HAVE A WATCH LIKE THIS TO SELL?
ABOUT THIS WATCH
Longines
Longines is one of the oldest Swiss watch manufacturers with an unparalleled history of invention, innovation, patents and awards. The company is also responsible for some of the most beautiful watches ever made. Here we have a superb example from 1950 when technically, Longines was competing head to head with and beating almost all of the other Swiss watch manufacturers.
Description
Both the British magazine QP and the American publication WatchTime, have both hailed a long overdue return to classical form and ironically, despite being over half a century old, this piece actually looks virtually indistinguishable from a number of current models by the major watch houses.
We have here a classic, early 1950s vintage gold watch which is both highly collectable and highly wearable. The condition is close to perfect and the overall quality is second to none, with a movement the equal of anything that was served up by Rolex, Jaeger-LeCoultre, IWC or any of the other prestigious Swiss houses from the same era.  Yet still, for the time being, a fine watch which is obtainable for a relatively small amount of money and the kind of watch which never looks dated and commends itself to the investor.
Incidentally, not that we would not pay attention to such things, but some say these larger gold 'Calatrava' type watches are returning and back on trend…
The Dial
Regular visitors to this site are probably aware that we are huge admirers of vintage Longines watches from the 1950s and '60s, not only for the perfection of their movements or the construction and sheer quality of their cases, but also the design, style and elegance of their watch dials. If a dial defines the style and character of a watch, Longines has always gone to great efforts to produce some of the best classical and 'model' dials. Of course, in the 1950s and '60s, in addition to some of the best dial designers, Longines also had the benefit of a huge back catalogue and experience in dial design. This will have always been of great advantage and it is the way that something of the company's DNA tends to be evident, in addition to the brilliance and quality of the design which impresses most.
Here, the black roman numeral hour indices over a slightly off-white dial, provide a sense of individuality as well as substance and authority and the 'leaf' hands are original and unrestored, therefore the gilt finish shows very slight signs of age. However, we feel this adds something to the character of the watch. The dial also features a big sub-seconds dial style which is exquisitely classical, timeless and just plain gorgeous!
This is the original dial which has been restored by one of the best dial restorers in the UK.
The Movement
The watch carries its original Longines Cal.12.68Z, hand-wound movement with subsidiary seconds and bags of old world charm! Technically this is one of the classic, manually wound movements of its day, with 17 jewels, a running rate of 18,000 half beats per hour and a power reserve of 40 hours. It has every contemporary refinement, a bimetallic balance and Incabloc shock protection, which was still a relatively recent introduction in early 1950.
If a decent dial defines a vintage wristwatch, then it is the hand-built movements inside them that are at its heart and makes them of such interest in the first instance. These mechanisms were built long before the advent of CNC machines and computer controlled polishing lines. While machinery was obviously used in movement manufacture, it was of a very traditional nature and controlled by specific individual craftsmen, exactly as it had been since the 19th Century. Every component in a movement like this one was visually inspected by a specific individual, finished until it met with his satisfaction and then passed on to be gradually built up into a complete unit that was sent for the laborious process of regulation, again by hand. The quality present in these classic watches by makers like Longines is breathtaking and more than justifies their high prices when new and the prices that good vintage examples by all the important houses command.
What is immediately noticeable about this movement is its pristine appearance, which is largely due to the rhodium/gold alloy plating which has protected the movement to such a degree that unusually, there are absolutely no signs of tarnishing and the movement is as fresh today as the day it was made. The condition is nothing less than spectacular and most importantly, this movement is complete with all Longines parts. Everything is original and as it should be and there is no evidence of any significant repair work having ever been performed. Having been serviced on a regular basis, the watch works perfectly and runs extremely smoothly. Provided it is treated with care and sent for routine cleaning and lubrication every three years, it will last almost forever and have no difficulty at all in giving excellent service for many decades in the future.
Returning to the quality of finishing and build, it is exceptional. It is fair to claim here that this is a better-finished movement than anything offered by Rolex at the same time and has a sophistication that is lacking in both Omega and Rolex movements of the same age. Unlike its two famous competitors, which simply fitted their jewels into drilled holes in the bridges, Longines adopted the system of screwed chatons, by which every jewel is held in its own threaded brass sleeve, which is then in turn screwed into the plates. This is a lovely refinement that one hardly ever sees and must have added significantly to the cost of production when new. The fact that vintage Longines watches are still so affordable today is hugely fortunate when we actually look at them closely and see how beautifully built they are.
'Longines' is signed on the bridge, together with '17 Jewels' and 'Swiss Made'. Also here is the calibre number.12.68Z. All this detail has been painstakingly filled in with 18-carat gold in order to increase its legibility against its rhodium plated background. These points, though minor in themselves, aggregate into something that is a cut above the production of almost all the competing Swiss brands.
The movement serial number 8037532 is also clearly shown and falls between the two extremes of Longines production numbers during 1950.
As can be seen, the movement is in absolutely tip-top condition following a thorough overhaul and service by our vintage Longines specialist watchmaker. This means the movement has been completely disassembled, cleaned, inspected and rebuilt using only original Longines parts where required, then carefully calibrated and tested. Upon return, this watch is now running to within +9 seconds per day! This is absolutely outstanding for any vintage watch of this age! When fully wound, this movement also has a 40-hour power reserve.
This movement is strong and very reliable, making it completely practical and appropriate for regular everyday use. Our watchmaker has indicated this particular movement is in top condition and with regular servicing every 2 to 3 years, we would fully expect this watch to run very happily for many more decades to come! We are therefore very pleased to offer a 12-month warranty on this watch movement* and services in the future, as required.
Needless to say, we like this watch and would therefore be very surprised if anyone buying it were anything short of delighted. We cannot recommend it wholeheartedly enough to anyone wishing to buy at the top of the quality spectrum without spending an awful lot of money.
*Please note – our 12 months' warranty is only applicable if the full list price is paid.
As always, our standard advice applies: Vintage Watches should be kept clean and dry at all times.
The Case
The styling of this model is absolutely classic and timeless. If we were unable to ascertain its year of manufacture exactly from its hallmark letter and movement serial number, we could glance at this piece and believe it to be from either 1935, 1955 or 2015.
A 36mm, 9ct yellow gold, large, round, ribbed case with short sweeping lugs and a semi-sunken Longines crown; each of these attributes contribute to the distinct 'Calatrava' style of this watch.
The inside of the case-back is all marked correctly. At the top is 'DS&S' which was the sponsor's mark of David Shackman & Sons. Based in Chesham, Buckinghamshire, Shackman was an independent case-making concern that supplied its products to most of the major Swiss houses for use on their watches that were to be sold in the UK.
Experienced collectors will also know Shackman cases well on Omega, Jaeger Le Coultre and more commonly, Rolex models from this era, which are very highly universally regarded for their high quality. Gold Swiss watches sold in Europe tended to have Swiss-made cases, but those supplied to the British market were invariably UK made. This came about after the ban on the import of precious metal into the UK imposed by the British government in December 1916. Needing to service their most lucrative market, the Swiss houses skirted the obstacle by shipping only uncased movements to their UK agents and having these housed in British made cases upon arrival, these of course not being subject to any restriction. Long after the ban was lifted, this same arrangement continued, basically because it was so convenient for all involved. Ironically, given that they were first used as a temporary stopgap in a crisis, the quality of British made cases proved to be so high that they now typically command a slight price premium over their Swiss equivalents.
'Baume' is stamped exactly as it should be. Baume & Co, of 1 Hatton Garden, London, EC1, acted as official British agents for Longines since the World War I period. On an earlier watch, we would expect to find the initials "AB" inside the case-back, these being those of Arthur Baume, the company's Managing Director. By the 1950s, the full Baume signature, as seen here, was instead used.
The Strap & Buckle
A new black leather strap is fitted, along with a Longines gold-plated buckle. However, if a different colour or style of strap is preferred, please let us know and we will do our best to oblige free of charge. We carry tan, conker, dark brown and black in stock in plain padded leather, crocodile skin or lizard skin. We can also obtain most types and colours at short notice.
The Box and Papers
Although there are no original papers with this watch, all the numbers and markings on the watch are correct, dating the watch to 1950.
A detailed 'Particulars' document will be included with the sale, along with our detailed receipt and 12 months warranty*. A separate insurance valuation for the replacement value of this watch will also be provided at the time of sale, along with our unique 'Lifetime Authenticity Guarantee' which states: "If at any time, this watch proves to be anything less than totally authentic, or not as described, Vintage Gold Watches of London will offer you a full refund at any time".
The high quality hardwood presentation box seen in the photographs will be included with this watch.
In Conclusion
We have always been great admirers of vintage Longines and for many years they have been severely undervalued. This has begun to correct itself of late as there is no good reason for this, as these watches technically surpass almost all the high-end brands. Whatever the reason, they still represent excellent value, even though prices have been increasing by around 20% per annum during the past few years.
The watch here is a superb example of a most beautiful and sought after vintage Longines. A rare, usable and highly collectable vintage gold gentleman's dress watch, from one of horology's most highly respected names which is a thing of beauty, to use, to wear, to treasure and to enjoy!
This watch will also make an excellent investment and family heirloom piece. Even though vintage Longines prices are still catching up with, for example, Omega, JLC and Rolex, we are sure fine examples such as this still remain undervalued. As each year goes by and the world market for vintage gold watches continues to expand, availability will become more limited, meaning prices are surely destined to climb ever higher!
A word about our prices – We always try our hardest to acquire the very highest quality watches we can find, before restoring them to the highest possible standards. We then offer these at the fairest prices we can, taking into account our pre and post sales care and service. This approach inevitably means we will never be the cheapest, but nor will we be the most expensive. Indeed there are a number of well-known stores in West London which are very successful, charging between two to three times the price you see here. We therefore consider our prices to be fair, given the quality of watches we have to offer.
We are happy to accept PayPal as this is the quickest method of payment. However, if you would wish to pay by bank transfer, we will be pleased to pass on a 3% transaction saving to you. Similarly, if you wish to pay by International SWIFT or International Bank Wire Transfer, we will provide you with our BIC / Swift number and our IBAN number.
Please check the import duties and any taxes your government may apply, these are different for each country and unfortunately out of our control.
We understand there may be some 'loopholes' that may help you avoid these charges, however attempting to use these could impact our ongoing ability to serve our growing international customer base.
For those that happen to visit the UK on occasion we are of course more than happy to store your watch until we can meet you in our offices in Kensington, London, and your watch directly to you there.
Please note, we also welcome part exchanges and if you have a watch or small collection for sale, please contact us as we will be happy to discuss.
We will be happy to Service your watch, Repair your watch or Restore your watch, all at 'sensible' prices. Please see here.
If you have any questions please call on our Landline 0207 727 7095 or Mobile 07515 949250 or if calling from overseas on our Landline +44 207 727 7095 or Mobile +44 7515 949250.
We are here, ready and available and awaiting your call! We will be happy to answer any questions and offer advice about this or any of our watches listed for sale. If you would like some general advice regarding any aspect of vintage watches, including buying, selling, or collecting vintage watches, we will also be happy to hear from you.
Finally, please enjoy some time spent viewing our other fine vintage gold watches!
Thank you.