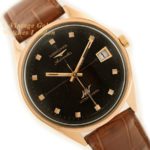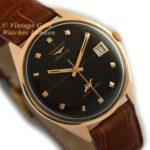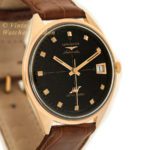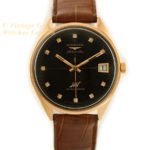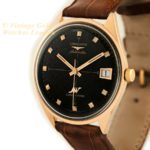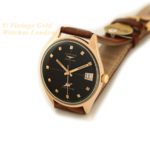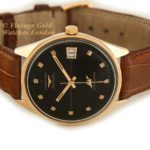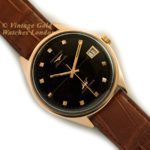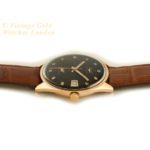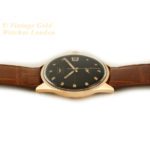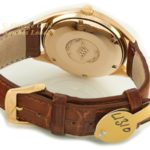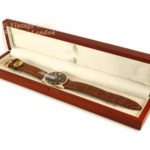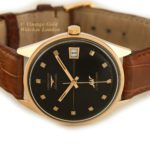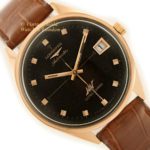 Longines Automatic Cal.431 18ct Pink Gold 1971
£3,950
100% Genuine & All Original
Fully Inspected, Serviced & Guaranteed
A Very Cared For and Lightly Used Example
Exceptionally Large 37mm 18ct Pink Gold Case in Immaculate Condition
Original, Unrestored and Untouched Cross-Hair Dark Chocolate Brown Dial with Original 'Stick' Hands
Very High Grade Cal.431, 17 Jewel Automatic Movement in Sparkling Condition
Oversize 37mm Diameter Case, Excluding the Longines Signed Crown
High Quality Brown Leather Strap & Longines Pink Gold-Plated Buckle
All in Absolutely Top Grade & Simply Stunning Condition
High Quality Hardwood Presentation Box Included
VGWL 12 Months Written Warranty Included*
VGWL Lifetime Authenticity Guarantee
Free Worldwide FedEx Delivery
Free UK Special Delivery
DO YOU HAVE A WATCH LIKE THIS TO SELL?
ABOUT THIS WATCH
Longines
Longines is one of the oldest Swiss watch manufacturers with an unparalleled history of invention, innovation, patents and awards. The company is also responsible for some of the most beautiful watches ever made. For a long time, something of a Cinderella among the watch collecting fraternity, Longines is now rightfully returning to the elevated status they once held in the pre and post-war years. It is only relatively recently that Longines vintage watches have returned to the admiration and popularity they deserve, with values rising between 15 and 20% per year. Certain models, however, such as the now legendary Longines Calibre 13ZN chronograph have sky-rocketed.
Description
Here we have a superb, original, unrestored and untouched example of a wonderful Longines from 1971 when Longines was competing head to head with, and beating almost all of the other Swiss watch manufacturers. The wonderful watch we see here has a large 18ct pink gold case which measures 37mm in diameter, excluding the correct Longines signed crown. The watch is fitted with the high-grade Longines Calibre 431 movement which is very highly regarded for its accuracy and reliability. This watch also has the addition of a date function, along with a stunning dark chocolate brown dial.
The Dial
The rare dark chocolate brown cross-hair dial is a classic example of Longines style and elegance – clean, simple, classic and very understated – and the unrestored 'stick' hands are matched with pink gold faceted 'stud' hour indices. This dial is in wonderful condition and has the extra addition of a date window at 3.
The company was rightfully held in very high regard for the quality of their movements and close examination of any of their watch cases reveals equal high regard for design, quality, purpose and perfection. We think almost all of Longines classic vintage dial designs were at least one step ahead, in terms of elegance and sophistication and the design here is a good example. Everything is in perfect proportion and in perfect balance and the dial just works so well.
This dial is signed with 'Longines' below 12 with 'Automatic' below, 'Ultra-Chron' at the bottom above 6 and 'Swiss Made' at the very bottom.
As mentioned above, the dial here is completely original, unrestored and untouched. We have left this completely alone to retain its originality and charm, as it is in outstanding condition for a watch of this age. Usually, we restore the dial as part of the overall restoration process of each watch we sell. This is because watch dials over 50 years old tend to become very unsightly due to damage from sunlight, moisture, and pollution. This takes the form of fading, staining, spotting and pitting. Watch dials also become very easily marked when a watch is dismantled for servicing and this is often evidenced in the form of scratches. Here however, the dial is simply outstanding, with only some very delicate spotting. On the wrist, this is hardly noticeable, unless one has 20:20 vision and holds the watch six inches from the eye and obviously this is much more apparent under the very magnification of our photographer's high power macro lens, and multi-megapixel camera sensor.
The Movement
The Longines Ultra-Chron Cal.431, Hi-Beat movement lives in that most rarified atmosphere of some of the highest performing watches ever made. For Longines to release this watch in 1967, bill it as the world's most accurate watch, and guarantee it to be accurate to within a minute a month, was an extraordinary claim for a series produced mechanical wristwatch. The challenges are significant even today to design and build such a watch. For example, a great deal of power has to be stored and transferred by the mainspring. This, in turn, puts increased strain on the drive train of the movement. In addition, the faster-moving component parts cannot be lubricated in the normal way, simply because the oils are quickly dispersed by the faster moving parts. The teeth, in particular, are subject to increased wear and friction, reducing performance. Longines mitigated this problem by coating the escape wheel teeth with a new dry lubricant named 'molybdenum bi-sulphide'.  
As can be seen, it is without any doubt, the Longines Calibre 431 movement and other Hi-Beat movements of this era represented the very pinnacle of horological achievement in terms of design, engineering and accuracy. Huge resources, investment and R&D were brought into play by Longines to produce these movements. Likewise by Girard-Perregaux to produce its HF automatic and Zenith's Hi-Beat, which of course led in 1969 to its amazingly advanced and groundbreaking Zenith El-Primero, 10-beat, automatic chronograph. It is interesting to contemplate that without the looming challenge of electronic / quartz watches, these amazing Hi-Beat movements might never have left the drawing board.
The movement here, as can be seen in the photographs, is as clean, bright and sparkling as you will ever see and has been expertly serviced by our vintage Longines specialist watchmaker. This involves fully dismantling the watch, three-stage ultrasonic cleaning, careful examination under high magnification of all the critical components and surfaces, replacement where necessary only with genuine Longines parts, then careful reassembly, calibration and final testing. Following restoration and immediately prior to listing, our test results show +5 seconds a day, averaged over 5 positions and a 40 hour power reserve when fully wound. Please bear in mind this is totally outstanding for any watch of this age. We are therefore highly confident in offering 12 months warranty on this watch movement*.
The movement is signed 'Longines Watch Co Swiss' '17 Jewels' and carries the movement serial number 50467359 which dates this watch to 1971.
*Please note – our 12 months' warranty is only applicable provided the list price is paid. 
The Watch Case
The Ultra-Chron range was a great success for Longines and many different models were released during its 9 years of production. These included numerous sports and even a number of dive watches. Longines overcame the technical challenges of the advanced movement well, but some might suggest in certain instances it uncharacteristically lost its way aesthetically, particularly with its Ultra-Chron range. The company knew, of course, that it faced a totally new challenge and a serious threat to its future. The arrival of quartz watches was not far over the horizon and the revolution which followed was a huge challenge to even the strongest Swiss watch brands. Many were taken over or went completely broke during the 1980s and 1990s. The Ultra-Chron was therefore conceived, designed and marketed to meet this challenge and demonstrate just how exceedingly accurate a mechanical watch could be. To differentiate and emphasise the technical advance this range represented, almost every model was provided a futuristic look all of its own. This meant some quite brash and even outlandish styles which were somewhat over the top, even for 'the world's most accurate automatic movement'.
Here, however, the design is a little more constrained and the 18ct pink gold case, along with its size, provides some balance to the Ultra-Chron design style. At 37mm, excluding the Longines signed crown, this was an exceptionally large watch for the period which makes this a particularly rare model since most gold Ultra-Chrons were made in yellow gold, and with a typical case size of 34mm or 35mm. 36mm watches are found from time to time, but this is the only Longines Ultra-Chron we have ever seen in a 37mm case.
The Ultra-Chron theme is continued to the rear of the watch, where the waterproof screw-back carries the Ultra-Chron legend. This remains clear and distinct indicating this watch has received very little use.
Inside the case-back we see the case is all correctly signed 'Longines', 'Fab Suisse' and 'Swiss Made' with the Longines brand, along with Swiss Geneva 18ct hallmarks and the Longines model number 8300.
The case has been carefully inspected and very lightly hand-polished. It is immaculate with no dings, scratches or other signs of wear visible to the naked eye. The case-back is of full thickness and has never been engraved.
As ever, our standard advice applies: Vintage watches should be kept clean and dry at all times.
The Strap and Buckle
The strap fitted is a new brown leather strap with a Longines pink gold-plated buckle. If a different colour or style of strap is preferred, please let us know and we will do our best to oblige free of charge. We carry tan, conker, dark brown and black in stock and in plain padded leather, or crocodile skin or lizard skin.
The Box and Papers
Although there are no original papers with this watch, the numbers and markings on the watch are all correct, dating the watch to 1971.
A detailed written receipt with 12 months' warranty* and a separate insurance valuation for the replacement value will be provided at the time of sale, along with our unique'Lifetime Authenticity Guarantee' which states: "If at any time, this watch proves to be anything less than totally authentic, or not as described, Vintage Gold Watches of London will offer you a full refund at any time".
The high quality hardwood presentation case shown in the photographs is included in the sale.
In Conclusion
A very special and absolutely stunning Hi-Beat automatic vintage watch from one of the most collectable, highly regarded and time honoured vintage watch brands. This is also a very rare watch due to its 37mm size and pink gold case which will therefore make an excellent financial investment as well as be something to use, treasure and enjoy! It is completely practical for use as an everyday watch and as long as it is well looked after and serviced every 2-3 years, it will last another lifetime. It carries a great deal more style, individuality and panache than a new watch and to buy the same quality today, would cost at least three or four times the price here.
However, you may wish to view this, as each year goes by and the world market for fine vintage gold watches grows even larger, the limited supply and high demand means prices will inevitably climb even higher!
A word on our prices – We always try our hardest to acquire the very highest quality watches we can find, before then restoring them to the highest possible standards. We then offer these at the fairest prices we can, taking into account our pre and post sales care and service. This approach means we will never be the cheapest, but nor will we be the most expensive. Indeed there are some well-known stores in West London which are highly successful charging between two to three times the price you see here. We therefore consider our prices to be good value and very fair, given the quality of watches we have to offer.
We are happy to accept payment via PayPal as this is the quickest method of payment. However, if you would like to pay by UK cheque or by bank transfer, we will be pleased to assist you with this and pass on a 3% saving to you. Paying by bank transfer for a 3% saving will not affect your 12 months warranty.
If you have any questions please call on Landline 0207 727 7095 or Mobile 07515 949250 or if calling from overseas on Landline +44 207 727 7095 or Mobile +44 7515 949250
Please note, we also welcome part exchanges.
Please take a look at our other vintage gold watches.
Thank you.