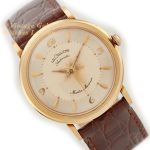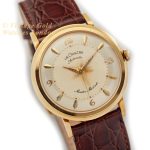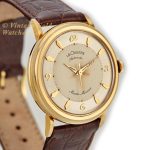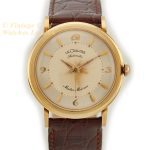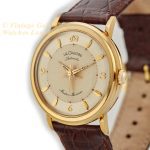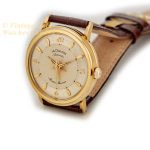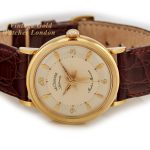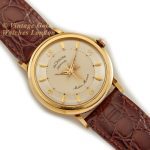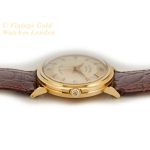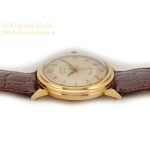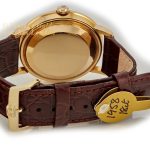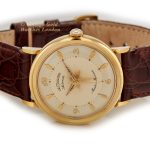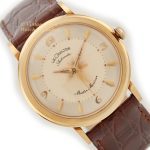 Jaeger-LeCoultre Master Mariner Bumper Automatic 18ct 1958 35mm
£3,250
100% Genuine & All Original
Fully Inspected, Serviced & Guaranteed
A Beautifully Well Cared for Original Example
35mm, 18ct Yellow Gold Case, excluding the JLC Crown
Original Unrestored Two Tone Dial & Original Dauphine Hands
Very High Grade, Calibre 476/3 Bumper Automatic Movement
Robust Screwdown Case Back, Body and Case-Back and Bezel
All in Simply Wonderful Original Unrestored Condition
High Quality Hirsch Strap with a JLC Gold-Plated Buckle
Rare, Genuine LeCoultre Presentation Box Included
VGWL 12 Months' Written Warranty Included*
VGWL Lifetime Authenticity Guarantee
Free Worldwide FedEx Delivery
Free UK Special Delivery
DO YOU HAVE A WATCH LIKE THIS TO SELL?
Jaeger-LeCoultre
It is not commonly known, that Jaeger-LeCoultre, in addition to producing movements for its own watches, also produced watch movements for a number of other famous watch houses. These include Vacheron Constantin, Audemars Piguet, and IWC. Also, for most of the 20th Century, Jaeger-LeCoultre even supplied bare movements to the great firm of Patek Philippe.
Then as now, Jaeger-LeCoultre has always been considered one of the world's very finest watchmakers.
Since the founding of Jaeger-LeCoultre in 1833, the brand has had a very inventive history, developing over 1,249 mechanical calibres, registering over 400 Patents and playing a tremendous role in the development of the industry as a whole. Whether it is the keyless watch, the calibre 101, or the iconic Reverso, it would be difficult to imagine a historical account of watchmaking without the mention of Jaeger-LeCoultre.
The company has always been a true 'Manufacturer' of the finest quality watch movements. This is unusual because more often than not, high-end brands such as Rolex, Patek Phillippe, Audemars Piguet and Vacheron Constantin would buy movements for particular needs. For example, in 1967 when Patek Phillippe, Audemars Piguet and Vacheron Constantin needed an ultra-thin automatic movement, it was to Jaeger-LeCoultre they turned, to produce one for them. Furthermore, the exquisite Jaeger-LeCoultre Calibre 920, is still in production and in use today by both Vacheron Constantin and Audemars Piguet.
Description
Conceived as a competitor to the hugely successful Omega Seamaster and probably the Longines Flagship and Zenith Captain, the much rarer Jaeger-LeCoultre Master Mariner was produced in low numbers, just for the U.S market, for only a few years between 1958 and 1963. The model was a forerunner to the more famous, but also very low production, Jaeger-LeCoultre Geomatic Chronometer, which was produced between 1962 and 1970.
Most JLC models of the 1950s and '60s, including the Master Mariner, were made with 'gold filled' cases or steel, so while the Master Mariner itself is quite a rare watch, in solid gold it is very rare, especially when found in wonderful original condition, such as the example you see here.
This watch is from the first year of release and is signed "LeCoultre', rather than 'Jaeger-LeCoultre' as it was produced for and exclusively marketed in the U.S.A.
This watch is in excellent original, untouched condition. Normally we would restore the dial, watch hands and watch case, however we felt that as this watch is in such excellent original condition, we  would be better to leave it this way for those who prefer the originality and charm of a well kept original example such as this. The movement has been overhauled and serviced and is running very accurately.
The Movement
This watch contains its all original, very high quality Calibre K476/3 automatic movement.
The Cal.476, also known as the 12A, was the very first automatic movement from Jaeger-LeCoultre. Introduced in 1946, the Calibre 476 came 20 years after John Harwood and Blancpain presented the first automatic wristwatch. With an excellent hour power reserve of 42 hours, this movement was accurate enough to be certified as a Chronometer in 1958. For those unfamiliar with the term "Bumper Movement", this describes the system of self-winding, where rather than having full 360 degree rotation as was later introduced, the movement is wound by means of a rotor which oscillates through 170 degrees. It is then arrested by buffer springs which then bounce the rotor back in its original direction. These movements are enormously charming and charismatic when in use. When first worn, the wearer can feel a very slight, but distinct bump sensation as the rotor bounces back and forth to wind the watch. However, one soon becomes accustomed to this and after a short while, it is hardly noticeable in day to day use.
It is likely that the only reason the Master Mariner was not retailed as a 'Chronometer', is that Jaeger-LeCoultre, unlike Rolex and Omega, were not in the habit of submitting its watches out of routine, for independent Chronometer testing. Apparently some were occasionally sent to one of the Swiss Observatories for publicity purposes and to demonstrate its accuracy and reliability, but Jaeger-LeCoulture perhaps felt, in line with Patek Philippe and Vacheron Constantin, that as anyone purchasing a Jaeger-LeCoultre would be already sufficiently assured as to the quality of the watch movement so they did not need the word 'Chronometer' written on the dial!
As with all the highest quality watch movements, it has been beautifully finished. Perfect 'Geneva Waves' decorate the bridge plates and rotor and each individual screw has been hand-polished. This, along with proper servicing in the interim, means the movement looks as good today as it did the day it was made.
The movement is signed 'LeCoultre Co', with the calibre number 476/3 and the movement serial number 1321486, making the year of manufacture 1958. This makes this a very early example of this model, from its first year of manufacture.
Following its overhaul by our vintage Jaeger specialist watchmaker, the watch is running perfectly, having been calibrated and timed at +6 seconds per day which is truly outstanding for a watch of this age. The watch has a runtime of 43 hours from its fully wound state, which shows the movement is particularly strong and running well within expected parameters. This watch movement is now ready for another lifetime's faithful service. We therefore have no hesitation in offering this watch with our 12 month warranty and will be also be more than happy to assist with servicing in the future.
*Please note – our 12 months' warranty is only applicable if the list price is paid.
The Dial
The original, unrestored two-tone dial carries applied gilt Breguet numerals and 'Spearhead' hour indices, which are matched by the original gilt 'Dauphine' hands and centre seconds hand.
The watch dial would originally have used radium filled hands and hour markers to make these visible at night. This has long since become inactive, but the hands have left their characteristic marks on the dial. One often sees this where a watch has been left and unused for a very long period.
The outer silver area of the dial catches the light beautifully, as do the gold minute markers around the outside of the ivory cream centre section of the dial. The dial is simply signed 'LeCoultre', with 'Automatic' and 'Master Mariner' in a beautiful early script.
The overall look, as with all vintage Jaeger-LeCoultre is one of classic simplicity and elegance.
The Watch Case
The 18ct yellow gold watch case measures 35mm, excluding the original and very rare LC signed crown. It is beautifully crafted and noticeably sturdier and heavier than most, of the same period. It is in excellent original condition and for those who prefer their vintage watch to retain originality and charm, we have left it completely alone.
The case is of a large size for a gent's watch of the period and has a classic, elegant look with perfectly executed straight lugs.
Inside, the case is fully signed:- 'Cased and Timed in the U.S.A by LeCoultre'. LeCoultre was a sister company of Jaeger-LeCoultre, formed to service the American market. The company had close ties with local watch case-making companies, much as Rolex and Omega did in the UK market. This was to minimise the liability to punitive taxes levied on imported watch cases, particularly made of gold. Inside, the case-back also carries the case reference numbers 386C307 and 537121.
Externally, the case-back is signed '18K Gold'. These marks are very distinct, indicating the watch has not been over-polished.
Please note – even though this watch was designed and manufactured with a high degree of water resistance, our standard advice applies: vintage watches should be kept clean and dry at all times.
The Strap & Buckle
A new high quality Hirsch Alligator strap has been fitted, which we feel compliments the watch nicely, along with a Jaeger-LeCoultre gold-plated buckle. However, if a different colour or style of strap is preferred, please let us know and we will do our best to oblige free of charge. We carry tan, conker, dark brown and black in stock in plain padded leather, crocodile skin or lizard skin. We can also obtain most types and colours from our partners at 'Watch Obsession' within 48hrs. Please take a look at their huge range of 18mm straps if you wish here.
Box and Papers
Although there are no original papers with the watch, the numbers and markings are all correct, dating this watch to 1958.
A detailed written receipt with 12 months' warranty*, and a separate insurance valuation for the replacement value of the watch, will be provided at the time of sale, along with our unique 'Lifetime Authenticity Guarantee' which states: "If this watch proves to be anything less than totally authentic, or not as described, Vintage Gold Watches of London will offer you a full refund, at any time". As with all our watches, this watch will be sold under our 14 days no quibble sale or return policy.
The very rare, genuine and period correct LeCoultre presentation box shown in the photographs is included in the sale.
In Conclusion
This is exactly the kind of rare and interesting watch we love to find and restore and offer for sale to you. It is many more times more elegant than the modern equivalent watch and if produced today, the same standards of quality and finish would cost many thousands of £££s.
Even though it is over sixty years old, this watch is still completely fresh, completely reliable and highly practical to wear as your everyday watch should you so wish. Mostly, it is a thing of beauty, to wear, use, treasure and enjoy. Should you wish to view it this way, it will also make an excellent investment or heirloom piece, because as each year goes by, and the world market for vintage gold watches grows ever greater, limited supply, linked with particularly high demand from the Far East, means prices will inevitably climb ever higher!
A beautiful example of a timeless classic from one of horology's most prestigious names, which if treated with care, will provide excellent reliability as well as a sound financial investment, as long-lasting as the watch itself!
A word on our prices – We always try our hardest to acquire the very highest quality watches we can find, before restoring them to the highest possible standards. We then offer these at the fairest prices we can, taking into account our pre and post sales care and service. This approach means we will never be the cheapest, but nor will we be the most expensive. Indeed there are some well-known stores in West London which are highly successful charging between two to three times the price you see here. We therefore consider our prices to be fair, given the quality of watches we have to offer.
We are happy to accept PayPal as this is the quickest method of payment. However, if you would like to pay by UK cheque or by UK bank transfer we will be pleased to assist you with this and pass on a 3% saving to you. Similarly, if you wish to pay by International SWIFT or Bank Wire Transfer we will provide you with our BIC / Swift number and our IBAN number.
If you have any questions please call us on our Landline 0207 727 7095 or Mobile 07515 949250 or if calling from overseas, on Landline +44 207 727 7095 or Mobile +44 7515 949250.
Please note, we welcome part exchanges. If you have a watch or small collection for sale, please contact us as we will be happy to discuss this.
We will also be happy to Service your watch, Repair your watch or Restore your watch, all at 'sensible' prices. Please see here.
Please take a look at our other fine vintage gold watches.
Thank you.