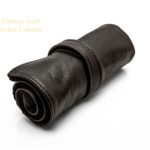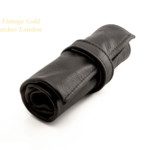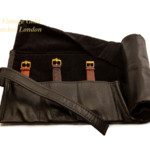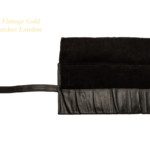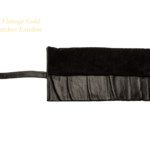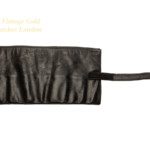 Soft Leather Watch Roll – Black
£85
Artisan – Hand Made
Soft Black Leather with Black Stitching
High-Quality Soft Nappa Leather Watch Roll
Comfortably Holds and Protects up to Six Watches
Very Safe & Secure and Functional with an Outer Velcro Strap
Soft Protective Lining with a Soft Protective Flap to Keep Your Watches Safe
Safe & Secure Storage & Travel, with Very High-Quality Leather
Pockets will Comfortably Hold Watches up to 48mm Diameter
Size 420mm x 180mm with 65mm x 75mm Pockets
A New High Quality Item and Beautifully Finished
Soft Black Leather with Black Stitching
Free Worldwide FedEx Delivery
Free UK Special Delivery
Watches Not Included Unless Bought Separately
DO YOU HAVE A WATCH LIKE THIS TO SELL?
ABOUT THIS WATCH
We find these beautiful soft Nappa leather watch rolls are perfect for safely storing a small collection of precious watches together in one place and safely protected from one another.
These are also perfect for travelling as the roll takes up very little space even when storing six watches.
If you have more than six watches why not buy two or three in the same colour, as these watch rolls make the perfect safe storage solution!