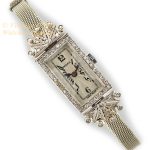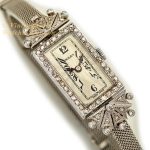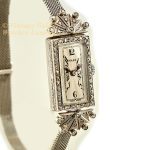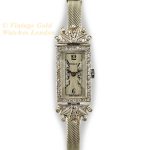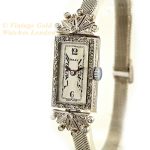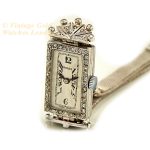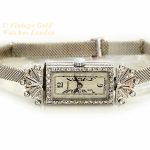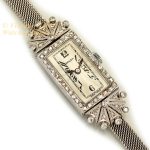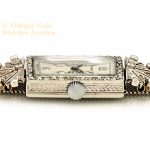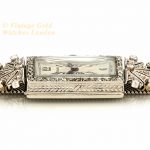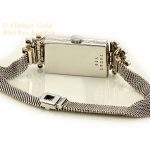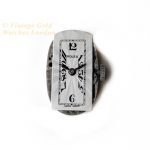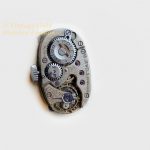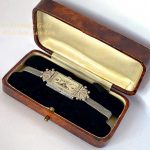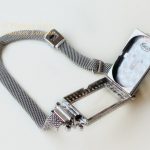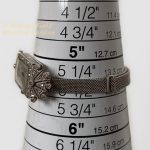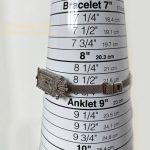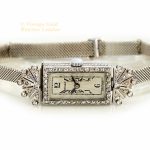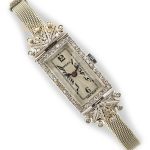 Ladies Rolex in Diamond and 18ct White Gold 1924
£6,850
100% Genuine & All Original
Fully Inspected, Serviced & Guaranteed
A Very Carefully Owned & Lightly Used Example
Ladies Rolex 18ct White Gold Cocktail Watch dated 1924
Beautiful Original Guilloche Art Deco Dial with 1 – 12 Arabic Numerals
Rolex Geneva RWC, Swiss Made 18ct White Gold Diamond Encrusted Case
Size 15mm x 28mm 18ct White Gold Case, Total 42mm incl. the Regal Diamond Lugs
Original High Grade Rolex Cal.250 Prima 15 Jewels, Rolex Swiss Movement
All in Absolutely Top Grade Fully Restored Condition
Original 18ct White Gold Fully Adjustable Bracelet
VGWL 12 Months' Written Warranty Included*
VGWL Lifetime Authenticity Guarantee
Free Worldwide FedEx Delivery
Free UK Special Delivery
DO YOU HAVE A WATCH LIKE THIS TO SELL?
ABOUT THIS WATCH
Rolex
It is not so well known that Rolex was actually founded in the U.K in London in 1905 and it was not until 1919 that the company transferred its base of operations to Geneva, Switzerland.
Description
This spectacular diamond and white gold ladies cocktail watch carries a wonderful Guilloche effect art-deco dial. The stunning 18ct white gold case carries wonderful flying articulated diamond-studded lugs which when worn, follow the contour of the wrist. This adds significantly to the sensation and drama of this wonderful timepiece. The watch has an infinitely adjustable white gold bracelet, which allows it to fit any ladies size wrist.
This watch is all correctly signed by Rolex on the dial, movement and case. It was produced in 1924 and made for the U.K market and therefore carries Glasgow U.K 18ct hallmarks, as all Rolex U.K imported watches did, during this period.
The Case
Although this is not an overly large 'statement' piece, it is hugely impressive with the art-deco and imperial style of the period, exemplified by regal flying diamond-studded lugs.
The stunning, diamond-studded case has beautiful hand-engraved sides and remains in tip-top condition. As one would expect, this is a high-quality case, which from all appearances seems to have been very well cared for since there are no signs of wear, over-polishing, dings, scratches or other damage, visible to the naked eye. The case is signed RWC Ltd for Rolex Watch Company and carries Glasgow U.K hallmarks which date the watch to 1924. The case also carries the external Rolex model reference number 418 and the serial number 13281. The case is 15mm wide, excluding the crown and 28mm in length. The total length of the watch including the lugs is 42mm. The watch is quite slim at 7mm, including the lens which stands slightly proud of the case. The case itself and hinge area, in particular, have been carefully inspected for any weaknesses and none were found. We can, therefore, guarantee the structural integrity of this watch case. This, along with the general condition of the case, leads us to believe this watch has led a charmed life and seen very little use.
As always, our standard advice applies: vintage watches should be kept clean and dry at all times.
The Dial
The silver-white dial has a Guilloche style (finely engraved) finish, which has a beautifully intricate pattern, giving a starburst effect. The '1 – 12' numerals are in the art-deco style, complimented by original 'Breguet' blued steel hands. The dial design and case complement each other beautifully and also make the time easy to read for such a small watch.
This is the original Rolex dial which has been restored to the very highest standards by the best dial restorers in the U.K.
The Movement
The Rolex Calibre.250 Prima, 15 Jewels movement is original to this watch. It is signed 'Rolex', 'Prima', '15 Jewels' and 'Swiss Made'. The watch movement has been fully overhauled and serviced by our watchmaker who reports it to be in excellent condition and we are therefore happy to offer this watch with our 12 months warranty*.
Note: This watch is perfectly suited for evening wear and special occasions, but not for everyday use. Watches of this age, even with this quality of movement may gain or lose up to 2 minutes per day due to their age. They will, however, run for at least 24 hours and are wonderful to wear, and own.
*Please note – our 12 months' warranty is only applicable if the full list price is paid.
The Bracelet
The watch is on a period, white gold loop bracelet with a sliding locking clasp which makes the bracelet adjustable for any size of wrist. The bracelet is also in perfect condition. This watch would have originally been sold on a black silk strap but it is more secure, better balanced, and more popularly worn, as shown.
The Box and Papers
Although there is no original paperwork with this watch, the reference numbers, markings, signatures and hallmarks are all correct, dating the watch to 1924. Detailed particulars are included with the receipt, along with our 12 months' warranty* and a separate insurance valuation for the replacement value will be provided at the time of sale. This will also include our 'Lifetime Authenticity Guarantee' which states: "If this watch proves to be anything less than totally authentic, or not as described, Vintage Gold Watches of London will offer you a full refund at any time".
This watch comes complete with the original presentation box, as shown.
In Conclusion
We have here a beautiful, rare, usable and highly collectable, vintage gold ladies cocktail watch, from horology's most famous name which is something of beauty, to use, wear, treasure and enjoy!
This watch will also make an excellent investment and family heirloom piece. Even though vintage gold Rolex prices have continued to rise markedly in the past 2-3 years, we still feel fine examples such as this are undervalued. As each year goes by and the world market for vintage gold Rolex watches continues to expand, availability will become more limited, so prices are surely destined to climb ever higher!
A word about our prices – We always try our hardest to acquire the very highest quality watches we can find, before restoring them to the highest possible standards. We then offer these at the fairest prices we can, taking into account our pre and post sales care and service. This approach means we will never be the cheapest, but nor will we be the most expensive. Indeed there are some well-known stores in West London which are very successful, charging between two to three times the price you see here. We therefore consider our prices to be very fair, given the quality of watches we have to offer.
We are happy to accept PayPal as this is the quickest method of payment. However, if you would like to pay by UK cheque or by UK bank transfer we will be pleased to assist you with this and pass on a 3% transaction saving to you. Similarly, if you wish to pay by International SWIFT or Bank Wire Transfer, we will provide you with our BIC / Swift number and our IBAN number.
Please note, we also welcome part exchanges, along with outright purchases of similar watches for us to restore, service and list. We can also offer Watch Service, Watch Repair & Watch Restoration, please see here.
If you have any questions please call 020 7727 7095 or if calling from overseas on +44 2077277095.
We are here, ready, available and awaiting your call!
Finally, please enjoy some time spent viewing our other fine Vintage Gold Watches!
Thank you.