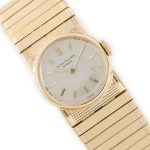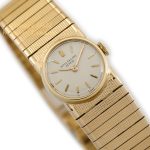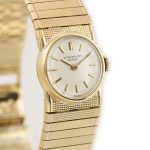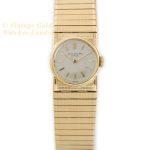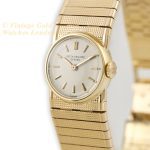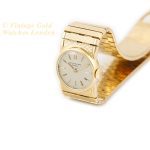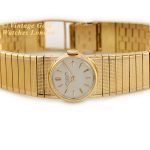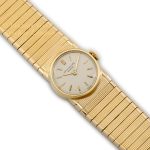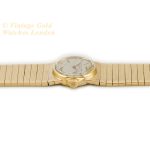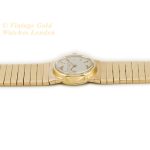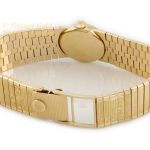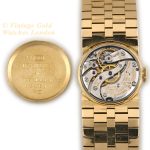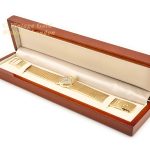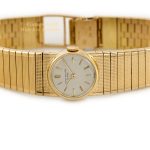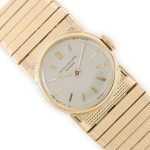 Ladies Patek Philippe Model Ref.1111 18ct c1946
£6,950
100% Genuine & All Original
Fully Inspected, Serviced & Guaranteed
All in Absolutely Top Grade, Beautiful Condition
A Completely Original and Lightly Used Example
Patek Philippe Model Ref. 1111, 18ct Dress Watch from c1946
Patek Philippe Swiss Made Case, 20mm, Excl. the Patek Philippe Crown
Original, Unrestored White Dial with 'Index' Hands & 'Baton' Hour Indices
Very High Grade Cal.23-300 PM, 18 Jewel Hand-Wound Movement
Original 18ct Yellow Gold Patek Philippe Signed Bracelet
Full Weight of Watch Including Bracelet 72.4 Grams
High Quality Hardwood Presentation Box Included
VGWL 12 Months' Written Warranty Included*
VGWL Lifetime Authenticity Guarantee
Free Worldwide FedEx Delivery
Free UK Special Delivery
DO YOU HAVE A WATCH LIKE THIS TO SELL?
ABOUT THIS WATCH
Patek Philippe
Simply the finest watch money can buy.
Even today, Patek Philippe's extraordinary care and commitment to perfection mean it takes almost a year to manufacture even its simplest watch movement.
Some significant moments in watchmaking since 1839 …
– 1839 Antoine Patek began producing about 200 high quality pocket watches per year
– 1845 Patek & Co. Partnership founded in Geneva with Jean Adrien Philippe, Technical Director
– 1846 Tiffany & Co. New York, Tiffany appoints Patek Philippe as its principal supplier of pocket watches
– 1857 Universal Exposition, London, Queen Victoria and Prince Albert buy a timepiece, shooting Patek to international fame
– 1867 the company produces the world's first wristwatch
– 1927 the company produces the world's first perpetual calendar wristwatch
– 1941 the company produces the world's first perpetual calendar chronograph wristwatch
– 1962 the company produces the world's first automatic, perpetual calendar wristwatch
It is said that fewer than 1 million Patek Philippe watches have been made since its first watch was completed in 1839. This is fewer than some high-end Swiss manufacturers (notably Rolex) produce in one year. In fact, the company limits itself to producing less than 50,000 watches per year, even though it is estimated by watch market analysts, the company could sell ten times this figure. Patek production is so precise, detailed and intricate, it takes almost a year to complete its most basic watch and more than two years to produce many of the more complicated timepieces.
Patek's vintage complications hold more world record prices at auction than any other brand. Landmark models include the Patek model ref. 1518 – the world's first serially produced perpetual calendar chronograph – and its successor, the Patek ref. 2499. Other famous models include perpetual calendars such as the refs. 1526, ref. 3448 and 3450.
We associate Patek Philippe with the very best, but also understated elegance, craftsmanship, heritage, exquisite design, perfection and precision, and of course, total confidence and commitment in everything it does.
Description
Here we have a fine example of a ladies Patek Philippe model reference 1111, Cal.23-300 PM in 18ct yellow gold which was manufactured c1946. This is a 20mm diameter watch which would have been considered a standard size for a ladies Patek in the 1940s. The incredible white dial is original, unrestored and untouched. This watch is absolutely beautiful and weighs a wonderful 72.4 grams.
The Dial
The original, unrestored and untouched white dial with applied gilt 'pencil' hour indices, is, as can be seen in the close-up photographs, in superb condition. The dial is complete with its original 'index' style hands which are also tip-top, especially considering the age of the watch. Both the dial and hands are original, untouched and unrestored. Normally we restore the dials of all the watches listed on this website, but we felt this to be completely unnecessary in this case.
Please note, at 20mm diameter, excluding the crown, this is quite a small watch in comparison with most others, however this would of been a standard size watch in the 1940's. Although small, the white dial, gilt hands and gilt 'baton' hour indices make the dial easy to read, even at arm's length.
The dial is correctly signed with 'Patek Philippe' with 'Geneve' just below at 12 and 'Swiss' at the very bottom.
The dial is original and unrestored and has been left untouched by our restoration team due to its superb condition. Usually, we restore the dials of the watches we sell, however we decided in this case to leave it alone, due to its unusually good condition and to retain its originality and charm for those who prefer this. It also helps to contrast with almost all of the other watch dials you see on our website, which have been restored. The hands, likewise, have also been left in their original condition.
Please note, studio lights, professional-grade digital cameras, and macro lenses can be very unkind to an unrestored vintage watch dial. Also the dial here measures less than 1.25 inches across, so the image you're seeing may be between 5 – 25 times larger than the watch itself. Therefore please keep in mind you are seeing many tiny flaws which cannot be seen, or will be very hard to see with the naked eye, even under close examination. Suffice to say, on the wrist, in natural light, this dial looks much better and carries a great deal more charm than the photographs portray.
Movement
The movement inside this watch is the original Patek Philippe Cal.23-300 PM, 18 jewel Geneva Seal hallmarked, Gyromax balance, free-sprung regulator, 'amagnetic' nickel-finished lever movement with a power reserve of 44 hrs.
As can be seen, this movement is in spectacular condition. The movement has been fully overhauled and serviced by a Master Watchmaker which means dismantling the movement to each of its component parts, careful inspection under high magnification, replacement where necessary with only genuine parts, then careful reassembly and adjustment, before final calibration in 5 positions. The movement winds, sets and runs accurately and reliably and at final testing and calibration, it was running within +10 seconds per day, averaged over 5 positions. This is outstanding for any watch of this age. We are therefore highly confident in offering our 12-month warranty* with this watch.
The movement is correctly signed, 'Patek Philippe & Co.', 'Geneve Swiss', 'Eighteen 18 Jewels' with the Calibre number 23-300 PM and the movement serial number 857607 which dates this watch to c1946.
*Please note – our 12 months' warranty is only applicable if the full list price is paid.
The Case
The 18ct yellow gold case measures 20mm in diameter, excluding the correct Patek Philippe signed crown. Please note, the size of the winding crown may look overly large in certain photographs. This is because the watch is small in comparison and the crown needs to be of an adequate size in order to wind it. However please be assured, it is the correct original Patek Philippe crown for this watch.
The condition of the two-piece case is outstanding, indicating the watch has seen only light and careful use. It is as sturdy and tight as the day it was made, with its two halves pressing together with a very firm click and there are no scratches, other marks, or signs of wear visible to the naked eye.
Inside the case-back is all correctly signed and as expected: 'Patek Philippe & Co.', 'Geneve' and 'Swiss', with Swiss 18ct hallmarks, along with the model reference number 1111 and the case serial number 699619.
This watch has been exceptionally well cared for and so the case has simply required a clean, a thorough inspection, and then a gentle hand-polish to bring it back to its current 'like new' condition.  There are therefore no scratches, dings, dimples, or other forms of damage visible to the naked eye.
Please note – our standard advice applies: Vintage watches should be kept clean and dry at all times.
The Bracelet
The original integral Patek Philippe signed bracelet is also in matching solid 18ct yellow gold and is in immaculate condition, showing no signs of wear or damage visible to the naked eye.
The Patek Philippe signed clasp and lock, provide an adjustment of 1.2 centimetres, either way, meaning the watch will fit a wrist size 19.1cm – 20.3cm. Please note, the bracelet can be made smaller by our jeweller, however making this bracelet larger would be much more difficult.
The bracelet is, as expected, superbly made and quite weighty and substantial. It is also in wonderful condition. While the links do not stretch, they are just flexible enough to hug the wrist beautifully with no gaps or unevenness in any of the links.
Box and Papers
Although there are no original papers with this watch, the reference numbers, markings, signatures and hallmarks are all correct, dating this watch to c1946.
Detailed particulars will be included with our purchase receipt for your interest and security. A separate insurance valuation for the replacement value of this watch will be provided at the time of sale along with our unique 'Lifetime Authenticity Guarantee' which states: "If this watch proves to be anything less than 100% genuine, authentic and original, a full refund will be given at any time".
The high quality hardwood presentation box shown in the photographs is included.
Payment and Delivery
If you would like to pay by bank transfer, we will be pleased to assist you with this and pass on a 3% saving to you. Paying by bank transfer for a 3% saving will not affect your 12 months warranty. Similarly, if you wish to pay by International SWIFT or Bank Wire Transfer we will provide you with our BIC / Swift number and our IBAN number.
Please check the import duties and any taxes your government may apply, these are different for each country and, unfortunately, out of our control.
We understand there may be some 'loopholes' that may help you avoid these charges; however, attempting to use these could impact our ongoing ability to serve our growing international customer base.
For those who happen to visit London on occasion, we are, of course, more than happy to store your watch until we can meet you in our offices in Kensington, London, and hand your watch directly to you there.
As with all our watches, this watch will be sold under our 14 days no-quibble sale or return policy.
In Conclusion
Here we have a truly rare and highly sought after vintage gold dress watch from horology's most revered name which is truly a thing of beauty – to wear, use, treasure and enjoy. It will also make an excellent investment as well as a family heirloom piece. Even though Patek prices continue to rise, we still feel outstanding examples such as this remain grossly undervalued particularly compared to the price of a new Patek Philippe. As each year goes by and the world market for vintage Patek Philippe watches expands, availability will become ever more limited, meaning prices are destined to climb ever higher!
A word on our prices – We always try our hardest to acquire the very highest quality watches we can find, before restoring them to the highest possible standards. We then offer these at the fairest prices we can, taking into account our pre and post-sales care and service. This approach means we will never be the cheapest, but nor will we be the most expensive. Indeed there are some well-known stores in West London which are highly successful charging between two to three times the price you see here. We, therefore, consider our prices to be fair, given the quality of watches we have to offer.
Please note, we also welcome part exchanges. If you have a watch or a small collection for sale, please contact us as we will be happy to discuss this.
We will also be happy to Service your watch, Repair your watch or Restore your watch, all at 'sensible' prices. Please see here.
If you have any questions please call us on 020 7727 7095 or if calling from overseas on +44 207 727 7095.
Please take a look at our other fine vintage gold watches.
Thank you.