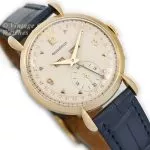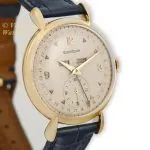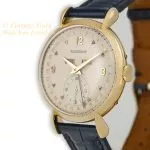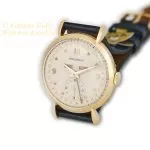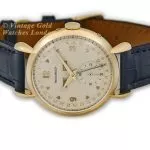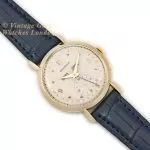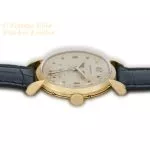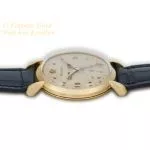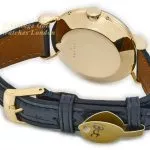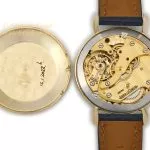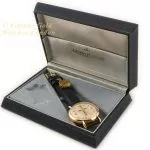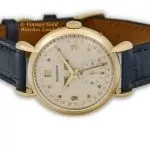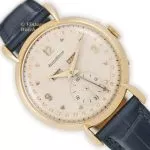 JLC Triple Date Cal.P484/1 18ct 1947 36mm
£6,250
100% Genuine & All Original
Fully Inspected, Serviced & Guaranteed
A Beautiful, Rare, Completely Original Example
Wonderful 18ct Yellow Gold Case with Beautiful 'Teardrop' Lugs
Large 36mm, 18ct Yellow Gold Case, Excluding the Unsigned Crown
Superb Hand-Wound Jaeger-LeCoultre Cal.P484/1 Triple Date Movement
Original, Unrestored and Untouched Off-White Dial with Original 'Dauphine' Hands
High Quality Matt Navy Alligator Strap with Plain Gold-Plated Buckle
Jaeger-LeCoultre Presentation Box Included, as Shown
All in Absolutely Top Grade, Beautiful, Stunning Condition
VGWL 12 Months' Written Warranty Included*
VGWL Lifetime Authenticity Guarantee
Free Worldwide FedEx Delivery
Free UK Special Delivery
DO YOU HAVE A WATCH LIKE THIS TO SELL?
ABOUT THIS WATCH
Jaeger-LeCoultre
Since its founding in 1833, Jaeger-LeCoultre has had a highly inventive history, developing over 1,249 mechanical calibres, registering over 400 Patents and playing a tremendous role in the development of the industry as a whole. Whether it is the world's first keyless watch, its Calibre 101, the Futurematic, the Memovox, or the iconic Reverso, it would be difficult to imagine a historical account of watchmaking without the mention of Jaeger-LeCoultre.
It is not commonly known that Jaeger-LeCoultre, in addition to producing movements for its own watches, has also produced movements for a number of famous watch houses such as Vacheron Constantin, Audemars Piguet, and IWC. Indeed for most of the 20th Century, Jaeger-LeCoultre even supplied bare movements to the great firm of Patek Philippe. The company has always been a true 'Manufacturer' of the finest quality watch movements and Jaeger-LeCoultre has always manufactured all its own movements. This is unusual because very often, high-end brands such as Rolex, Patek Phillippe, Audemars Piguet and Vacheron Constantin would buy in movements for particular needs. For example, in 1967 when Patek Phillippe, Audemars Piguet and Vacheron Constantin needed an ultra-thin automatic movement, it was to Jaeger-LeCoultre they turned, to produce one for them. Furthermore, the exquisite Jaeger-LeCoultre Calibre 920, is still in production and in use today by both Vacheron Constantin and Audemars Piguet.
Description
This watch is important because quite simply, it is one of the most fascinating and attractive ever produced by Jaeger-LeCoultre. This example is also very rare, as most of these watches were produced in gold-filled (gold-plated) watch cases and not solid gold, such as the example you see here.
The long-time head of JLC, Jacques-David LeCoultre, died in 1948 and in commemoration of his life, JLC produced the 17 Jewel, Cal.484/1A /AW Triple-Date movement in a run of 5,000. These movements were all signed just "LeCoultre" instead of "Jaeger-LeCoultre". Only 500 of these were cased in gold and only distributed in Europe. These are now very rare and highly sought after. 4,500 were exported to the USA cased in 10ct gold-filled cases, most were the not so rare rectangular shape, but a number were round. The example here is the much rarer round-cased European version in solid 18ct gold.
Incidentally, new Triple Date watches are becoming popular once more. In the past few years, in addition to JLC, many other top watch houses have trawled their back catalogues to re-release similar models based on these 1950s designs. For example, Patek Philippe has recently released a Triple Date Annual Calendar priced at close to £40,000.
The Dial
Simply wonderful! Off-white, with gold coloured applied gilt mixed '3 – 6 – 9 –  12' Standard Arabic numerals and triangular 'pyramid' hour indices, matched with original unrestored gold 'dauphine' hands. The third hand, with a triangular pointer, advances one day at a time, at midnight to indicate the date of the month.
This is the standard Triple Date dial, with the subsidiary seconds dial, and one which is an all-time classic design, to which most of the top watch houses adhere. We are great admirers of this dial design as it is so completely symmetrical, neat and attractive, yet it manages to convey so much!
This dial is simply and correctly signed with 'Jaeger-LeCoultre' at the very top, below 12.
This dial is original and unrestored and has been left untouched by our restoration team due to its superb condition. Usually, we restore the dials of the watches we sell, however we decided in this case to leave it alone, due to its unusually good condition and to retain its originality and charm for those who prefer this. It also helps to contrast with almost all of the other watch dials you see on our website, which have been restored. The hands, likewise, have also been left in their original untouched condition.
Please note, studio lights, professional-grade digital cameras, and macro lenses can be very unkind to an unrestored vintage watch dial. Also the dial here measures less than 1.25 inches across, so the image you're seeing may be between 5 – 25 times larger than the watch itself. Therefore please keep in mind you are seeing many tiny flaws which cannot be seen, or will be very hard to see with the naked eye, even under close examination. Suffice to say, on the wrist, in natural light, this dial looks much better and carries a great deal more charm than the photographs portray.
The Movement
The watch contains its original Jaeger-LeCoultre 17 Jewel, Calibre 484/1 hand-wound Triple Date movement. This movement is the updated 17 Jewel version, as the earlier version had 15 Jewels. This watch has in fact, three 'complications', in that it indicates the day, the date and the month. This was quite a feat when this watch was first produced, yet this movement was completely designed and produced in-house by Jaeger-LeCoultre. Even more remarkably, these watches are accurate and reliable, provided they are regularly serviced and well treated. Although, because this movement was produced by Jaeger-LeCoultre, servicing and replacement parts are not a problem.
This movement is simply signed 'Jaeger LeCoultre Co' and 'Swiss'. The movement serial number is 510864 which along with the calibre number dates this watch to 1947.
Our JLC vintage specialist watchmaker has given this movement a full inspection, overhaul and service and commented he found it to be particularly clean and well maintained. Upon completion, he has carefully calibrated the watch and after our final checks and prior to photography, the watch was found to be keeping time to within +4 seconds per day! This was tested and confirmed by our electronic timegrapher and is truly outstanding for any watch of this age. As can be seen, the movement is in sparkling clean condition. Each of the functions and pushers operate smoothly and reliably just as they should. We are therefore very happy to offer this watch with a 12 month warranty*. With care and with regular servicing around every 4 years or so, we would fully expect this watch to run quite happily for many more decades to come.
Setting this watch is very simple and straightforward. Setting the day of the week is done first. This is achieved by rotating the hands until the correct day is shown. The month is then set via a small pusher on the edge of the case at 2 o'clock and the date of the month is then set via a pusher at 4 o'clock. This is best done with a toothpick, moving the pushers along a horizontal plane, rather than in, towards the centre of the watch.
An important point to remember is never to advance any of these functions while the hour hand is anywhere close to the number 12, as this can harm the movement. It is, therefore, advisable to set the hands to say 6:30 before operating any of the pushers. Another point to note is that the month does not auto-advance on the watches at the end of each month. This is done manually, As long as one remembers these points, and the watch is treated with the care it deserves, it will perform faithfully and reliably.
The days and months of this watch are as you can see, shown in English, which was not always the case.
*Please note – our 12 months' warranty is only applicable if the list price is paid.
The Case
The 18ct yellow gold watch case measures 36mm, excluding the signed JLC winding crown, making this an exceptionally large watch by the standards of its day. This is also the very rare solid yellow gold case, as most were made in steel or gold-plated steel. This significantly adds to the value of this watch, as these make up less than 20% of the production run of 5000 Triple Date watches.
The heavy two-piece case is solid, sturdy and robust. The beautiful 'teardrop' lugs, wide bezel and ribbed case look wonderful and enhance the overall 1940s charm of this watch.
This watch has obviously been very well cared for and has seen only very light use. The press-fit case-back is of full thickness and has never been engraved. It is a nice tight fit and presses back with a nice and satisfying 'pop'. Inside the case-back is signed with the correct 18ct hallmarks and externally, the case-back carries the correct serial number 191903.
The case has been professionally inspected, cleaned and very lightly hand-polished. It is in superb condition with only the most minimal signs of wear, showing no scratches, dings, dimples or other damage visible to the naked eye.
Please note – as ever, our standard advice applies: Vintage watches should be kept clean and dry at all times.
The Strap & Buckle
A high quality, matt Navy Alligator strap is fitted, along with a plain gold-plated buckle. We feel the strap matches the watch nicely, but if a different colour or style of strap is preferred, please let us know and we will do our best to oblige free of charge. We carry tan, conker, dark brown and black in stock in plain padded leather, crocodile skin or lizard skin, however, we can also obtain most types and colours at short notice.
Box and Papers
Although there are no original papers with this watch, the reference numbers, markings, signatures and hallmarks are all correct, dating this watch to 1947.
Detailed particulars will be included with our purchase receipt for your interest and security. A separate insurance valuation for the replacement value of this watch will also be provided at the time of sale along with our unique 'Lifetime Authenticity Guarantee' which states: "If this watch proves to be anything less than 100% genuine, authentic and original, a full refund will be given at any time".
The Jaeger-LeCoultre presentation box shown in the photographs is included.
Payment and Delivery
If you would like to pay by bank transfer, we will be pleased to assist you with this and pass on a 3% saving to you. Paying by bank transfer for a 3% saving will not affect your 12 months warranty. Similarly, if you wish to pay by International SWIFT or Bank Wire Transfer we will provide you with our BIC / Swift number and our IBAN number.
Please check the import duties and any taxes your government may apply, these are different for each country and, unfortunately, out of our control.
We understand there may be some 'loopholes' that may help you avoid these charges; however, attempting to use these could impact our ongoing ability to serve our growing international customer base.
For those who happen to visit London on occasion, we are, of course, more than happy to store your watch until we can meet you in our offices in Kensington, London, and hand your watch directly to you there.
As with all our watches, this watch will be sold under our 14 days no-quibble sale or return policy.
In Conclusion
This simply amazing vintage gold Jaeger-LeCoultre watch was a particularly significant model in the evolution of Triple Date watches and we are very proud to offer such a superb example here in immaculate condition. It is many more times more stylish and individual than a modern equivalent, and even though over 70 years old this watch is still completely fresh, reliable and practical to wear on a regular basis should you wish to do so.
However you may view it, this timepiece will make an excellent investment and heirloom piece, as well as be something to treasure and enjoy. As each year goes by and the world market for vintage gold watches grows ever larger, the limited supply allied to high demand means prices will inevitably climb ever higher!
A word on our prices – We always try our hardest to acquire the very highest quality watches we can find, before restoring them to the highest possible standards. We then offer these at the fairest prices we can, taking into account our pre and post-sales care and service. This approach means we will never be the cheapest, but nor will we be the most expensive. Indeed there are some well-known stores in West London which are highly successful charging between two to three times the price you see here. We, therefore, consider our prices to be fair, given the quality of watches we have to offer.
Please note, we also welcome part exchanges. If you have a watch or a small collection for sale, please contact us as we will be happy to discuss this.
We will also be happy to Service your watch, Repair your watch or Restore your watch, all at 'sensible' prices. Please see here.
If you have any questions please call us on 020 7727 7095 or if calling from overseas on +44 207 727 7095.
Please take a look at our other fine vintage gold watches.
Thank you.