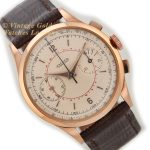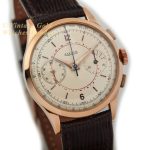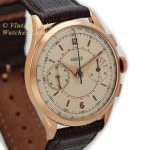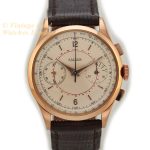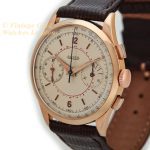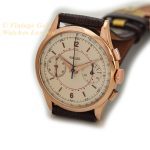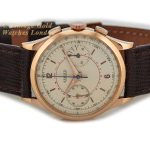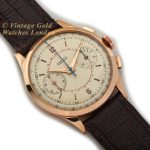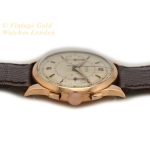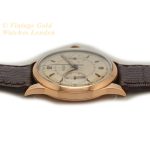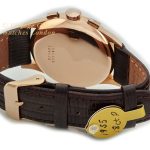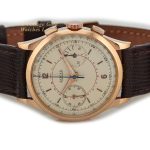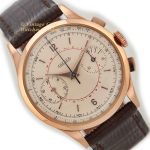 Jaeger-LeCoultre 18ct Pink Gold Chronograph c1955 38mm
£6,450
100% Genuine & All Original
Fully Restored, Serviced & Guaranteed
A Very Carefully Owned And Lightly Used Example
All Functioning Perfectly and Keeping Very Accurate Time
Jaeger Signed Cal.285, 17 Jewel Hand-Wound Chronograph Movement
Beautifully Restored Twin Register Ivory Cream Dial with Original 'Dauphine' Hands
Very Large 18ct Pink Gold Oversize 38mm Case, Excluding the JLC Crown
All in Absolute Top Grade, Original and Simply Stunning Condition
High Quality Dark Brown Lizard Strap & Pink Gold Plated Buckle
High Quality Hardwood Presentation Box Included
VGWL 12 Months' Written Warranty Included*
VGWL Lifetime Authenticity Guarantee
Free Worldwide FedEx Delivery
Free UK Special Delivery
DO YOU HAVE A WATCH LIKE THIS TO SELL?
ABOUT THIS WATCH
Jaeger-LeCoultre
In 1937, after 30 years of marketing the same watches under their respective names, Jaeger and LeCoultre formally merged in the marketplace and the Jaeger-LeCoultre brand was born. In most markets from this point forward, watches were sold as Jaeger-LeCoultre, but with two notable exceptions. The name Jaeger remained in use until the 1980s, particularly for instruments, some chronographs and sports watches and to a large degree in the French Domestic market. The US market remained as LeCoultre from 1931 until c1985, mainly due to the regulations and taxes surrounding the import of watches into the U.S.
Since these early beginnings, the company has had an incredibly inventive history, developing over 1,250 mechanical calibres, registering over 400 patents and playing a tremendous role in the development of the industry as a whole. Jaeger-LeCoultre is also the most creative of the top Swiss watch manufacturers, having produced the widest range of distinctive and groundbreaking watches, many of which are of particular interest to collectors. These are the Duoplan (1925), the Reverso (1931), the Triple Date Moonphase (1945), the Powermatic (1948), the Memovox (1949), the Futurematic (1952), the Geophysic (1958), the Geomatic (1962), along with many more. This is in addition to its wonderful chronographs and huge range of military watches.
Jaeger is also, of course, a very familiar name to vintage and classic car enthusiasts, as in 1921, LeCoultre of Switzerland and Jaeger of France formed a company in England, Ed. Jaeger (London) Ltd to make instruments for prestige car manufacturers. The company was also highly successful in providing instruments to the manufacturers of aeroplanes and marine craft.
Description
We have here a wonderful looking gentleman's dress chronograph from c1955. This was after Jaeger and LeCoultre had entered into a formal partnership, but while nearly all Jaeger-LeCoultre's chronographs were still marketed with just the Jaeger name signed on the dial and movement. This probably made good sense from a marketing standpoint, since the Jaeger name was not only a highly reputable watch brand, but it had also built a strong reputation and a high degree of public recognition with its dashboard instruments, used for measuring the speed and monitoring the engines of the very best cars and aircraft.
This beautiful watch was not specifically designed for professional use, but rather as an expensive, sophisticated dress watch for a gentleman to wear and exhibit his good taste and affluence.
This watch is exceptional, not only for is quality, size and condition, but also due to the fact that this is an Edmond Jaeger signed 18ct pink gold chronograph, which makes this a very rare watch indeed.
The Dial
A beautiful and highly impressive ivory cream dial with three scales, giving it a slightly more technical look.
The dial carries a blue outer tachymeter scale, a black seconds scale divided into fifths of a second, and a red inner telemeter scale.  The tachymeter scale measures speed based on time travelled over a fixed distance whereby the Telemeter scale can be used to measure distances to remote objects i.e. as a rangefinder – typically in a military application, especially naval gunnery and anti-aircraft artillery, or to measure how far away a storm is, by using the difference in time between the arrival of a flash of light and its associated sound.
The dial looks highly elegant and well balanced. The ivory cream background contrasts wonderfully with the black, blue, and red scales and pink gold case.
The dial carries the original pink gilt 'Dauphine' hands, and baton hour indices and is correctly signed with the correct period Jaeger signature. In essence, a highly sophisticated and highly elegant dial – in fact, all of which Jaeger-LeCoultre represents.
The lens is clear having been replaced with a correct, original, new part.
This is the original dial which has been the subject of an earlier restoration. This has been carried out to a very high standard. The dial is just starting to show some of the faintest styles of ageing now which we feel adds some charm to the dial.
The Movement
As can be seen, just like the rest of this watch, the movement is amazingly clean and well cared for. Generally speaking, a watch movement of this age will begin to show some tarnishing on some of its surfaces caused by moisture. However, this movement has been kept in tip-top condition through regular servicing and proper care and attention. Again, along with the condition of the rest of the watch, the movement indicates this watch has been treated with all the proper care it deserves.
The original Jaeger signed Calibre.285, 17 Jewel movement has been given a thorough overhaul and service by our vintage chronograph specialist watchmaker. This means the movement has been completely disassembled, cleaned, inspected and rebuilt using only the correct original parts where required before careful calibration and testing. Upon returning to stock, the watch is now running to within +5 seconds per day! This is truly outstanding for any vintage watch of this age! When fully wound, this movement also has a 40 hour power reserve. With proper care and attention, we can see this watch lasting another lifetime of faithful service. We therefore have no hesitation in offering this watch with our 12 months' warranty*
Please note – It is important to remember that after the chronograph function can be started through the operation of the top button, it should be stopped with the same button and then reset with the bottom button after use. i.e. the chronograph function is not designed to be left running as this will cause unnecessary increased wear to the movement.
*Please note – our 12 months' warranty is only applicable if the full list price is paid.
The Watch Case
Gold Jaeger-LeCoultre chronographs from this period are rare, as most were made of steel or steel and gold. 18ct pink gold is the rarest, but pink gold chronographs of this size, at 38mm excluding the crown, are the rarest of all. Most were size 33mm and many were made in case sizes of 30 to 32mm. In fact, there was some competition among watch manufacturers to demonstrate which company could build smaller and smaller chronographs while still remaining accurate and reliable, which is of course, harder to do. But how times have changed!
This is a highly elegant French-made case which is in truly wonderful condition. The case is of a sturdy three-piece design with pleasing swept-back lugs. The case-back is of full thickness and has never been engraved. It is also tight-fitting and presses back with a nice solid and reassuring 'pop'. Inside the case-back carries French 18ct hallmarks and externally, the serial numbers 1551403 and 124103.
The most remarkable aspect of this case, apart from its rarity, is its condition. It is simply superb. From each and every viewpoint it is very difficult to fault, with no signs of scratches, dings or damage visible to the naked eye. After cleaning and careful inspection for integrity, and then some very gentle hand-polishing, the case was very quickly brought back to the condition you see here.
Please note – our standard advice applies: Vintage Watches should be kept clean and dry at all times.
The Strap and Buckle
The watch is fitted with a high-quality dark brown lizard strap and pink gold plated buckle, which we feel suits the watch perfectly. If, however, a different colour or style of strap is preferred, please let us know and we will do our best to oblige, free of charge. We carry tan, conker, dark brown burgundy and black straps in stock, in plain, padded leather, alligator, crocodile or lizard skin.
The Box and Papers
Although there are no original papers with this watch, the reference numbers, markings, signatures and hallmarks are all correct, dating the watch to circa 1955.
Our detailed 'Particulars' document will be included in the sale, with our detailed receipt and our 12 months' warranty*. A separate insurance valuation for the replacement value of this watch will also be provided at the time of sale along with our unique 'Lifetime Authenticity Guarantee' and certificate which states: "If this watch proves to be anything less than totally authentic, or not as described, Vintage Gold Watches of London will offer you a full refund at any time".
The watch also comes complete with a good quality hardwood presentation box, as shown.
In Conclusion
This is a simply beautiful vintage gold Jaeger-LeCoultre Chronograph and one which we have been very fortunate to acquire, own and admire, if only for a short while! However, we are very proud to offer this superb example here, in completely immaculate condition. It is many more times more stylish than a modern equivalent watch and even though almost about 70 years old, it is still completely fresh, reliable and practical to wear as an everyday watch, should you wish to do so. However you may look at it, this timepiece will make an excellent investment and heirloom piece, as well as be something to treasure and enjoy. As each year goes by and the world market for vintage gold watches grows ever larger, the limited supply allied to high demand means prices will inevitably climb ever higher!
A word about our prices – We always try our hardest to acquire the very best quality watches we can find, before restoring these to the highest possible standards. We then offer these at the fairest prices we can, taking into account our pre and post-sales care and service. This approach inevitably means we will never be the cheapest, but nor will we be the most expensive. Indeed there are a number of well known stores in West London which are very successful, charging between two to three times the price you see here. We therefore consider our prices to be fair, given the quality of watches we have to offer.
We are happy to accept PayPal as this is the quickest method of payment. However, if you wish to pay by bank transfer, we will be pleased to pass on a 3% transaction saving to you. Similarly, if you wish to pay by International SWIFT or International Bank Wire Transfer, we will provide you with our BIC / Swift number and our IBAN number.
Please note, we welcome part exchanges and if you have a watch or a small collection for sale, please contact us as we will be happy to discuss this.
We will be happy to Service, Repair or Restore your watch, all at 'sensible' prices. Please see here.
If you have any questions, you are very welcome to call us on: 020 7727 7095. If calling from overseas our number is: +44 207 727 7095.
We will be happy to answer any questions and offer advice about this or any of our watches listed for sale. If you would like some general advice regarding any aspect of vintage watches, including buying, selling, or collecting, we will also be very happy to hear from you. We await your call!
Finally, please enjoy some time spent viewing our other fine vintage gold watches!
Thank you.