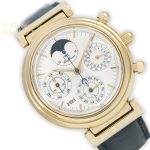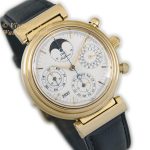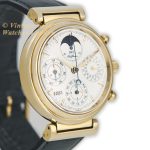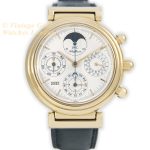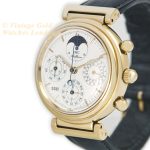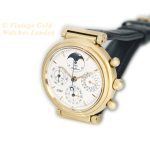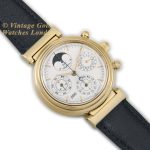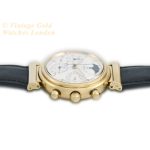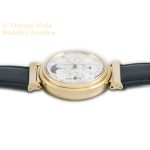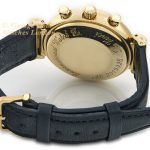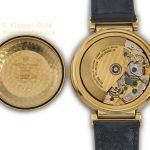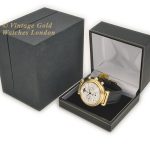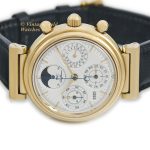 IWC Da Vinci Model Ref. 3750 18ct c1990
£9,750
100% Genuine & All Original
Fully Inspected, Serviced and Guaranteed
A Beautifully Well Cared for & Lightly Used Example
Wonderful Da Vinci Automatic Chronograph with Perpetual Calendar
All in Absolutely Top Grade & Simply Stunning Condition
Very High Grade Calibre 79061, 36 Jewel Automatic Movement
High Quality 18ct  IWC Swiss Made Three-Piece Case
Oversized 18ct Gold Case, 39mm, Excl. the Correct Unsigned Crown
High Quality Black Leather Strap with IWC Gold-Plated Buckle
High Quality Plain Black Presentation Box Included, as Shown
VGWL 12 Months' Written Warranty Included *
VGWL Lifetime Authenticity Guarantee
Free Worldwide FedEx Delivery
Free UK Special Delivery
DO YOU HAVE A WATCH LIKE THIS TO SELL?
ABOUT THIS WATCH
IWC
It is said that owning a vintage IWC is something everyone with a serious interest in vintage watches should aspire to. A strong statement perhaps, but a little time spent researching IWC and their '50s & '60s watches, will very likely lead one to the same conclusion. In essence, this is because during the 1950s and 1960s, IWC determined they would manufacture some of the very best watches ever made and quite simply, this is what they achieved! The craftsmanship, technical excellence and sheer beauty of their exquisite movements and cases, manufactured during the 'golden age' of watch-making, has never been beaten – perhaps equalled occasionally, but never beaten!
An IWC is often referred to as a 'watchmaker's watch'. This is simply because watchmakers love them, both to work on and to own. This is due to the design, technical excellence and in particular, the sheer beauty of their watch movements.
Description
On Thursday, 11 April 1985 at the Basel Watch Fair, something unusual appeared. A watch combining a strong design and a complex perpetual calendar chronograph movement; the Da Vinci Perpetual Calendar Ref. 3750. This watch, the first of the new Da Vinci collection, is the result of designer Hano Burtscher's work, who created a round design with articulated lugs. Even more important is what this watch represents, the comeback on the front of the scene of complex mechanical movements. At the end of the 1970s, a certain Kurt Klaus created a perpetual calendar module where all the settings could be done via the crown which could be fixed easily onto basically every movement, from a simple three-hander to a chronograph. And in the case of the IWC Da Vinci Perpetual Calendar Chronograph Ref. 3750, this in-house perpetual calendar module was attached to a heavily modified Valjoux 7750. Its launch was not only a success for the Schaffhausen-based manufacturer, but also symbolised the revival of fine watches after years of dominance by electronic watches.
Here we have a truly immaculate example of the IWC Da Vinci, model reference 3750 in completely original, unrestored and untouched condition. The beautiful 18ct yellow gold case, very high grade Calibre 79061 automatic movement and fully original, unrestored and untouched white dial are all in remarkable condition and complement each other perfectly.
When talking about truly iconic watches, then the Da Vinci is surely one to be considered as such. The model reference 3750 Da Vinci was the world's first automatic chronograph to feature a perpetual calendar, year display and perpetual moon phase display!
A Perpetual calendar watch gives the date, day, month and moon phases, while automatically taking the number of days in the month and the cycle of leap years into account. This means this perpetual calendar will not need resetting until the year 2100. It is indeed a masterpiece of architecture and incredible craftsmanship.
The Dial
This has to be one of the most elegant and beautiful dials we have seen. The dial itself in white, contrasts wonderfully with the yellow gold case, original gilt 'index' hands and gilt 'baton' hour indices and carries a blued steel seconds hand. It may initially look quite complicated, but this is because it conveys a lot of information. In actual fact, it successfully conveys all this information very simply, once you become familiar with the layout.
This is, of course, the more sought after Perpetual Calendar. The registers on the dial measure the month of the year at the '6' position along with the hour recording and the date of the month at the '3' dial position. The days of the week are shown at the '9'  position along with a subsidiary seconds dial, and the wonderful moon phase is placed at the '12' dial position along with minutes recording. To complete this dial perfectly, the year is shown at the '7' position. The constant seconds dial runs constantly and independently of the other functions while the large centre hand and the other two registers operate while the chronograph is operating. All of these smaller dials, along with the main dial, carry wonderful gilt leaf hands. You will also notice the days of the week and months of the year are shown in German.
Unlike other perpetual calendars, the calendar on the 3750 is manually set (forwarded) just by the crown, therefore there are no external pushers for the separate adjustment of day, date, month, year and moon phase as it is all done automatically by a simple turn of the winding crown. Of course, that means that the calendar can then not be 'set back' to the previous day, but this is really not required since the Da Vinci can 'tell' all of the above by itself anyway!
This dial displays the signature 'IWC Schaffhausen' in the moonphase dial at '12', and 'T Swiss T' at the very bottom of the dial as a whole.
This dial is original and unrestored and has been left untouched by our restoration team due to its superb condition. Usually, we restore the dials of the watches we sell, however we decided in this case to leave it alone, due to its unusually good condition and to retain its originality and charm for those who prefer this. It also helps to contrast with almost all of the other watch dials you see on our website, which have been restored. The hands, likewise, have also been left in their original untouched condition.
Please note, studio lights, professional-grade digital cameras, and macro lenses can be very unkind to an unrestored vintage watch dial. Also the dial here measures less than 1.25 inches across, so the image you're seeing may be between 5 – 25 times larger than the watch itself. Therefore please keep in mind you are seeing many tiny flaws which cannot be seen, or will be very hard to see with the naked eye, even under close examination. Suffice to say, on the wrist, in natural light, this dial looks much better and carries a great deal more charm than the photographs portray.
The Movement
Just like the rest of this watch, the movement is amazingly clean and well cared for. Again, like the rest of the watch, the movement indicates this watch has been treated with all the proper care it deserves. This beautiful watch carries the super high grade IWC Calibre 79061, 36 jewel automatic movement which has a frequency of 28,800 vibrations per hour and a power reserve of 44 hours. With an unparalleled level of calendar complication, it is still a miracle of mechanical watchmaking. The mechanical calendar will function properly without any external adjustment until March 1, 2100 when the normally expected leap year will be skipped! Overall, the IWC Calibre 79061 is a reliable and high quality movement that provides accurate timekeeping and useful functions for watch enthusiasts.
The movement has been given a thorough overhaul and service by our vintage chronograph specialist watchmaker. This means the movement has been completely disassembled, cleaned, inspected and rebuilt using only the correct original parts where required, before careful calibration and testing. Upon return to stock, the watch is now running to within +4 seconds per day which is truly outstanding for any vintage watch of this age. We therefore have no hesitation in offering this watch with our 12 months' warranty*  as with proper care and attention, we can see this watch lasting another lifetime of faithful service.
The chronograph function works in the usual way and is started and stopped using the top right hand button. It is then reset using the bottom right hand button. However, it is important not to leave the chronograph timer function running in normal use as this will cause unnecessary wear on the chronograph parts of the movement.
This movement is signed 'International Watch Co. Swiss' and 'Thirty-Six (36) jewels', 'Adjusted to Five (5) Positions) along with the calibre number 79061 and the movement reference number 2456434.
Important – This watch should not be set after 9pm OR before 2am as this may cause damage to the watch.
Please note – our 12 months' warranty is only applicable if the full list price is paid.
The Case
The substantial 18ct yellow gold watch case measures 39mm in diameter, excluding the original IWC crown. The case is in almost perfect condition with no evidence of anything other than careful use and very gentle hand-polishing. It is completely scratch free and the lugs are sharp, with almost new edges. The chronograph pushers are also in immaculate condition, indicating the watch has seen very little use.
The case-back is of full thickness and shows no signs of wear visible to the naked eye. Inside the case-back is correctly signed 'International Watch Co.' and 'Swiss' with the model reference 3750 and the serial number 2515928, along with an 18ct hallmark. Externally, the case-back carries the script  'International Watch Co.' and 'Da Vinci', along with the case serial number 2515928.
Please note – as ever, our standard advice applies: Vintage watches should be kept clean and dry at all times.
The Strap & Buckle
This watch has a high quality black leather strap fitted along with an IWC  gold-plated buckle. However, if a different colour or style of strap is preferred, please let us know and we will do our best to oblige free of charge. We carry tan, conker, dark brown and black in stock in plain padded leather, crocodile skin or lizard skin. We can also obtain most types and colours from our partners at 'Watch Obsession' within 48hrs. Please take a look at their huge range of straps if you wish here.
Box and Papers
Although there are no original papers with this watch, the reference numbers, markings, signatures and hallmarks are all correct, dating the watch to c1990.
Detailed particulars will be included with our purchase receipt for your interest and security. A separate insurance valuation for the replacement value of this watch will also be provided at the time of sale along with our unique 'Lifetime Authenticity Guarantee' which states: "If this watch proves to be anything less than 100% genuine, authentic and original, a full refund will be given at any time".
This watch comes complete with a plain black presentation box.
Payment and Delivery
If you would like to pay by bank transfer, we will be pleased to assist you with this and pass on a 3% saving to you. Paying by bank transfer for a 3% saving will not affect your 12 months warranty. Similarly, if you wish to pay by International SWIFT or Bank Wire Transfer we will provide you with our BIC / Swift number and our IBAN number.
Please check the import duties and any taxes your government may apply, these are different for each country and, unfortunately, out of our control.
We understand there may be some 'loopholes' that may help you avoid these charges; however, attempting to use these could impact our ongoing ability to serve our growing international customer base.
For those who happen to visit London on occasion, we are, of course, more than happy to store your watch until we can meet you in our offices in Kensington, London and hand your watch directly to you there.
As with all our watches, this watch will be sold under our 14 days no-quibble sale or return policy.
In Conclusion
This is truly one of the most magnificent and important watches from one of the absolute leaders in its class. We think the value of this watch is excellent given the market for important rare vintage gold watches in recent years.
A word on our prices – We always try our hardest to acquire the very highest quality watches we can find, before restoring them to the highest possible standards. We then offer these at the fairest prices we can, taking into account our pre and post-sales care and service. This approach means we will never be the cheapest, but nor will we be the most expensive. Indeed there are some well-known stores in West London which are highly successful charging between two to three times the price you see here. We, therefore, consider our prices to be fair, given the quality of watches we have to offer.
Please note, we also welcome part exchanges. If you have a watch or a small collection for sale, please contact us as we will be happy to discuss this.
We will also be happy to Service your watch, Repair your watch or Restore your watch, all at 'sensible' prices. Please see here.
If you have any questions please call us on 020 7727 7095 or if calling from overseas on +44 207 727 7095.
Please take a look at our other fine vintage gold watches.
Thank you.