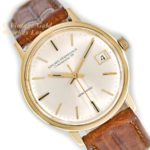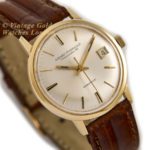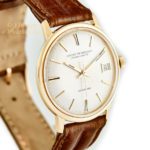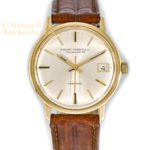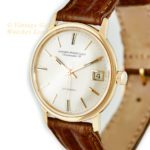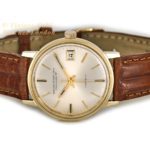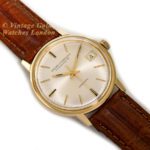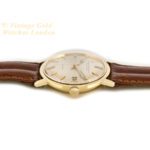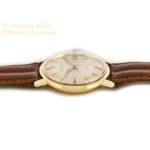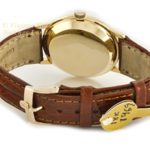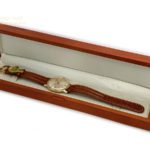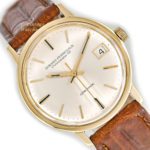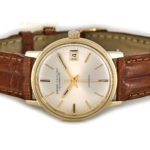 Girard Perregaux Chronometer HF Gyromatic 18ct 1967
£2,500
100% Genuine & All Original
Fully Inspected, Serviced & Guaranteed
A Beautifully Well Cared for & Lightly Used Example
Good Size 34mm, 18ct Yellow Gold Case, Excluding the Crown
Beautiful Unrestored Silver Dial with Original, Onyx Inlaid 'Index' Hands
Superb, Original Automatic Girard Perregaux Cal.21, 39 Jewel Gyromatic Movement
New Brown Leather Strap with Girard Perregaux Gold-Plated Buckle
All in Absolutely Top Grade & Simply Stunning Condition Throughout
High Quality Hardwood Presentation Box Included
VGWL 12 Months' Written Warranty Included*
VGWL Lifetime Authenticity Guarantee
Free Worldwide FedEx Delivery
Free UK Special Delivery
DO YOU HAVE A WATCH LIKE THIS TO SELL?
ABOUT THIS WATCH
Girard-Perregaux
Girard-Perregaux is one of the true greats of the Swiss watch industry and one which long held one of the most glamorous images in high-end watchmaking. The company developed and produced in-house, some of the most technically advanced watches ever made – notably Tourbillons, Minute Repeaters and other refined Grande Complication models. It was one of the many great Swiss watch companies to struggle through the 'Quartz Crisis', but is now back in its stride once again and commanding the respect it rightfully deserves.
In the novel "From Russia With Love", and no less than on the first page, author Ian Fleming wrote, "a gold Girard-Perregaux on a brown crocodile strap is one of the typical membership badges of the rich man's club". More recently, the company has worked very closely with Ferrari, releasing chronographs under both brand names.
The company recently celebrated its 225th anniversary, making it one of the oldest remaining watch companies continuously engaged in production. Girard-Perregaux is credited with many firsts and claims to fame, having registered over 100 patents and won numerous exhibition medals and observatory prizes. Notably, a gold medal presented to Constant Girard for a Tourbillon at the Universal Exhibition in Paris in 1867, then again in 1889, the famous Tourbillon with Three Gold Bridges – Constant Girard's masterpiece and the fruit of many years labour – received the gold medal at another Universal Exhibition in Paris.
As early as 1840, one of the founders, Constant Girard, began to develop the innovative concept of wearing watches on the wrist and later in 1879, his wristwatches were ordered personally by Emperor Wilhelm I for officers in the German Imperial Navy. Two thousand were made, making this the first large-scale commercial production of wristwatches in history.
In recognition of its ongoing quest for precision, in 1905 Girard-Perregaux was elected a permanent member of the jury at the largest international watch fairs.
The golden age for Girard-Perregaux really began in the 1920s, continuing through to the 1970s, seeing the company grow rapidly in both its expertise and strength across Europe, Asia, and the Americas. In the 1940s, the company produced a popular range of sports and military watches using the strapline "For Active Service". These waterproof, shockproof, antimagnetic and luminous watches carried names such as the Mermaid, Sea Hawk, Amphibian and the 'M.D. Waterproof'. The Sea Hawk remained popular up to the end of the 1960s when it was withdrawn. However, this model has recently been revived as a highly competent, professional divers watch.
In 1956, Girard-Perregaux introduced its first automatic watch, the Calibre 21, 39 Jewel 'Gyromatic' which used a highly advanced Gyrotrone automatic reverse gear winding system. This caused a sensation across the watch industry due to its efficiency and brilliance. The Gyromatic was continually developed until in 1966, the Girard-Perregaux Chronometer HF Gyromatic was launched. This was the first ever high-frequency movement with a balance vibrating at 36,000 times an hour, or 10 beats per second. In 1966 this unrivalled movement was awarded the Centenary Prize by the Neuchatel Observatory and brought what is now recognised as true precision to watchmaking for the first time. A year later in 1967, 70% of all the Chronometer certificates issued by the Swiss Neuchatel Observatory went to Girard-Perregaux' Chronometer HF models. These were some of the most accurate mechanical wristwatches of all time.
Why this watch is important…
This Chronometer HF Gyromatic is simply the culmination of 175 years of continuous development by Girard-Perregaux, for which it was awarded the highest prize in watchmaking. Depending on which of the top Swiss manufacturers one compares with, this watch was a good 5 to 10 years ahead of its competition. Even today, after some huge recent developments in watchmaking in recent years, this movement remains very advanced and in the very rarified atmosphere of highly accurate 36,000 bph, 10 beat movements. This watch was developed to compete and hold off quartz watches which even Girard-Perregaux had under advanced development, and which they first launched in 1970 with its Elcro calibre. However, even with such a commanding position at this point, Girard-Perregaux was caught out, unable to compete with the Swatch, which was released in 1983 and literally turned the watch world upside down.
Description
As mentioned above, in 1956, Girard-Perregaux introduced the ultra-modern Calibre 21 'Gyromatic', a 39 Jewel movement which used a highly advanced Gyrotrone automatic reverse gear winding system. Its very thin design made possible the production of extremely thin automatic watches for the first time.
Here we have a wonderful 18ct gold example with an original, unrestored dial, in tip-top condition from 1967.
The Dial
This amazing silver dial is absolutely wonderful and catches the light beautifully, as we have tried to demonstrate in the photographs. This is otherwise a very simple, but very elegant dial and carries applied thin onyx inlaid gilt 'baton' hour indices which are matched with the original onyx inlaid 'index' style hands. This dial also has the addition of a date window which we think, adds even more elegance and flare to this watch.
The dial is simply signed 'Girard-Perregaux' and 'Chronometer HF' with 'Gyromatic' just above the '6' and 'Swiss' at the very bottom.
This is the original, unrestored and untouched dial, which is in tip-top condition.
The Movement
Girard-Perregaux is famous within the Swiss watch industry for the technical innovations and craftsmanship expressed in all its movements and the Gyromatic Calibre 21, 39 Jewel movement is certainly no exception. In fact, it is regarded by many as one of the finest series of automatic movements ever produced.
The "Gyromatic" system replaced ratchet wheels with roller-equipped unidirectional clutches. The resulting construction was simple, reliable and efficient. What's more, its compactness paved the way for slim, sleek and stylish designs. The "Gyromatic" has since demonstrated its excellence in thousands of Girard-Perregaux timepieces including the top-of-the-line "Gyromatic HF" (for high frequency) the self-winding watch equivalent of a "Formula 1" race car. This development marked GP's major contribution to mechanical watch design.
This 39 Jewel, Calibre 21 movement has just been inspected by our vintage specialist watchmaker and after a very close inspection, it was seen this movement needed nothing more than a simple polish. The chrome and zinc plated movement is in remarkably clean condition and working perfectly. This involves dismantling the watch to all its component parts, careful inspection under high magnification, replacement where necessary with only genuine Girard-Perregaux parts, then careful reassembly and adjustment before final testing and calibration in 5 positions. The watch winds, sets and runs accurately and reliably and is now running strongly and accurately within +6 seconds/day. This is outstanding for a watch movement of this age and has been confirmed on our electronic Timegrapher. The power reserve of this watch is 35 hours. We are therefore more than confident in offering 12 months' warranty with this watch movement*.
The movement is correctly signed 'Girard-Perregaux' 'Swiss', and carries the calibre number 21.
*Please note – our 12 months' warranty is only applicable if the list price is paid.
The Case
The 18ct yellow gold case measures 34mm in diameter, excluding the crown. The case is of a heavy three-piece design with a press-fit case-back and carries attractive swept-back lugs. It is in excellent condition, having received a very gentle and sympathetic clean and polish, although the watch has obviously been very well cared for as there are no dings, scratches or marks visible to the naked eye.
The inside of the case-back carries English hallmarks which are very clear and distinct, indicating the watch case has not been overpolished. The case-back is also, importantly, of full thickness and has never been engraved.
As always, our standard advice applies: vintage watches should be kept clean and dry at all times.
The Strap and Buckle
The watch is fitted with a new, high quality brown leather strap with a Girard-Perregaux gold-plated buckle. However, if a different colour or style of strap is preferred, please let us know and we will do our best to oblige free of charge. We carry Tan, Conker, Dark Brown and Black in stock and in plain padded leather, or crocodile skin or lizard skin. For a wider selection, please take a look at the wonderful choice of straps offered by our suppliers, Watch Obsession. We will be pleased to order and fit the strap of your choice, within 24 – 48 hours.
The Box and Papers
Although there are no original papers with this watch, the numbers and markings on the watch are all correct, dating the watch to circa 1967.
A detailed written receipt with 12 months' warranty* and a separate insurance valuation for the replacement value will be provided at the time of sale, along with our unique 'Lifetime Authenticity Guarantee' which states: "If at any time, this watch proves to be anything less than totally authentic, or not as described, Vintage Gold Watches of London will offer you a full refund at any time".
A high quality hardwood presentation box is included in the sale.
In Conclusion
A unique example of a fascinating timepiece which will undoubtedly make an excellent financial investment, as well as be something wonderful to wear, treasure and enjoy! It could make a practical watch for regular or occasional use, as you wish and if it continues to be well cared for and regularly serviced, it will provide dependable service for many decades to come.
This watch carries a great deal more style, individuality and panache than a new watch and to buy the same quality today would be difficult, at 4 or 5 times the price.
However you may wish to view this watch, as each year goes by and the world market grows ever larger, the limited supply and high demand for the finest vintage gold watches means prices will inevitably climb ever higher!
A word on our prices – We always try our hardest to acquire the very highest quality watches we can find, before then restoring them to the highest possible standards. We then offer these at the fairest prices we can, taking into account our pre and post-sales care and service. This approach means we will never be the cheapest, but nor will we be the most expensive. Indeed there are some well-known stores in West London which are highly successful charging between two to three times the price you see here. We therefore consider our prices to be good value and very fair, given the quality of watches we have to offer.
We are happy to accept payment via PayPal as this is the quickest method of payment. However, if you would like to pay by UK cheque or by bank transfer, we will be pleased to assist you with this and pass on a 3% saving to you.
If you have any questions please call: 0207 727 7095 or if calling from overseas: +44 207 727 7095.
Please note, we also welcome part exchanges.
Please take a look at our other vintage gold watches.
Thank you.