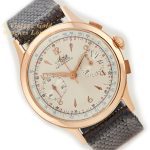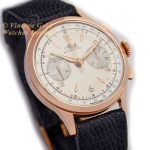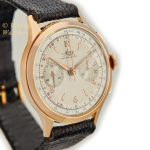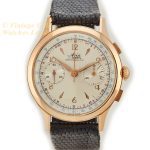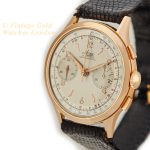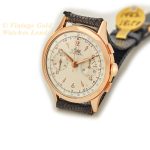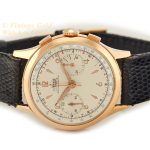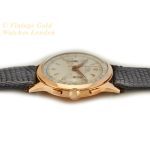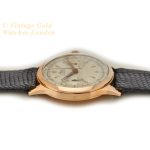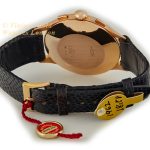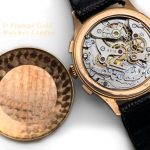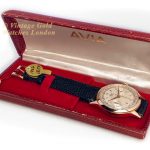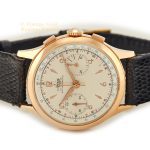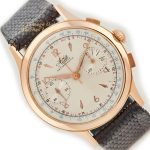 Avia, Chronograph 18ct Pink Gold 1962 – Original Dial – Museum Condition
£3,800
100% Genuine & All Original
Fully Inspected, Serviced & Guaranteed
Amazing Museum Quality 'New Old Stock' Example
All Correct and Properly Signed Watch Case, Movement & Dial
Very Large 18ct Pink Gold 38mm Diameter Case, Excluding the Crown
Original, Unrestored, Immaculate Silver-White Dial with Pink Gilt Numerals
Spectacular Avia Cal.149 Movement, Serviced and in Pristine Condition
New, High-Quality Black Lizard Strap and Pink Gold-Plated Buckle
Original Avia Presentation Box Included, as Shown
VGWL 12 Months' Written Warranty Included*
VGWL Lifetime Authenticity Guarantee
Free Worldwide FedEx Delivery
Free UK Special Delivery
DO YOU HAVE A WATCH LIKE THIS TO SELL?
ABOUT THIS WATCH
Avia
The history of Avia watches goes back to the latter end of the 19th century. The company was a pioneer in the production of wristwatches made under their own brand name and provided watches and movements for other brands including New York, The Ball Watch company and Wittnauer.
The years before and after the Second World War mark an important turning point for Avia when the American market became vital for the firms existence and advancement. During World War 2, the main US distributor of Avia watches was M.A. Mead & Co. in Chicago. Mead marketed Avia-made military watches, including a military timer that was utilised by aircrews searching for submarines. This watch incorporated a very accurate timer and stopwatch.
Also during World War 2, another important American watch company imported Avia watches often marked with the model name of "Garland" or just with the company name, "BALL". This was the famous Ball Watch Company, founded by Webster Clay Ball in the late 19th century. W.C. Ball was an important figure in American watchmaking, especially in the pursuit of more accurate and reliable timepieces, even though the Ball company did not actually manufacture watches themselves. Instead, they had watches made for them with movements and cases coming from various manufacturers produced under contract to Ball's specifications, with some final adjustments being made by the Ball company. The Ball Watch Company at first used mainly American movements from top American makers such as Hamilton, Elgin and Waltham, but in the early 1940s there was a policy shift by the company and it recommended that Swiss movements from Avia be used instead for Ball's wristwatches. This must have been a real boost for Avia and probably enhanced their reputation in the American watch market. It should also be noted that the company of A. Wittnauer & Co. of New York, also sold Avia-made watches.
In 1968, after becoming part of a consortium of watch manufacturers, they developed the first quartz digital watch with an LCD (liquid crystal display) and revealed it to the world in 1972. This invention took the watch market by storm and meant that watches of unparalleled accuracy could be mass-produced cheaply.
Description
Here we have rare a 'new old stock' example of an 18ct pink gold Avia chronograph in museum condition. This is a large 38mm diameter, 18ct pink gold watch, completely unrestored and untouched, yet in as new condition. Having just received a full overhaul and service from our vintage chronograph specialist watchmaker, this watch is now perfectly suitable for everyday use should you so wish. It will also make a wonderful addition to any collection. The watch comes with its original box and Avia Avalast swing tag.
The Dial
Even though this watch is approaching 60 years old, its immaculate original twin register silver-white dial has never been restored or retouched. Original unrestored dials of watches over 50 years old are subject to damage from a combination of sunlight, heat, condensation and pollutants which almost always causes fading, staining and oxidisation in the form of spotting or pitting. Other accidental damage often occurs when servicing a watch in the form of scratches and other marks. However, here the dial is in almost mint condition and is one of the very best we have seen on a watch of this age. Only under high magnification can some faint spotting be found, but this is evenly spread and very hard to see with the naked eye.
This twin register chronograph dial with pink Arabic (standard) numerals is complemented by the original unrestored pink gilt 'Leaf' style hands, which are in immaculate condition. The outer scale in blue shows a Tachymeter scale, used in conjunction with the chronograph function to measure speed, or distance travelled. The central, time-only ring uses Arabic (standard) numerals in pink. The back ring shows minutes and seconds, with seconds subdivided into fifths. Here we also have a red Telemeter scale, used to measure the distance between an event and an observer based on the speed of sound – typically in the field of battle referencing gun flash and the arrival of its sound. All of this provides the dial with a highly technical look and the style and combination of colours are both beautiful and typical of the period.
As with most chronographs, the left-hand dial is used to continuously read seconds, whether or not the centre seconds hand/chronograph function is operating. The right-hand register records elapsed minutes while the chronograph is running. This, and the centre seconds hand are started as soon as the top pusher is pressed. These are then stopped on this movement by a press of the bottom pusher, to record the elapsed time in seconds and minutes. Both hands are then reset to zero by a single press of the bottom pusher. Each of the pushers works perfectly with a lovely smooth action.
Please note, it is not necessary or wise to leave the chronograph function running while the watch is in normal use, ie simply while wearing the watch. This is because the chronograph function is designed for measuring small time intervals and to leave this running, will cause undue wear on a chronograph movement.
The lens has been replaced with a new original replacement part.
The Movement
As mentioned above, this watch houses the Avia Cal.149 movement which is marked as such and correctly signed 'Avia'.
The watch movement is in stunning condition and has been fully overhauled and serviced by our vintage chronograph specialist watchmaker. This involves the complete dismantling of the movement to each of its component parts, ultrasonic cleaning, microscope inspection and then careful reassembly and oiling, ready for final testing and careful calibration.
Each of the chronograph functions operates perfectly and the centre seconds hand resets itself instantly on pressing the bottom pusher. The normal timekeeping function is running perfectly, having been calibrated and timed at +6 seconds per day, which is truly outstanding for any watch of this age and the watch also has a power reserve of 40 hours in its fully wound state. The movement is correctly signed 'Avia', 'Swiss Made' and '17 Jewels' and carries the Calibre number 149.
With care and with regular servicing, say every 4 years, we would fully expect this watch to run quite happily for many decades to come. Our watchmaker commented that he found the movement to be especially clean and in excellent condition. We are therefore more than happy to offer this watch with our 12 months' warranty* and to assist with servicing again in the future.
*Please note – our 12 months' warranty is only applicable if the list price is paid.
The Watch Case
The heavy 18ct pink gold case is of a bold, three-piece design and at 38mm, excluding the Avia crown, is a very large-sized watch for the period. It is totally immaculate from every aspect.
This watch case has been carefully inspected for fatigue marks and there are none. It has received a light clean and gentle hand-polish, simply to remove any tarnish and to bring back to the almost new condition you see here. Even under close examination, there are no scratches, dings or signs of wear, visible to the naked eye which leads us to suspect that this watch has seen little, if any, use.
The case-back is of full thickness and has never been inscribed. The case-back is all correct and as expected; signed 'Avia' and carrying Swiss Geneva 18ct hallmarks along with the reference W 14.
As ever, our standard advice applies: Vintage watches should be kept clean and dry at all times.
The Strap and Buckle
The strap fitted is a high-quality black lizard strap with a pink gold-plated buckle. The original Avia 'Avalast' swing tag remains fitted to the buckle.
If a different colour or style of strap is preferred, please let us know and we will do our best to oblige free of charge. We carry Tan, Conker, Dark Brown and Black in stock and in plain padded leather, or crocodile skin or lizard skin. For a wider selection, please take a look at the wonderful choice of 18mm straps offered by our suppliers Watch Obsession here. We will be pleased to order and fit the strap of your choice, within 24 – 48 hours.
The Box and Papers
Although there are no original papers with this watch, the style, numbers and markings on the watch are all correct, dating the watch to circa 1962.
A detailed written receipt with 12 months' warranty* and a separate insurance valuation for the replacement value will be provided at the time of sale, along with our unique 'Lifetime Authenticity Guarantee' which states: "If at any time, this watch proves to be anything less than totally authentic, or not as described, Vintage Gold Watches of London will offer you a full refund at any time".
The original Avia presentation box is included in this sale.
In Conclusion
A fascinating and truly exceptional vintage Avia chronograph in 18ct pink gold. Wonderful to wear, treasure and enjoy, this will be practical for everyday use, should you so wish.  This watch carries a great deal more style, individuality and panache than a new watch and to buy one of the same quality today would be many times more expensive. If regularly serviced, this will last many more decades to come.
However you may wish to view this watch, as each year goes by and the world market grows ever larger, the limited supply and high demand for fine vintage gold watches will mean prices will inevitably climb ever higher!
A word on our prices – We always try our hardest to acquire the very highest quality watches we can find, before then restoring them to the highest possible standards. We then offer these at the fairest prices we can, taking into account our pre and post sales care and service. This approach means we will never be the cheapest, but nor will we be the most expensive. Indeed there are some well-known stores in West London which are highly successful charging between two to three times the price you see here. We therefore consider our prices to be good value and very fair, given the quality of watches we have to offer.
We are happy to accept payment via PayPal as this is the quickest method of payment. However, if you would like to pay by UK cheque or by bank transfer, we will be pleased to assist you with this and pass on a 3% saving to you.
If you have any questions please call: 0207 727 7095 or if calling from overseas: +44 207 727 7095.
Please note, we also welcome part exchanges.
Please take a look at our other vintage gold watches.